Hello there Everyone! Cy Bear here again.
COLDHAMCUDDLIES Teddy Bears (and Me) with suitable labels to attract passing WINTERFEST Traffic!
WINTERFEST2017 is now a thing of the past. Although, as feared, the WiFi didn't work - so the new technical pieces we hoped to use in our sales at the event didn't either - folks came in their dozens, and all were prepared to use cash for any purchases made. Lots of our new business cards were handed out by both Clare and Isobel - so who knows what could happen in 2018? However, having covered our costs for the outlays for the Event, everything we made was profit - and we made the most we've ever done at one of these gigs - so the efforts were definitely worth it.
Light Brown Bear
(
back left in the photograph
) found a new Home for
Christmas
(
each label, no matter the colour, had the message "I NEED A NEW HOME FOR CHRISTMAS"
- and in
Light Brown Bear's
case it worked.
As I told you in our last post, Panda Bear was able to participate in the Christmas Craft Fair, thanks to the agreement of his New Best Friend, MsMP. While on the Coldham Cuddlies Table, he had a red label all to himself, which looked like this:
The Label reads "I have a Home for Christmas - in Nottingham"!
COLDHAMCUDDLIES Table after set-up on Friday, 25th November. (Isobel in background)
Clare and Isobel with half the COLDHAMCUDDLIES table exhibits
As arranged by Isobel, first thing on the Monday after WINTERFEST2017 was over, he was wrapped up and sent on his way - after we'd taken our usual Farewell photograph.
Two days later, we got an email from
MsMP
(
she'd been out when Panda arrived after travelling Express Post - so had spent an extra day waiting at the Royal Mail Sorting Office before meeting his New Best Friend).
MsMP
picked him up en route to her office next morning, and took this photograph before one of the car journeys involved.
Apparently, the label attached was an extra delight for MsMP - and we were grateful to her for allowing us to include Panda in our exciting exhibit at WINTERFEST2017. Panda is now settling in with his two new Friends - "Angel Bear" and "Star Wars Bear"! May they have many happy years together. We're just thrilled that Panda has found such a comfortable niche!
It's three weeks ago, when we last were in touch - and we simply don't know where the time went!
I've
sat on the bed, while
Isobel
has sewn madly - in between walking/sleeping up the road, while the bathroom was re-done. Instead of the forecast
10 Working Days,
the job took another
5 Working Days
, and only finished (
for our flat, anyway
) on
Thursday
of last week. Although she was getting quite efficient at taking everything needed for an evening sewing session by the end of the period, there were still days when she had to play catch up during the day - so blogging really has had to take a back seat.
In that time, a pair of
Kids Small Slippers
have been cut out, sewn and delivered to
MrsMB
(
one of our fellow residents here at Old Chapel Close in Kirkby in Ashfield
). She was acting as agent for a friend, who wanted a pair for his
Grand Daughter
for
Christmas
. They looked like this example which is currently to be found in our Shop: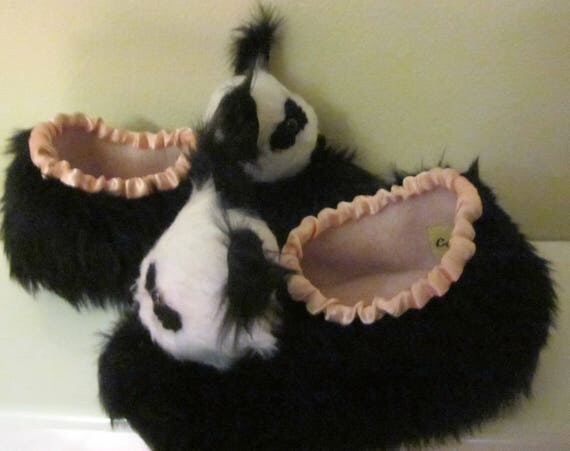 https://www.etsy.com/uk/listing/543538932/kids-panda-slipper-made-to-measure
These were ordered way back in September - during/just after this year's MacMillan Cancer Coffee Morning, where one of our Buchanan Dressed Lady Foxes were also bought by the same Gentleman - for the same Little Person.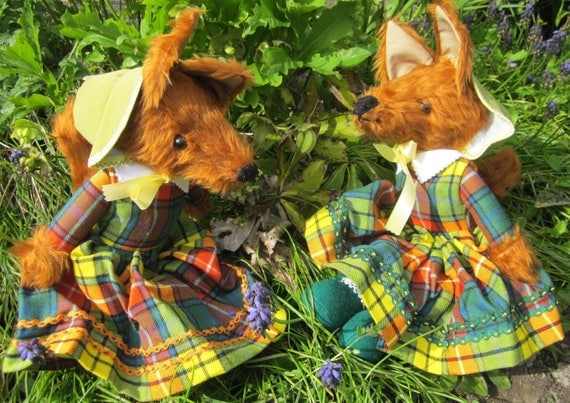 https://www.etsy.com/uk/listing/556180404/fox-dressed-toy-buchanan-tartan-fox
Then, our next Christmas delivery booking was for a pair of Grey Wolf Novelty Slippers, again for a connection of another neighbour of ours. This time it was for a Lady's Grand Daughter, whose Mother wanted the pair of Slippers for her 13 year-old Daughter. She's a tall young lady, and is already into UK Size 5 Slippers, and these were completed this Friday - delivered, and paid for at the same time! Isn't that the way to do business, now? Here's what they look like in our Shop - ready for anyone else with similar thoughts in mind.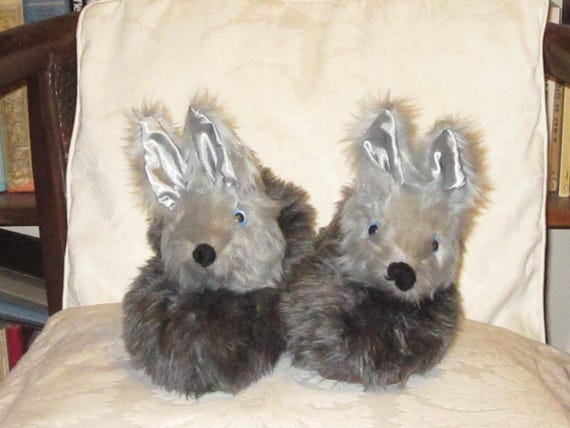 https://www.etsy.com/uk/listing/578375685/new-grey-wolf-novelty-slippers
The final
Christmas
order is under way - to be delivered next
Saturday, 16th December,
to one of
Isobel's
fellow members of the
Saturday
morning
Slimming World Club
.
"Hermy" the Whale
has been cut out (
a new length of fabric was needed
) because what
Isobel
thought was wide enough, didn't actually fit the entire pattern! He's now been cut out, and most of the "side-effects" - wings, belly, and eyes, have been cut out and sewn.
Isobel
plans to start sewing the body etc this evening - and as he is 30 inches from nose to tail, that's going to take some time!!
I'll
tell you all about it next week.
Right - this has been a long post: but so much has happened in the time we've not been in touch, I hope you'll forgive its length. See you all again next week!
Your Friend:
Cy Bear.