A very good afternoon to you all
Everyone -
Cy Bear
back again, after a week away from posting.
We're still deep in
Hedgehogs,
and likely to be for some time,
I
think, but since we're being given a lot of verbal/written support from members of all the
Etsy.com Teams
that
Isobel
is on, and she's still got one or two more "ducks to get in a row", that's likely to be the situation here for a wee while yet. It's a pretty full time occupation for her - and while she's being kept busy there, she's leaving me alone!!
At the end of last week's post,
Isobel
mentioned that
Daddy Hedgehog
was destined for a spell of treatment in the
COLDHAMCUDDLIES Stuffed Animal Restoration Clinic
https://www.etsy.com/listing/79124185/stuffed-toy-animal-restoration-clinic? Well
I
can tell you that she has been as good as her word.
Daddy
was wheeled in on
Monday
afternoon, had a considerable amount of polyester stuffing removed - after she had gently unstitched him around his head area. She then remodelled him and made his nose a lot more pointed. So that from looking like this: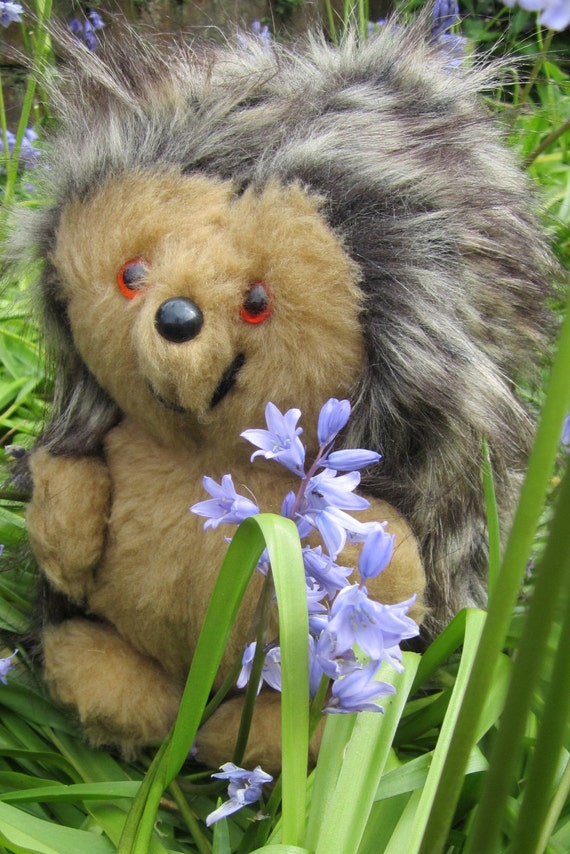 Daddy Hedgehog
now looks like this:
I
am also pleased to be able to announce that both remaining versions of our
Brown Baby Hedgehog
toys have been adopted - so there are two "ten per cents" awaiting distribution to our intended donor charities -
West Midlands Hedgehog Rescue
and
Tiggywinkles Hedgehog Hospital (StTiggywinkles,
as
Isobel
discovered the specific sanctuary for
Hedgehogs
is named).
Tiggywinkles
is a leading provider of medical assistance to wildlife of all kinds - like
Swan
s,
Squirrels, Foxes, Deer
and, yes, even
Badgers
too.
So, with their
Babies
now in their
Forever Homes
,
Mommy
and
Daddy
are patiently waiting to find themselves a berth somewhere soon.
There is something in the human world apparently called
Black Friday
and
Cyber Monday
coming up at the end of
November
. So, if they have not found anywhere by then,
Isobel
is intending to sell them at a discounted price - separately or together, and she is also announcing that
ANY CUDDLY
finding a new home over that week-end, will be sold for free shipping, to
anywhere in the world
. That announcement is appearing in our
Shop Announcement
section next week - but you my
Reader Friends
are getting advanced notice.
We want these guys to go soon, because
Isobel
has made the decision that she will not be using the faux fur "prickly" looking fabric, nor the light brown plush material, for future
Hedgehogs.
The fabric we now have access to is quite different and is resulting in
Hedgehogs
who look different, although just as authentic - or at least we think so.
A first glimpse is given here
These three new
Hedgehogs
are currently spending time with
MrPE
, the
Graphic Designer Isobel
mentioned as offering us assistance. He came to our flat on
Thursday
evening and took them away to be professionally photographed for use in the campaign. We expect them back early next week, if they don't get delivered here later today (
Sunday
evening). This photograph is taken on
Isobel's
bed, and like all our photographs, is a bit of a snapshot, as opposed to a professional one. (
There is already a second Baby made in the new colours: and Isobel has made and stuffed a second Mommy Hedgehog - with legs and face needing to be attached to the body. The second Daddy is cut out and awaiting production as soon as Mommy is complete - hopefully, later today.)
As for the campaign, here are the latest developments.
Isobel
is becoming a
Member
of the
Tiggywinkles Hospital Trust
(or something like that) and will be sending a letter with her cheque for the first year's membership (which also includes the
£1.25 ten per cent
for
One Baby Hedgehog
) to
Buckinghamshire
on
Monday.
At the same time, a similar amount of money is being sent to the
West Midlands Hedgehog Rescue
in
Cheslin Hay, Nr. Walsall, Staffordshire
(with their first ten per cent). In the letters, she asks if both establishments can help her help them by allowing more
Coldham Cuddlies Hedgehogs
the chance to find their
Forever Homes
.
In other words, more Sales of Hedgehogs from our Shop, www.etsy.com/Shop/COLDHAMCUDDLIES!
Then last week in the
House of Commons
in
London
a
Member of Parliament
was awarded an
Adjournment Debate
(
hope you know what that is, because it's not a term this Beaver Lamb Bear is familiar with
) in which he stated he was going to try to get
The Hedgehog
to be appointed the
UK Official Animal,
as well as trying to save the species from extinction; just as in
2014, The Robin
was appointed the
Official UK Bird.
Isobel
did some surfing of the internet (
again, am sure you'll know what that is!
) and found - and downloaded - the
Official Hansard
record of the entire
Debate
. She plans on contacting the
MP
to see how they can work together to improve the survival chances for the
UK Hedgehog
population.
So - watch this space folks. Life is getting quite exciting! Have a good week all of you.
Your Friend Cy Bear.