Good afternoon once more
Everyone
:
Cy Bear
here again.
Me in a Cherry Tree a couple of years back
Lovely to be back, as it looks like there's going to be a break in communications for at least one week, while Isobel goes to Normandy next week, and while we still await the arrival back home of Colin the Giant Koala, about whom I posted last Sunday.
There has been yet another mix-up between Isobel and the Couriers - poor old Colin, he seems to be jinxed, doesn't he? She thought she'd ordered - and paid for - a Courier service: they booked it as a parcel service, which entailed our customer having to haul Colin to the nearest Parcel Shop, from which his journey would then commence.
That is until Thursday this week - when we thought he would be arriving with us here in Nottinghamshire, Instead, we received a message from the Customer telling us that he was still waiting to be picked up.
Having been thus alerted to the true situation - and after exhaustive searches on the Courier's site, and Isobel being able to find out how to "chat" to some one on line, another journey was arranged - with the first one being cancelled. A refund of the "ticket" home is due early next week, and Isobel is hoping that she has now organised Colin's departure from London to begin on Monday morning.
Now, as the Courier in question does not guarantee a delivery in anything under 5 Working Days from pick-up, that could pose a problem. As I said in the opening paragraph, Isobel is due to be travelling to Normandy, France (with visits to friends en route, as well as a special lunch at a hotel called "The Compleat Angler" near where Philippa lives, which is on the way to said friends in Kent).
They will then be overnighting at Folkestone and getting on an early Chunnel Train to Calais, from whence Philippa will be driving both of them to stay with family in Normandy for five days. As Isobel is doing the navigating both ways, I am trusting that all will be well. (She used to be pretty good at it, I'm told, here in England, so presumably it won't be THAT different in France! When they're there, there are plans for photographs to be taken of my Twin, Peter Bear, together with old friends Mons. Reynard and Madame Lapin: so look out for a post about them soon!)
The reason for stopping off at "
The Compleat Angler
", in a town called
Marlow,
is that it is where
Isobel
and
Peter
spent their wedding night in
1969
. As
Thursday
happens to be the
46th Anniversary
of that date,
Philippa
suggested
it might be nice to go there - and the arrangements were set up accordingly. (
Isobel's main memory of that day - apart, of course, from the Wedding itself - was Peter going to dinner, in this very posh hotel, wearing bed room slippers. He'd spent the whole day in a new pair of shoes, and his feet were killing him. It wasn't such a social disaster, however: as Peter always wore leather slippers (polished to a high degree!) and could get away with it!!)
So,
Colin
is likely to arrive back in
Kirkby-in-Ashfield
on either
Friday
or
Saturday
of next week - when
Isobel
will be far away in
Normandy
. Matters have been arranged that the parcel will be taken in by our kind next-door neighbour at
Old Chapel Close
- where we now live. The good lady has already seen
Colin
- before he was packed up for his journey to
London -
so she knows he's going to take up quite a corner in the corridor of her flat! (
Isobel could have arranged for Colin to be delivered to Clare's home, three doors away - but with the recent arrival of a Little Man in the lives of Clare and Alan, an enormous Giant Koala parcel seemed to be an additional responsibility too far.)
Interestingly, while discussing the new travel arrangement with our

Customer

- who happens to be an

Australian

living and working in the

UK

,

who had been particularly excited to find Colin for the project she was working on.

Isobel

discovered that, our

Customer

was working on a a video in which

Colin

would have "played" a major part. Such a shame that the journey south didn't work out - as that would indeed have been a "

FIRST

" for any of us

Cuddlies

. (

On the other hand, am not sure any one could have handled Colin's ego had the plan been fulfilled.)

Yes, I'm jealous!! But then who wouldn't be?
Just to remind you - this is Colin's head already....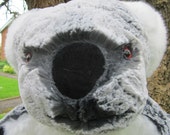 Sorry, we cannot centre this photo - as we couldn't last week - because it's been "cut and pasted" directly from our listing in our Shop. The layout of this blog doesn't seem to allow us to do it, AND centre it!
We have "re-activated" Colin, because one never knows if or, indeed when, someone else might want him to feature in a Video, or as a Special Mascot, or even as a Special Prize in some Tombola or Raffle competition - whatever any of those might be!! You know me: being a mere Beaver Lamb Bear, these things are a complete mystery to me.
Just to revert to
Isobel's
proposed journey to
Normandy
later this coming week - she's been making some new
Baby Rabbits
for our shop (
www.Etsy.com/shop/COLDHAMCUDDLIES
) based on the very first
Baby Rabbits
she made in the
1970's
. Then she only had access to some yellow and white plush fur, so as babies don't care what colour their
Cot
or
Pram Toys
come in, she made one for
Philippa
and one for
Clare
, when she arrived some years later
.
That first
Baby Bunny
was named "
Treasure
" by
Philippa
when she was able to speak,
(because her Grandmother used to call her that - usually when she was holding the Toy in her hand)
- and so every Yellow and White Plush
Coldham Baby Bunny
made since has been referred to as "
Treasure
" ever since.
One of the three Treasures shown below
will be accompanied by a Purple Fleece Rabbit - because the two travellers are going to meet the Little Boy who has recently arrived in the home of a former flatmate of Philippa's. Treasure 15 (because he was made in 2015) is Isobel's gift: Purple Bunny is going to be Philippa's present to her latest Honorary Nephew.
I think the final presentation will look like this.
Right, think I've wittered on long enough for this week. However, since you're going to have a week's break from a post, perhaps you'll forgive me - just this once.
Your good friend, Cy Bear,