Hello there Everyone:
Cy Bear
back once more with good news of the recent departed
Coldham Cuddlies Toys
- one
Duckling
- who left for
Alberta, Canada
a week before
Easter,
and the
Fox Hand Puppet
that was posted to
Santa Cruz, California
when
Isobel
returned from her
Easter Break.
Both travellers appear to have reached their separate destinations safely - the
Duckling
having taken longer to get to
Edmonton, Alberta
than did the
Hand Puppet
- which appears to have reached
Santa Cruz
in around
7 Working days
- although both destinations are situated on the western sides of
Canada
and
America
respectively. (
Just goes to show how much depends on the timing of the Toys arrival at our local Post Office, whether or not they catch the "right" 'plane in which to travel to their individual destinations, not to mention the attentions of the Customs authorities of both jurisdictions!)
A day or two ago
, Isobel
received an
Etsy "convo message"
regarding the
Hand Puppet
from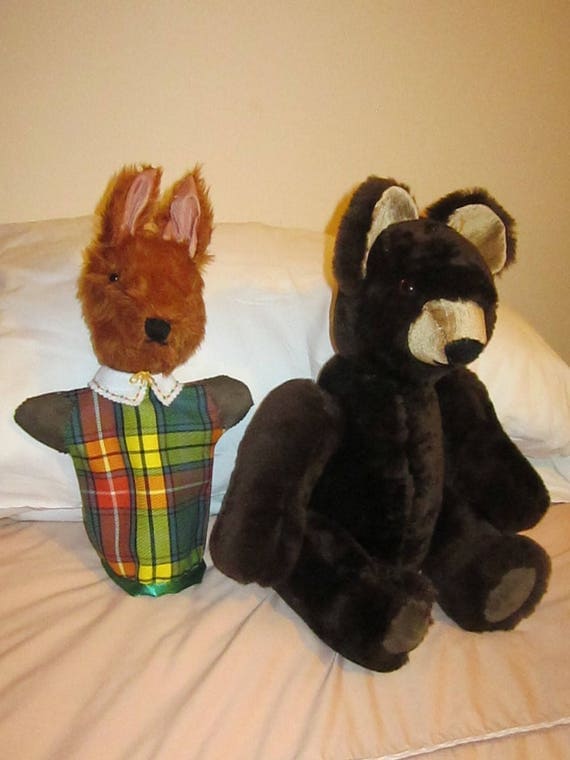 A copy of the Departure Photo shown in last week's post.
MsBB
in which we were told that she would try to send us a photograph of the Hand Puppet "in action" for us to use in a future post here - which made
Isobel
feel that the
Puppet
had indeed got to
Santa Cruz
. Until we hear otherwise, we'll assume that this is another satisfactory "
Job Done
"!
On the same day, we got an email, with a series of photographs of the
Alberta
-bound
Duckling,
, which had actually left us in
Kirkby in Ashfield, UK
a week before
Easter
, but only finally arrived in
Edmonton 2 weeks
later. From the photographs, (
used with permission of MrsHB, AndyB's mother)
it would appear that the wrapping had done it's stuff, and
Duckling
arrived in one piece. He and new
Best Friend,
AndyB
.
are now, presumably getting to know each other.
Meanwhile, here in the
UK
, and almost on the other side of the world,
AndyB's Duckling Companion
and an
Easter Chicken
were providing some excitement for
Isobel's GrandsonE
- who was so pleased with his
Easter
presents that they accompanied him to
St. Barnabas Cathedral
, in
Nottingham
, for the
1000 BST Mass
on
Easter Day,
and is still creating pleasure on an almost daily basis (
among a selection of trucks, cars and trains as well, of course
.)
Shown with permission of Daughter, Clare
And, now, we can complete a story that actually began around
Christmas
time last year. A good
Friend
of the
ColdhamCuddlies, MrsSS
- who has bought a
Cuddlies Hedgehog
in the past - ordered these
Baby Bunnies
for her two
Grandsons,
one of whom was celebrating the Festival for the first time
.
. Although they arrived in plenty of time for that
Holiday
, given the huge number of other Toy gifts
that
she knew were being provided for the young gentlemen,
MrsSS
decided to keep these two
Baby Bunnies
back and give them when they might appreciate them somewhat more.
So, a few days before
Easter
, her grand children arrived to see her, and found the two rascal rabbits well hidden among a basket of seasonal goodies. (
I did try to enlarge the photograph somewhat, but it was even more unfocussed than this one - but I think one gets the idea!! Guess, one does have to "grab the moment" when Little People are around!).
That's it for this week, folks.
Isobel
has been doing a lot of work online this week - because there was a big need for her attention to be focussed there - largely because the
Etsy "Shop Manager"
site is being "
re-jigged
" for want of a better description. That has meant
Isobel
having to find her way around, which she doesn't really like doing - but if we want to continue meeting friends and selling our
Toys
to those who want them, it's a necessity for her to do it. (
The learning process is apparently not as difficult as she had at first feared!)
Hopefully, things will settle down somewhat soon, and we can return once again to more regular and "normal" behaviour. Until next week then - wishing you all a good week.
Your Friend, Cy Bear
.