Hello there
Everyone
:
Cy Bear
back again, having "dictated" this post to
Isobel
- so she can type it from "up the road", where she has been house- and pet-sitting since
Thursday
of last week. She's been in and out during morning hours each day since, because of the need to finish the crab-apple processing and other community related matters, and she's due to be doing the same until
Wednesday
morning next week.
For explanation of this "progress" - see below
First of all, despite the heading here, there's not been that much progress on the
Baby Foxes/BabyMobile
project, because of the distraction of the
Paralympics
from
Rio de Janeiro
this week (
and that is likely to be the case for the next week because the Games will be on-going until the week-end)
.
Isobel
will be busy next week-end, because it's
Clare's
birthday on Saturday,
Philippa
is coming up on the
Friday
evening, and we'll be busy playing with
GrandsonE
on
Saturday.
Then
we're both leaving
Nottinghamshire
on
Sunday
for a few days holiday in
Devon
. (
So, once again, we repeat - NO BLOG POST next week - but do come back to check: Isobel has been known to change her mind - or something else may have occurred. The computer is going with her!
)
Secondly, the Crab Apple Butter production line was successfully concluded on Friday afternoon, with the apples shown in this picture in last week's blog post being converted into the finished item.
Picked crab apples waiting to be processed
It's been cool enough in the flat to keep the apples from rotting too much, and in the end, our friendly gardeners actually provided
Isobel
with
3.5 kilos
(
something like 6-7 lbs - Isobel doesn't have her usual metric converter to hand at Clare's home
). The final result is
11
similar sized, but different shaped jars, and two small jars - plus a little left over so that
Isobel
could take some around to near neighbours - for taste-testing!! We've had the impression that some of our friends here at
Old Chapel Close
were a little wary of a
Fruit Butter
!! We felt that some independent tasting reports might render the future sale of the items more likely!!!
Then on Wednesday morning, just before she left to do some shopping for the week, we had an order - for our Badger Stripe Slippers.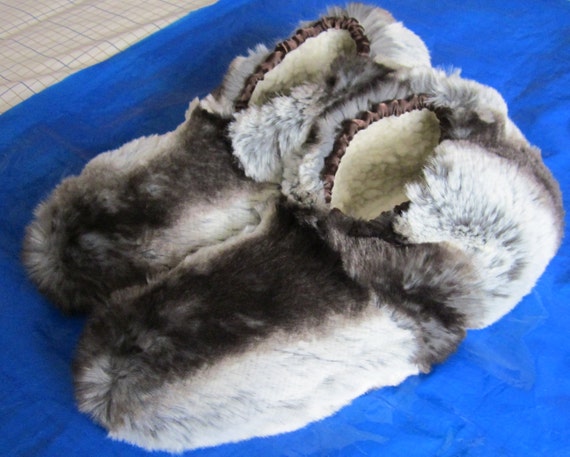 https://www.etsy.com/uk/listing/158936304/unisex-novelty-slippers-badger-stripe?ref=shop_home_active_1
They have been commissioned by one
MrMW
from
San Francisco
and as they are made to measure, (
as are all of our Novelty Slippers - whether for Gentlemen, Ladies or Children
). the actual construction of this gentleman's slippers will commence once
Isobel
gets back from
Devon
after
September 26
. (
This is OK with our customer
). The one's pictured in our listing are a size smaller than
MrMW's
actual requirement. He merely requests they look as near as possible like the example given. As ever, we'll do our best to do so!
Then, in the afternoon of the same day, we found another order (
the first time we've had two in one day
) - and both for one of our higher-priced items, too!. This time, it was from a lady who wondered if it would be possible for us to send her one of our
Winston Wombat 3-Way Bed Pillows.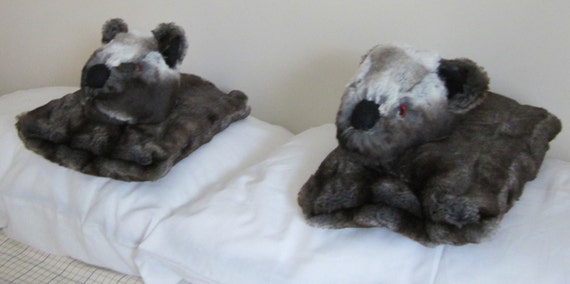 https://www.etsy.com/uk/listing/99230084/winston-wombat-3-way-bed-pillow-pajama?ref=shop_home_active_1
There was a potential snag though because she needed to have one of them by

Saturday (

yesterday

)

for her son's birthday. After an exchange of messages on the

Etsy

convo system, we discovered she was in

London,

so it would be possible for us to do it - but we would be taking a risk in following it up.

Royal Mail

does a next-day service which guarantees delivery by 1300 hours the day after an item is posted (

the cost of which would be covered by the postal charge

).

MsNW

then wanted to know if we could get

Winston Wombat

to her on the

Friday

, as she had arranged to be away on the

Saturday

for her son's celebrations. We managed to do so - even though we actually hadn't received the funds in

Isobel's

local bank account - although

Etsy

had done so, because that's the way the purchasing system works. (

One disadvantage of BST (British Summer Time) being 4 hours ahead of EST - Eastern Standard Time - which is the time zone Etsy operates within!

)
Remember, Isobel is supposed to be residing up the road - and the two Winstons and all our packaging materials are firmly ensconced here at home! The speed of the operation meant that we were unable to offer the usual "Cuddlies Catwalk" session - giving the customer the chance to choose exactly which of the Cuddlies she would like - so we decided to send the one on the right of this picture.
Before he was wrapped up, we took some pics - and this is Winston Wombat Right before he was prepared for the journey:
The photograph at the beginning of this post, is one of our traditional
Farewell Photos
with me, as
Mascot
to the
Coldham Cuddlies Shop
. Then
Isobel
took the photograph beneath - just to show how long a
Winston Wombat
is - compared with me sitting in my usual spot on the bed. My right arm is between the back of
Winston's
head with his tail behind my "wrist". (
He looks a little crooked, because of the angle of the pillow on which we are both resting!
)
Once he was fully wrapped, he was put in a polythene postal envelope and
Isobel
got on the next 'bus into
Kirkby
town centre, and he was dispatched at just before
1100
on
Thursday
morning. Because the paperwork for this transaction is all here at home with me (
and Isobel is not!
) we cannot check whether it did arrive so we'll have to wait until
Monday
when we hope to hear from
MsNW
to see if
Winston
did meet the important deadline, and whether his intended
Forever Friend
and he are happy with each other. Am afraid, you'll all have to wait to hear in the next installment!.
Until then - hope you all have a great week or two. The weather here is lovely at the moment, with late summer sunshine to the fore. Long may it continue! See you all when I next see you!
Your friend,
Cy Bear.