Hello there
Everyone
- another week has flown by, it's getting ever closer to
Christmas
(
and Isobel still hasn't started her Christmas cards - although the annual letter to Family and Friends has just been drafted).
Two Cuddlies have been sold this week - which is terrific news for us all - hence the "moving on" in the title to this post!
The first Cuddly with a new home in the offing, is one of our Yellow Plush "Treasure" Baby Bunnies. MsMcN who enquired about it last Sunday evening was given the choice of our new Shop inhabitants in that category - https://www.etsy.com/uk/listing/249743397/yellow-plush-baby-rabbits-treasure?ref=shop_home_active_2:
With or without a ribbon round their necks, and both with white plush chests. OR

All self-colour, but still with the option of having ribbons sewn around their necks - and the ribbons don't have to be white. MMcN was given the choice of pale green- as used in our Fox Baby Mobile, seen here - https://www.etsy.com/uk/listing/468608508/small-fox-baby-mobile-fox-baby-mobile?ref=shop_home_active_2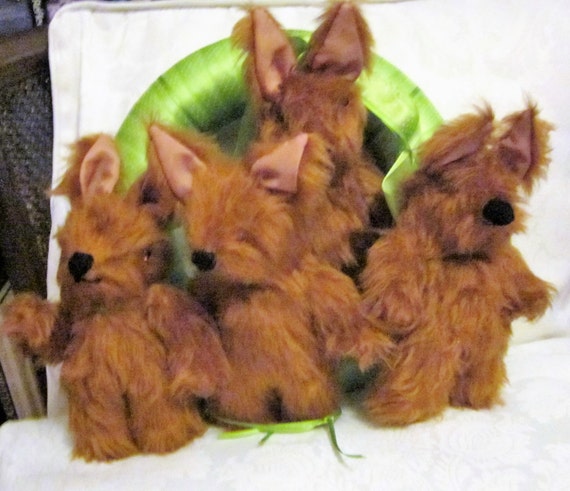 with the suggested ribbon being sat on by the Baby Fox in the centre front of this picture.
or any other pastel colour ribbon of her choice. The eventual choice was the
White Chested Baby Treasure Bunny
with it's white ribbon already in place. So, as he was in stock, and once the payment had reached
Isobel's
local Bank Account in the
UK
(mid-week), the
Baby Treasure Bunny
was wrapped in chemical free tissue, then bubble wrapped and put into a polythene postage bag, duly addressed to
MsMcN
who lives in
Auchtermuchty, Cupar, Scotland
. But not before our usual farewell ceremony had taken place.
(
These Yellow Plush Baby Rabbit Toys have the "Treasure" label added - because that is what Philippa called her first Rabbit Toy. Her late Grandmother often used to call her "Treasure", so she decided to call her first Toy "Treasure" too! The colour was an accident - Isobel happened to have a piece of yellow plush, as well as some white plush, to hand when the first model was made way back in the 1970's!!
)
Then, on
Monday
evening,
Isobel
was contacted by a gentleman,
MrJF
wanting to know exactly which colour he should choose if he wanted to order
Winston Wombat
, our
Three Way Bed Adornment Cuddly
. (
Etsy's Purchasing System can be somewhat confusing - to both the Seller and Purchaser, sometimes!!! After an exchange of convos, a choice was made and the order received).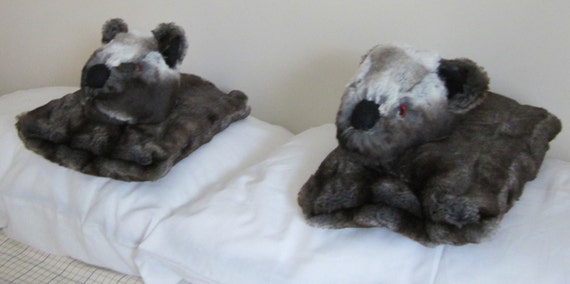 Both now need replacing!
The Wombat
on the left, the only one in stock, was then prepared for his journey - this time not as far
North
in the
UK
as our
Yellow Treasure Bunny
- just to the
City of Lancaster,
in
Lancashire.
Again, once the monetary transactions had been satisfactorily completed, this version of
Winston Wombat
was duly wrapped in tissue paper, but not the bubblewrap.
MrJF
had told
Isobel
that
Winston
was going to be a birthday present for his wife, later this coming week, so we offered to wrap him in suitable wrapping paper. Normally, we charge extra (
£2.50/parcel
) for this service, but because of our
Shipping Policy
of over-estimating and then being able to send a refund, this charge was well covered, so there was no further payment required in this case. (
Wrapping Winston Wombat in both bubble wrap AND birthday paper was felt to be "over-kill" - and does affect the overall package weight as well!)
Alas,
I
wasn't able to get to
Isobel
quickly enough to have our usual
Farewell Ceremony
- but
I'm
including the photograph of our last
Winston Wombat
who did have an official send off, when he travelled to a new home in
September
this year, again within the
UK
- (
Brighton to be exact
). It would have looked pretty much the same way, anyway!
In addition, because the order was placed after Isobel had created the following announcement on our Shop About Page, MrJF was due a Black Friday/Cyber Monday Sales discount of 20% - since Winston's cost is over £25.00 - and he hadn't claimed it when ordering the Cuddly.
For everyone's information, this is the announcement,
BLACK FRIDAY/CYBER MONDAY SPECIAL OFFER
Special Coupon FESTIVEHOLIDAYS2016 available until 31.12.2016 - on all items over £25.00 each.
In conjunction with CELEBRATION TIMES TEAM SHOPS -
We're hoping, with this fabulous offering, we'll get some more chances to find new Forever Homes for our Cuddlies, while also enhancing our Team Friends' offerings simultaneously.
This is something of an experiment for us - we're wondering if a Three-Shop Discount Offer will have more appeal than the same three Shops doing it individually! Watch this space!!!!
Oh, before
I
go - the
Canadian Christmas Parcel
was duly sent off on
Tuesday
afternoon.
Isobel
had hoped to get it off on
Monday
, but the weather was simply awful all day and there seemed to be little point in getting the parcel wet before it started. One of our friendly residents gave
Isobel
a lift into
Kirkby in Ashfield Town Centre
to the
Post Office
- and once she'd got her breath back after paying the travel fee (
almost double what she'd thought it would be!
) she was able to send the travel ticket number (
a.k.a. Tracker Number)
and notified,
NieceAS
in
British Columbia, Canada
that the package was en route.
Isobel
was first told that the package would only take
2 Working Days
to travel the many thousands of miles between
Nottinghamshire
and it's eventual destination. (
We think the Clerk was trying to encourage Isobel after the shock to her system!!!)
A couple of days later, when posting this week's travellers off to their new homes, the
Post Office
Manager
gave a slightly more realistic time table - of
5 Working Days
!! With experience of postal services on the other side of the
Atlantic
,
Isobel
will believe THAT when it happens! The
5 Working Days
will be up this coming
Monday
- and
NieceAS
has told
Isobel
she won't be travelling the
40 kms
down the road to the
Post Box
until at least the
1st
of
December
thus giving the parcel a little bit more time to get there and be picked up by it's intended
Recipient(s
)!!. (
The Post Box location is also 8 hours behind the UK in time!!)
Until next week, then - here's your Friend, Cy Bear signing off.