Hello Everybody!
Isobel
here with a shorter post than usual, because
I
only got back to
Kirkby in Ashfield
on
Tuesday
afternoon, and much of the time after that has been spent catching up with all that happened while
I
was away in
Buckinghamshire
with elder daughter,
Philippa
. A lovely break from normal routine, and reasonably easy travelling conditions, it's very good to be back home again - and almost back to normal (
or what passes for it these days!
).
Cy Bear, in his last post here, mentioned that we'd recently received an order from Santa Cruz, California for a Fox Head Hand Puppet - and I was able to cut it out and almost finish the sewing involved BEFORE leaving for my Easter Break. So, when I got back, I got on with the rest of what was needed. Basically, making the finger guide and sewing it into the Neck region of the Puppet's Head and finishing off the seams for the Glove component, and putting together the lining and outer cover.
Here is the new
Fox Head Hand Puppet,
with it's white felt collar - decorated with orange and green French Knots, joined together with a yellow running stitch, picking up the main colours of the
Buchanan Tartan
plaid fabric with which the
Glove
component is made. The paw-pads are created with our brown leatherette fabric (
which is often used for the beaks of our Owls Toys - see below
)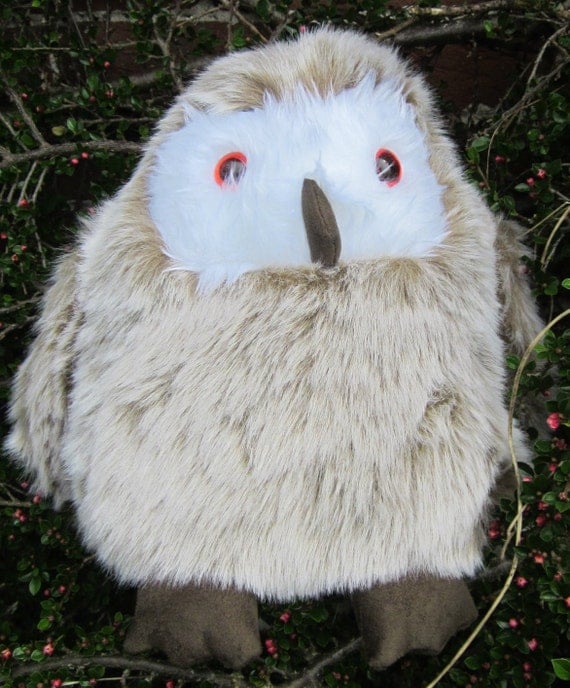 Beak and Talons made with the Leatherette fabric
I
also used a Copper-coloured plush fabric for the
Fox Head
and Ears, which are lined with a matching copper-coloured satin lining. (
Previously, I've always described the Plush Fabric I use for making my Fox Heads - and Squirrels - too) as being "Chestnut Brown"
). However, recent changes to the
Etsy Listing
processes have resulted in the colour being called "
Copper
", so that's how the relevant
COLDHAMCUDDLIES Toys
will be described in future!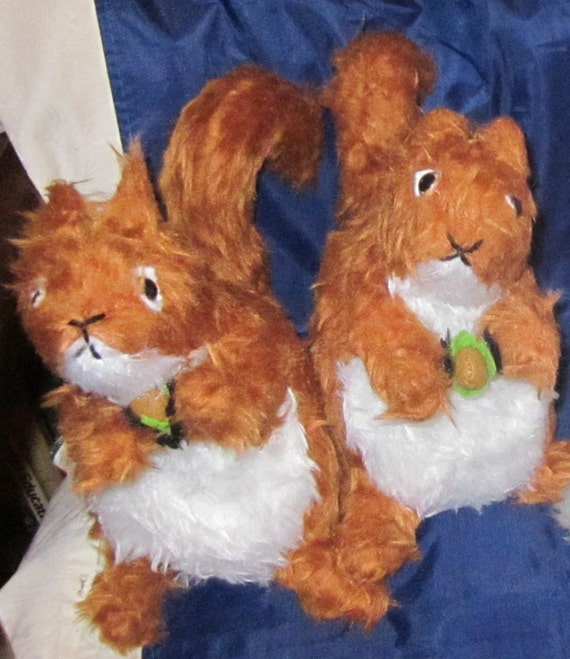 Our Red Squirrel Toys - previously made in "Chestnut Brown" Plush!
The
Fox Glove Puppet
was duly dispatched to
Santa Cruz
to our
Buyer,
MsBB
on
Saturday,
a day later than
I
had hoped - for a very good reason.
I've not
always been satisfied with the way my
Glove Puppets
' final "look" can turn out: because until now,
I've
finished the lower part of the glove component with seam binding tape - which can sometimes result in a "scratchy" finish. Making the
California
-bound
Puppet,
I
decided to see what it would look (
and feel
) like if finished off with a satin ribbon (
as I do with my Novelty Slipper' trim around the ankle area
)-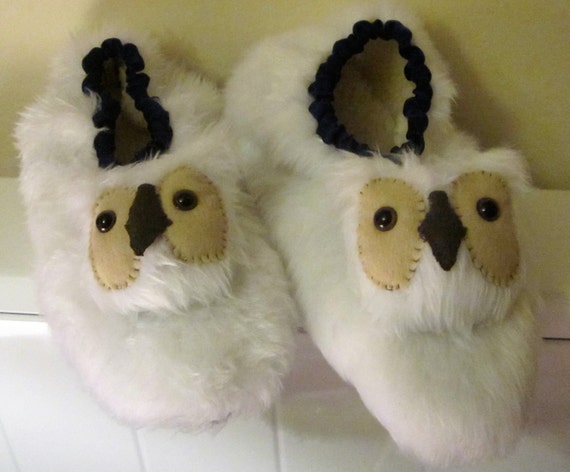 Our Snowy Owl Novelty Slippers, complete with Brown Satin Ribbon trim
Frankly,
I
like the new look (
and feel
), so in future all
COLDHAMCUDDLIES Hand Puppets
will be finished with a suitable satin ribbon trim, looking like this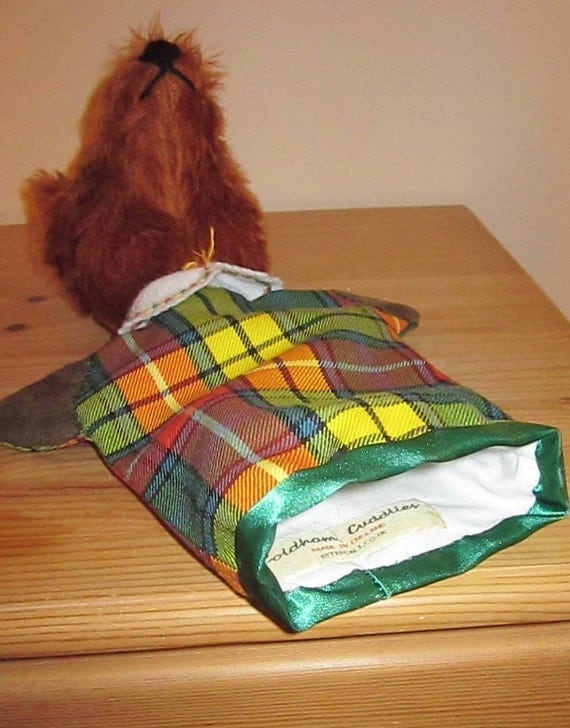 Showing the Puppet's finished base area
One of the great things of making toys as
I
do, is that it is an ever-evolving process.
I
can experiment as
I
go along, and adopt the ideas
I
feel work best - and discard those that don't! (
And, there's no one to tell me which way is best!!! Other than, of course, my individual Buyers!!).
I
also managed to re-list two of our
Toys
which had inadvertently been deleted while
I
was learning another listing technique a few weeks ago. This did mean that
I
had to wait until the weather was right to take the new-look photographs, because
I
do think
Foxes
and
Wolves
look better with an "out-doorsy" background.
I
do hope you do too!! (
Previously, the photographs had been taken inside, and while effective, it's good to have a change!!
)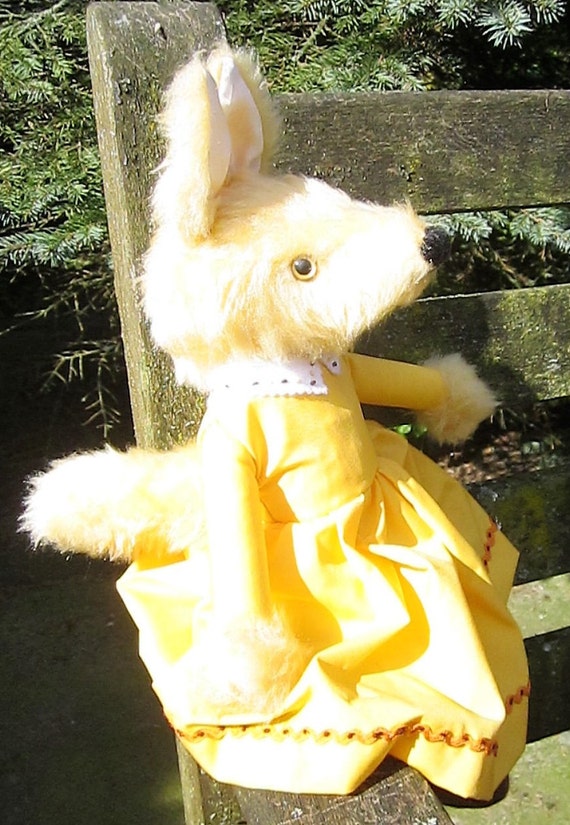 Our re-listed Fantasy Fox Toy- https://www.etsy.com/uk/listing/526389261
as well as the newly re-listed Grey Wolf Toy -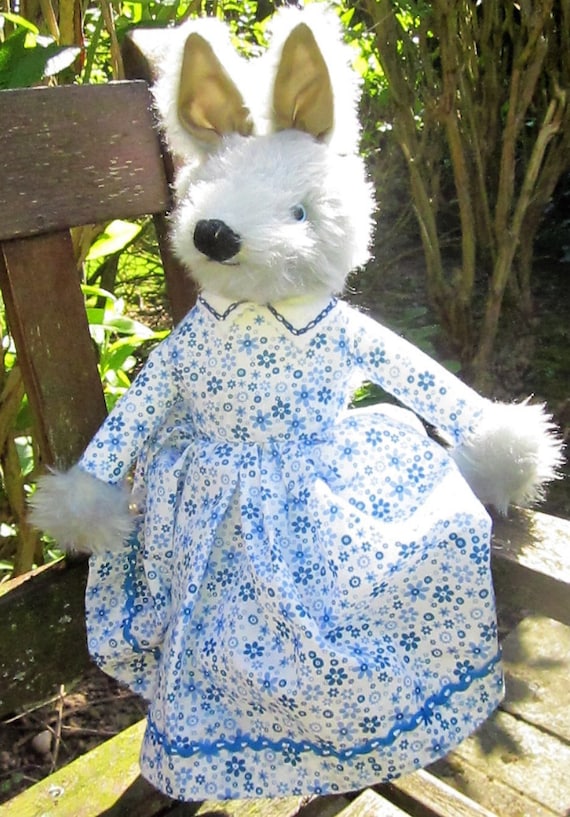 Listing Number : https://www.etsy.com/uk/listing/526385477


Well folks, that's it for this week!
I'm
hoping to be able to get down to some much-needed replacement sewing this week,as well as to update the listings in the
Shop (www.COLDHAMCUDDLIES.etsy.com)
. Most of the
Toys
are listed as being particularly suitable as
Gifts
for
Easter
- and with that
Festival
now a week away already, it's time to find another suitable
Occasion
or
Celebration
(
new Etsy-inspired "attributes" which have to be taken into account when listing the COLDHAMCUDDLIES these days
). With
105
different
Cuddlies
available nowadays, that can take some time to achieve too!! So,
I'd
better stop now and get on with it!!
Until the next time - sending you best wishes from
Cy Bear
(
who held the fort magnificently while I was missing last week-end!
),here's a photo of the
Fox Glove Puppet
and
Cy Bea
r, before the former got wrapped up and prepared for the journey to
California
.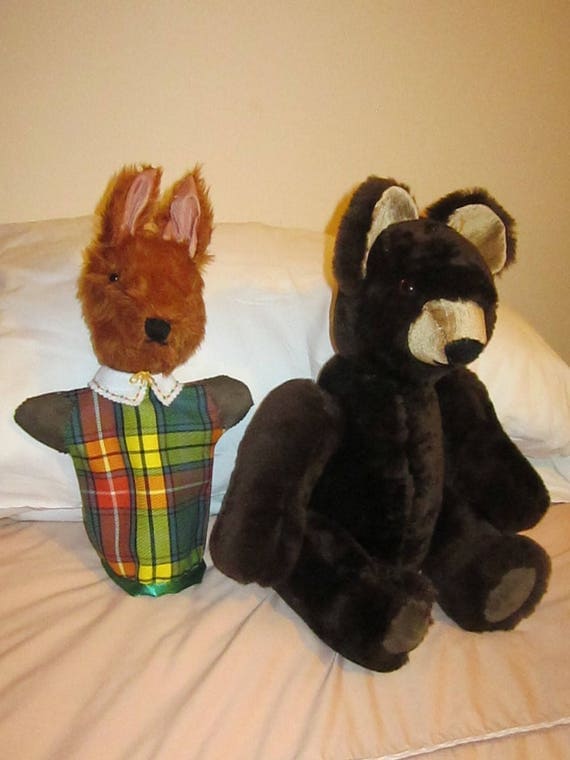 Showing off the new-look Glove Puppet formula!
.
Your Friend, Isobel