Hello
Everyone:
Cy Bear
here to tell you about
PuffinR
, (
as he has been registered
) normally a resident of
Warwick
,
Rhode Island, New York, U.S.A
- but now registered as our latest
Patient
in the
COLDHAMCUDDLIES Stuffed Toy Animal Restoration Clinic
(
https://www.etsy.com/uk/listing/79124185/stuffed-toy-animal-restoration?ref=shop_home_active_1)
Puffin R upon arrival after a 6 day journey from the USA
So that we could prepare
PuffinR's
perch in the
Clinic
,
Isobel
asked for some background information about this unfortunate bird. He has been the
Forever Friend
, since his first birthday, of
NR
, who is now 4 years old, (
with an upcoming March birthday
).
PuffinR
is a Boy Bird, although for a short period - after
NR's
sister arrived in
2015 -
he was a girl. He's a popular member of the family, and is described by
DadR
as "always being a silly bird"!
PuffinR
is also sad that "the dog was mean to him - but "everyone has learned the lesson that it is necessary to keep stuffies off the floor when dogs are around"!
So that he didn't feel hungry as he set out on this "
Puffin
adventure of a lifetime",
NR
suggested that he travel with a lollipop - which you can see in the arrival picture. Upon arrival,
Isobel
suggested to
DadR
that
PuffinR
must have slept all the way through the journey, since the lollipop had been untouched. We then reassured
PuffinR's Family
that he was in safe hands by sending this photo of him and me (
and the lollipop!
)
Sitting on a chair in our Living Room.
You can see that the lollipop is still untouched. Between you and me,
I
don't really think that lollipop's are
Bear
food, so
I
suspect that the item will be returning to the
USA
once
PuffinR's
treatment is completed.
I
think that will go down well with
NR
- who when told about the intact candy (
the American for a sweet - the word used over on this side of the Atlantic Ocean)
said to his
Dad
that "
Puffin
must be saving it for him"!
For the information of our
Followers
, here is the "low-down" on poor
PuffinR's
current state of health (
or not, as the case may be):
He's really not got a functioning beak: that will have to be totally rebuilt.
His two feet have been ripped away from his body, but remain intact. Isobel will try to fix them to the new body, because they are usable.
His entire front (chest) will have to be replaced, because there are holes around each side, as well as those visible in the photo above.
He no longer has any eyes. Two more will be needed.
The stuffing you see attached to his feet, is all that is now left - after the Dog's attentions, and PuffinR having had a bath prior to his travel across the Atlantic Ocean.
His right wing (
which you can sort of see in this photo
) is pretty intact, and will be used to provide the template for both wings when the new
PuffinR
is created.
His left wing (
sticking out at the back of this photo
) must have been used by the dog to both pull the
Toy
apart, as well as shake it, as it has been stretched completely out of place, as you can see from the picture below. It's almost the length of the whole existing body. Both will need replacement.
The first step for Isobel is to take PuffinR apart and find how he's made! She can then create a cardboard template so that she can cut out the replacement pieces to put PuffinR back together again.
As I said earlier,
PuffinR
has already had a bath (
DadR confirmed that this had taken place, because the thought of a travelling Puffin toy in a package smelling strongly of Dog "was not a palatable one"!
). So, once
PuffinR
is in pieces, and the replacement pattern created, we plan to tack the original pieces to their matching sections using the new material, before sewing the body together. He will then be re-stuffed. Once the final
PuffinR
has been created, the tacking will be removed (
as the original toy pieces will be held in place by the stuffing
).
Previous experience when we've been restoring our
Patients
is that
PuffinR
may well end up slightly bigger than he is at the moment.
Isobel
was surprised at how small he is actually - we'd got the idea from the original photos that he was a much bigger toy than he is. He's about the same size as one of our
Baby Koalas -
see below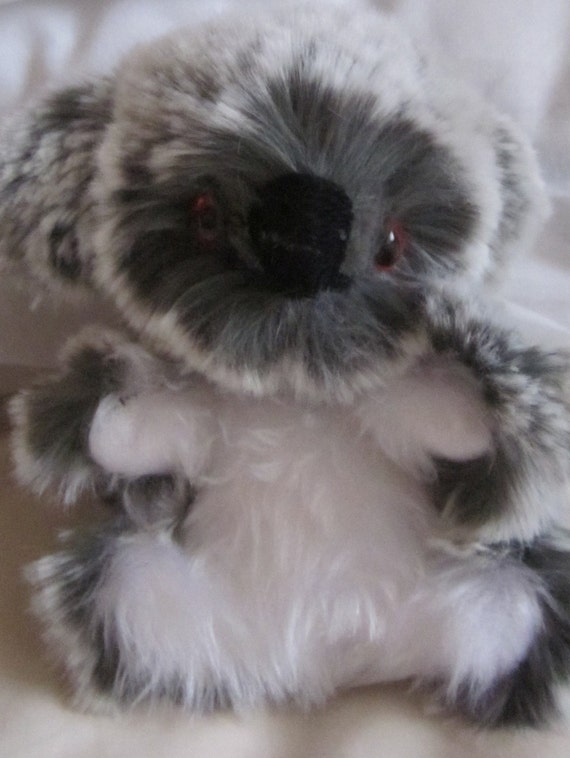 Mind you, this Koala is fully stuffed: I'll measure them when PuffinR is restored
Having said that, DadR says that "though Puffin was never a large bird, the size of his personality fills the room".
While awaiting
PuffinR's
arrival,
Isobel
did some research with the two main on-line fabric suppliers we use and asked for swatches so that matching could take place as quickly as possible. Some have have arrived, but on inspection, not all are as good a match as we are seeking. (
One does have to allow for differences in fabric manufacture and dyes used - so an absolute match is not going to be possible. Also colours pictured on the internet also can be misleading
).
Since
PuffinR
arrived though, we've established that he is made with fleece, so on Saturday morning,
Isobel
decided to take
PuffinR
with her on a reconnaisance trip to a haberdashery outlet in
Mansfield
, the nearest big Town to us here in
Kirkby in Ashfield
, and has successfully matched all the colours, in the usual fleece fabrics available to us, that we need to achieve
PuffinR's
"New Look." On the basis of "getting it when you see it", quarter metre pieces of all the colours have been purchased - to be put into use early next week. We now wait for
Isobel
to undertake
PuffinR's
recovery operation, by creating the new template to put him together.
The exception will be the feet, which could have been replaced with felt, if need be - but as
I
mentioned earlier,
PuffinR's
existing feet will actually be usable, and will become the only pieces to be visible of the original
Toy
. However, we are delighted that none of the original
PuffinR
will be discarded, but will form the basis of each piece of the restored body.
What Isobel will be using later this week in PuffinR's re-creation
(
Quarter metre is the smallest length we could purchase for this exercise, so there's going to be fabric left over. Afterwards, we hope we'll be able to make some versions of our own PuffinR's as we think they'll make great additions to our Plush Bird Toy collection. This will be done using the template Isobel hopes to create to restore PuffinR. Excitingly, the
lemon fleece
we found is a better colour-match for PuffinR's beak - and, additionally, currently unavailable from our two internet sources. The leftover material can be used to make some suitable Easter Chicks and Duck Toys, something
Isobel had been considering as additional Coldham Cuddlies for 2017
).
PuffinR's
family will be sent a copy of each post from this blog while he is being treated.
DadR's
last comment this week to
Isobel
indicates that much of their
"
extended family is quite entertained by this entire endeavor. I think they'll be excited about the blog as well, so I hope to bring you some new readers.
(
We both look forward to welcoming them to our existing Band of Follo
wers!
)
Cy Bear
, by all means, should share in
Puffin's
largesse. It's not often a patient arrives with a present." (
Isobel had said that she'd "try to keep my paws off the lollipop while Puffin is being treated" - I'm feeling a bit offended by that! As if I would!
)
So, I'll end this report from our Toy Restoration Clinic - with the wish that you all have a great week. In the interim, I shall ponder DadR's remark about "Puffin's largesse".......
Your Friend, Cy Bear