Making the Prince Tuesday puppet

Hello Everyone - Isobel here, and this week, I think I've managed to suss the techniques of transferring photos sent by email onto this post, via my Download file! People can tell me until they are blue in the face HOW TO do it: I have to actually DO it before the modus operandi sinks in! My apologies for publishing last Sunday without the photographs. Think this has to be the biggest error of my blogging career - but then, if one doesn't make a mistake or two in life, one really doesn't learn too much either!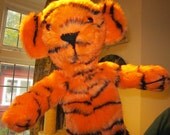 JS of Tulsa, Oklahoma - the Puppeteer referred to in this title, first contacted me in
Septemb
er
or
October
last year to see if
I
could make him a
Tiger Puppet
approximating in size to one of my big
Teddy Bears.
I
replied that
I
thought
I
could, and asked for more details. It quickly became apparent that a combination of the
Teddy Bear Body
, and the Head
I
use for my
Golf Club Covers
might meet the criteria and
I
offered to do a prototype to see if it would work. The photo above is the resulting puppet, and based on it, the project moved forward. (
The computer, or the blogger programme, is still causing some problems, because I'm still not sure why it persists in starting lower down the page than normal: but at least it is appearing. Also, this is not the normal font I used - but it's the one the Blogger programme wants me to use today!).
The first (of three Tiger Puppets proposed) was named Daniel. There's some more background to this project that will be shared in future posts, but as JS has been kind enough to provide me with a tutorial on how he goes about making his Hand/Arm puppets, I thought I'd start the ball rolling by reproducing the story and pictures as provided to me via email some weeks ago. So, in his own words:
I thought that the Prince Tuesday puppet would be a good example to show your followers on your blog.
He is one of the more simple puppets in my collection and can be made in a single evening given that you
have all the necessary pieces and the proper outfit for the particular puppet that you will be building.
!. Starting with a Coldham Cuddly stock puppet body.
2.
Prince Tuesday
will require a reversal of arm position on the stock body.
(Photo shows where I cut the arms off)
3 Then resewing the arms back on upside down.
4. Then I tried the shirt on for size, and to determine how much
of the arms length that would need to be removed.
5. Removing the excess material from the arms.
6. Attaching the hands to the shortened arms. (Felt hands were also made by Coldham Cuddlies)


7. The 1880's German made 'tin' doll head I restored a few months ago. ( Purchased off eBay. )
8. Attaching the doll head to the stock body.
9. Dressing the puppet - starting with the shirt. (American Girl doll shirt - from eBay)
10. Adding his waist coat. ( Custom made "Hobbit" style vest from an Etsy doll maker )
11. And lastly, adding the Prince's royal cloak. ( Made by me. )
12. The finished Prince Tuesday puppet ready for service.


12. What my cat thinks about my puppet making presentation...... "


Well, this is a long post this week - making up for last week's effort - but hopefully you'll enjoy it as well as learn some interesting things too. Until next week then - hope the days in between are good ones for all of us!
Isobel