Hello Again Everyone:
Cy Bear
back again after yet another break in communications.
Carrying on the topic of our last post of 19th May, 2019:
Finished Peacock Golf Club Saver - with the protected Club in situ
At least this time, the breakdown wasn't caused by technology. It was the result of a bad fall
Isobel
had a couple of days after our last post here. This resulted in her going to hospital for two weeks, and the rest of the time till now being occupied with her rehabilitation (
after breaking her hip in four places)
. The exact medical terminology for the procedure - and
I
quote - "Left dynamic hip screw for neck of femur fracture". Nearly eight weeks in from the date of the accident, she is now walking with the aid of a two-level trolley inside the home, and a three-wheeler walking frame for outside activities. All the wonderful
Social Workers
who formed part of the
Occupational Therapy Support Teams
sent to help her recover have gone their separate ways, as she can cope with daily duties in the home. She's been to
Mass
at
St. Barnabas
twice in the last 3 weeks, thanks to lifts in with
Clare
and her family, and she now has visits twice a week from a
Personal Independence
Worker
(
someone who walks beside her
) - watching how she uses the three-wheeler - and gives assistance (
if needed
) in other activities which hopefully will allow
Isobel
to be back to her former active self as soon as practicable.
Full-Length photograph of Peacock Golf Club Saver in use
Meanwhile, the flat, which is already pretty fully furnished - to cope with both
Isobel
and
The
Cuddlies
requirements - has had mobility aids of different varieties loaned to her by the
British Red Cross
(
for as long as they are required
), and it's making for some cramped living conditions. Access to the
Cuddlies
toy storage has been limited - which is why there have been no further posts from me!
I'm
not even sitting in my usual spot in
Isobel's
bed - and we're not quite sure when that will happen again!!
Seen from the Peacock's "best side" - minus feet, which we felt didn't look right on the finished Cover
However, after a week or two at home, the Peacock Golf Club Cover - we've decided to rename them Golf Club Savers from now on, as we feel that is a better description for them - was completed.
The gentleman who caused the creation of this new Coldham Cuddly did confirm that he was not in fact interested - but we've listed the new creation in the Shop, and Isobel is finally getting round to our weekly blog posts too. The pain-killing regimen hasn't helped the writing process very much, but even that is improving, so - here's hoping.
She's not yet got in touch with the Lady Golfer who asked to be kept informed about the Peacock's final arrival - because she's only really just returned to her daily laptop regimen. It takes up a lot of day light hours simply trying to get completely better after one of these incidents, and Isobel does get somewhat impatient with herself because it all seems to be so slow. However, everyone around us keeps telling her that she's doing OK - so, hopefully, we'll get back to "normal" soon.
Meanwhile,
I'm
not going to hope "that things go smoothly" as
I
did at the end of my last contact with you on
19th May
!! It was only two days later, that
Isobel
had her fall!! (
Also, this may explain the title of the post this week).
In the interim, while Isobel was in hospital and during the weeks since, she discovered that our whole Shop might get closed down by Etsy, because the five orders we had "on the go" - two of whom where "off line" orders, had become well out of date when it came to delivery/dispatch dates. All our Buyers had been told about Isobel's accident and had indicated they would be prepared to wait until Isobel was back "in business" once more. However, Etsy's automated system closes Shops down when multiple late dispatches get flagged up!! To avoid this scenario, we were told to refund the monies we'd received, and ask the customers to re-order. We did so - and are pleased to say that all but one of the kind people did re-order, and Isobel is now sewing again as well.
We've finished the first re-order: for a
Brown Sister Bear
(
in the style of a Poor Clare Nun
).
Sister Bear is wrapped and ready for shipping to Bochum, Germany: which will be done by Clare on Tuesday next week.



We're working on a new version of an Otter Golf Club Saver. This will be heading for Cambridge, New York State, U.S.A. as soon as it is completed. The Buyer on this occasion suggested that Isobel "surprise him with some colours" when re-ordering his item. During subsequent email conversations, it was decided that the original Otter "body" will remain the same colour, but that the fish and knitted metal handle cover will be where the "surprise colours" will be found.
The knitting for the latter is well underway, and the item hopefully will be en route by the end of this next week - provided that we don't run out of the wool in the interim!! Pictures of the latest version will be shown as soon as they are taken.
Isobel
cannot yet board any public transport without help from others, so is reliant on
Clare
(
and our wonderful neighbours
) to purchase anything that she cannot reach for herself. That includes her ability to leave the flat un-escorted. Being on the first floor, she has to use a built-in stair lift, which can accommodate her, but not the three-wheel walking frame as well, so someone has to carry the latter to the end of each journey before she can set off walking to the eventual destination!! Frustrating - but doable; but you can see why
Isobel
is "champing at the bit" a little!!
The other two orders still to be finished (
and they are already cut out, awaiting Isobel's attention
) are for another
Blue Nun Bear
and for a Padre Bear.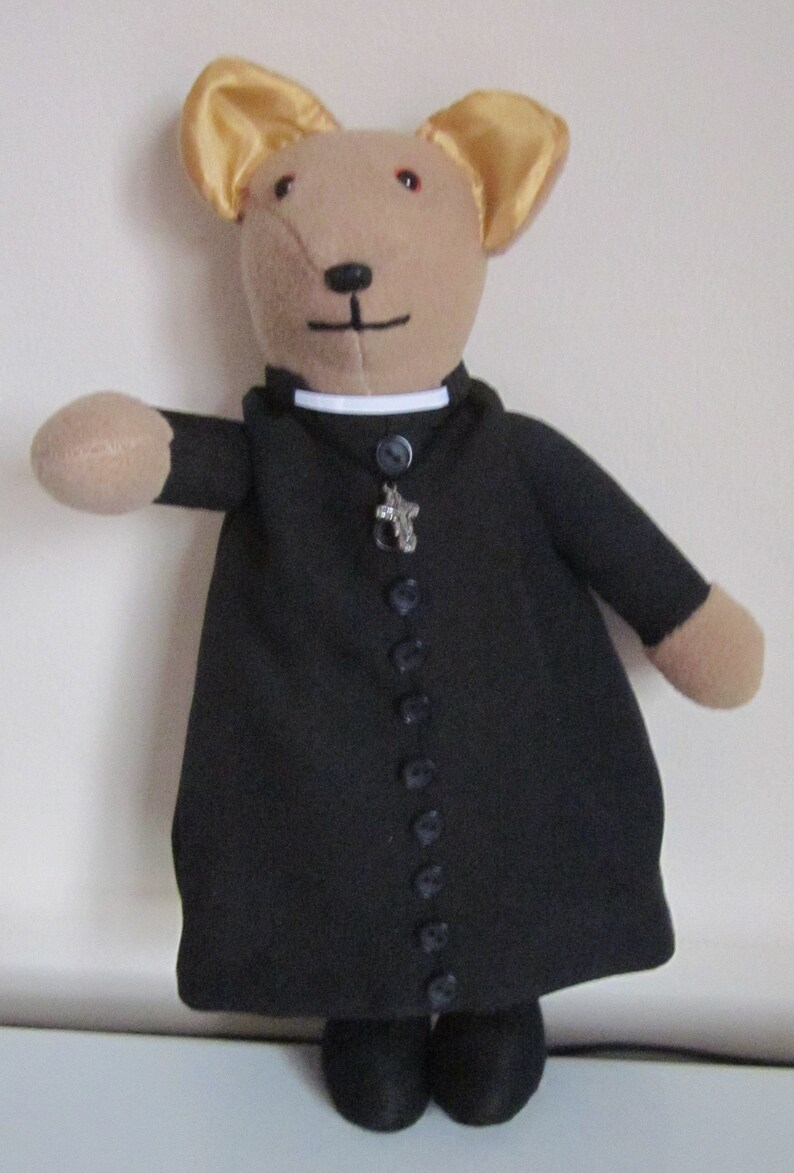 Our last Padre Bear (

sent just before the accident

) got this review while Isobel was in hospital:

"I haven't seen it yet, but my mom loved it. She sleeps with it (she's 84 and in asst living). she likes that it's a priest :)"
Both are off-line orders, which can be handed over in person when completed, as they are both for St. Barnabas Cathedral parishioners and one is not subject to Etsy deadlines, although now they are not a problem, thank goodness. That takes the overall total of Clerical Bear sales since they were introduced in October last year to 23. Please keep them coming! They none of them ever look the same, even though Isobel uses the same patterns for each of them!
Think
I've
gone on long enough for this week: hope that we can continue to keep in touch WITHOUT further incidents along the way. (
Think that's a safe enough wish - for now, anyway!
).
Your Friend,
Cy Bear.