Good afternoon again,
Everyone!
Cy Bear reporting on what has happened in the last week in the COLDHAMCUDDLIES' world - and it's one of progress too.
First of all - our Yellow Unicorn was completed after we posted our blog last week, and is now listed in the COLDHAMCUDDLIES' Shop - https://www.etsy.com/uk/shop/COLDHAMCUDDLIES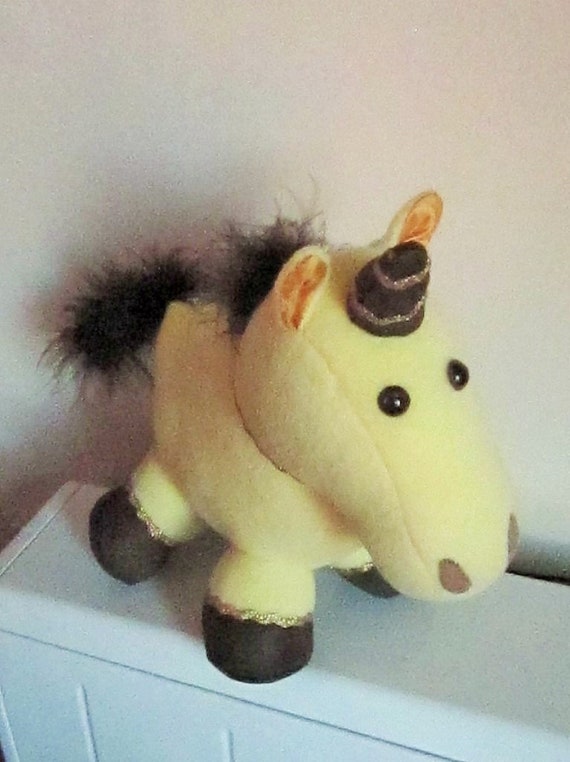 https://www.etsy.com/uk/listing/625182921/yellow-unicorn
As you can see, Yellow Unicorn is now fully decorated around his hooves, and the next photo shows him with his "necklace/collar" too.
The final shot - for this post anyway - is a full facial photograph:
Then we can report good progress, finally, on the
Clerical Bears Project
: we finally managed to run to earth the right sized limb disks for our proposed Models, and they eventually arrived in the post on
Friday
morning. Ironically, while they were purchased via
E-Bay
(
in slight desperation on Isobel's part
), it turned out that if she'd been thinking straight, she could have got them RIGHT AT THE BEGINNING of this experimental stage from
Mohair Bear Making Supplies Ltd
- our supplier of choice for most of our furry fabrics for all the
CUDDLIES
that need such material - because that is where the initial packet of 3 sets (
they come in threes you see
) were sent from via our
E-Bay
order! (
One of the things Isobel will have to do this coming week, is to sort out with Mohair Bear Making Supplies that she has multiplied herself: but needs them to put the two accounts in Isobel's name into one!!!
)
It has enabled Isobel to finish the Prototype Padre Bear - which is pretty much how all the rest of them will look. Basically, they're going to be made in three stages: the body, head and arms, which will include fitting in the first disk part at the top of the arm. Then we'll do the head and body and stuff it so that we get an idea of how the Ornamental Toy will look like when finished. Then we can make the "cassock", which is quite fiddly, although once Isobel has "got it", she shouldn't have too much of a problem. Hopefully, they'll all end up looking something like this:
The initial fit resulted in too much of white collar, and it not holding it's shape too well.
Also, it became obvious that although we thought we had 8 matching black buttons, we actually ended up with five properly black ones, and three that "looked" black, but also had a reddish tinge to them.
As this is still a prototype - and therefore not going to be part of the fund-raising gig for
St. Barnabas Cathedral's Roof Maintenance
-
Isobel
decided to carry on, carrying on, as she needed to get some market research done on progress to date (
a.k.a. showing pics of the finished article to all and sundry before and after Mass this morning).
Although this
Model
will not be on sale,
Isobel
had a brilliant suggestion made as to what could happen to him - rather than sitting around in the flat, gathering dust. The idea of us creating
Padre
Bears
started several months ago, when we were having an early morning coffee before
Mass
one
Sunday
. One of our
Parishoner Friends,
whose wife actually has an earlier version of one of our Light Brown Bears - (
and called him "George", if memory serves):
suggested that Isobel try to make one, as he felt it would sell well - and not just here in Nottingham at the Cathedral. Getting a pattern has been the main hold-up, but now we've got a template, we can bring it to fruition. Isobel will indeed offer this original Padre Bear Model to our Friend - as a gesture of thanks for his suggestion, once he's done his work as our production "guinea pig"!!
As usual, we had to work out the order in which the different components of the new Coldham Cuddly would be put together - we think we've got that! Then we had to fit them together, and add the arms - which did need to be taken apart at the arms shoulder so that the disks could be fitted in.
Then the cassock was fitted over the body, and holes made in the side seams - matching where there were already gaps in the Bear Body side-seams. The disks were then fitted in, and closed with the plastic safety disc which comes as part of the set; the already-made head was then added and the collar gathered to make a better fit - giving the resulting look.
The white piece bit of the "dog-collar" is currently made with pretty strong inter-facing, which would normally be ironed on - resulting in a less fragile fit. At the moment, it's not quite what Isobel is looking for, as it tends to bend too easily when trying to sew the cassock around the Bear's neck, and so doesn't look too convincing - at least when one is close up!
Discussions during the "market research" resulted in a suggestion that an ordinary piece of white printing paper, laminated on both sides might well provide the answer, and this will be put to the test in subsequent days. We think it will be hardy enough to remain in place once Isobel slots it into the collar (the current inter-facing gets very weak if handled too often!) and it will also provide the "shiny" look that a real "dog collar" has, while our Model's has a matte finish. Meanwhile, here are two further photographs of the prototype as presently on offer:
See you all next week - and hopefully, we'll have a finished version of Padre Bear - as he will be offered to the world, as well as a Bishop Bear - dressed in purple. Isobel has somehow always thought of it as crimson, but again, our friends didn't think I'd got it right! More research needed on that, methinks. Plans are in Isobel's mind, as she types this, I know!
One thing though has emerged: we're unlikely to be offering a white-robed
"Deacon" Bear,
as the general consensus was that once ordained,
Deacons
tend to dress in Black, and have a special white garment as their clerical robes. However, one of the
Parish Priests
at
St. Barnabas
- who was pretty enthusiastic about our prototype - suggested that a white-robed priest might go down well in countries where hot temperatures are the norm (
although if the weather carries on the way it is at the moment in the UK, they might have to go that route themselves here and our Clerics have to have "Tropical" outfits, as happened in the days of the British Raj all those years ago!
). They do wear white cassocks, like our priests wear black ones in places like
South India
(
one of our present Priests does come from those parts, as it happens!
). So, we'll still offer a White-robed
Padre Bear
- and see what results!
As I said last week: just watch this space Folks! Exciting times ahead - especially, as we received a Custom Order for a Tiger Arm Puppet from a MrGGG, located in Exeter, Pa, USA on Friday. It's based on this Tiger Arm Puppet in our Shop, but our client wants it made without stripes -
so it's going to be made with our Silver Fox plush fabric, which looked like this in the photograph Isobel sent out to MrGGG on Friday afternoon.
See you all again, next week - hopefully.
Your Friend
Cy Bear.