Hello there
Everyone
-
Cy Bear
back once more, and wishing you all a Very Happy Easter from both
Isobel
and
Me
, and the various
Coldham Cuddlies
who remain in the
Storage Area
awaiting
Forever Homes
- from anywhere they may need to travel to!
This week,
I'm
going to tell you about four new
Teddy Bears
, made from the same pattern that
I
am made with. Two of them were made with Silver Grey Plush fabric, and two in Yellow (
or Oatmeal as the supplier insisted on calling the fabric colour!
) plush. One Grey and One Yellow Bear were ordered by a good friend of
Isobel's
family, a fellow worshipper at
St. Barnabas Cathedral
, who wanted to give two young boys a special gift before they left with their parents for a missionary life in
Papua New Guinea
. She had watched both little fellows grow from being babies to the ages they currently were (
something like 6 and 4 respectively
), and wanted them to have something special to take with them to remember her by.
Before Both Oceania-bound Bears left our Shop
So, just after the Clerical Bears had been introduced to the world, she began on the Silver Grey Bear.
He eventually ended up looking like this and originally had both arms and legs that moved (
as in the picture earlier)
. However, after a week or two, our
Buyer
decided she would be happier if only the legs moved, so both
Bears
returned for a brief spell in the
Animal Toy Hospital
, to have their arms sewn on to their respective bodies. The
Silver Grey Bear's
face ended up looking somewhat solemn - but
MsJP,
who ordered them from us, liked this expression, so we ended up calling him
Solemn Grey Bear
- for the purposes of listing him on our
Shop (
www.etsy.com/shop/coldhamcuddlies).
Once Silver Grey Bear had been finished, Yellow Bear was cut out and sewn, and ended up looking like this:
The photo of
Yellow Bear
shows him with his arms sewn in place (
whereas Silver Bear's picture does not
) - and keeping his arms immovable means it's easier to get both Bears to sit comfortably when being hugged as happened to these two eventually once they'd been introduced to their
Forever Friends.
When both were finished,
Isobel
placed them in a large plastic bag she had handy, and delivered them to
MsJP
one
Sunday
morning, after
Mass
just before
Christmas
, last year. (
The yellow ribbon tied on the bag, looks like it was "snaffled" by Yellow Bear's Forever Friend upon introduction!
)
Then, in the last couple of months, we got a request in from a long-term family friend, for two copies of these bears. MrsCC-F actually lives in Bedford, New York State, USA but for some time lived in a small village in Normandy, France where Isobel's sister- and brother-in-law have lived for the past 30 year. She had ordered a similar bear for another family member once before. He looked like this fellow - who has proved to be a popular guy over the years" too.
This time, Silver Bear was destined to be a Forever Friend for a young man, called Thomas, who is grandson to a friend of hers and lives in the same village in Normandy, or nearby. The Yellow version is destined to become the Forever Friend of MrsCC-F 's newly arrived Grand Daughter, who lives with her in New York State. This really does show just how multi-national Coldham Cuddlies has become over the 9+ years we've been in existence - a fact we are delighted to crow about!!
Isobel first completed the Normandy-bound Silver Grey Bear about 10 days ago. We hoped it would arrive in the village in time for Easter, but he looked like this before he left for his new Forever Home
In her order for this Silver Plush Bear, MrsCC-F asked Isobel to both wrap him up in Easter paper, and also include a message - in French - explaining that the package was intended for their friend's grandson. There's a another photo of the latest Silver Plush Bear, sitting on the paper in which he was wrapped up, and then wrapped in bubble wrap. The whole package was then placed in a polythene mailing bag and sent off to Normandy at the beginning of April.
The
New York State-
bound,
Yellow Bear
was sent off about
5 days
later, and was wrapped in our normal way - chemical free tissue paper, then in bubble wrap, and then placed in a similar polythene mailing bag, and posted the normal way for all
Cuddlies
travelling overseas -
Royal Mail Air Mail Tracked and Signed
for. (
We've just checked on the Royal Mail website, and find that this package reached Bedford, NY on 18th April!
) We're delighted. We did want both
Bears
to get to their individual destinations in time for
Easter
, although
Yellow Bear
is actually intended as a first birthday present for
MrsCC-F's
Grand Daughter
sometime in
June
!
We're delighted to be able to tell you that we've received another order for a
Clerical Bear
- which takes us one step closer to the
20 Bear
sale count! This time, though, it's for a
Vicar Bear
- and is the first order from what we suspect to be a non-Catholic source! The
Buyer, MsDB
, from
Fordingbridge, Hampshire, UK
indicates she wants one exactly like our model, but with the addition of a crucifix. The original photo - below (
used as the main one in our Shop listing
)
does show him "sans crucifix", but as the model Isobel includes in our travelling Clerical Bear Collection, he does now wear one -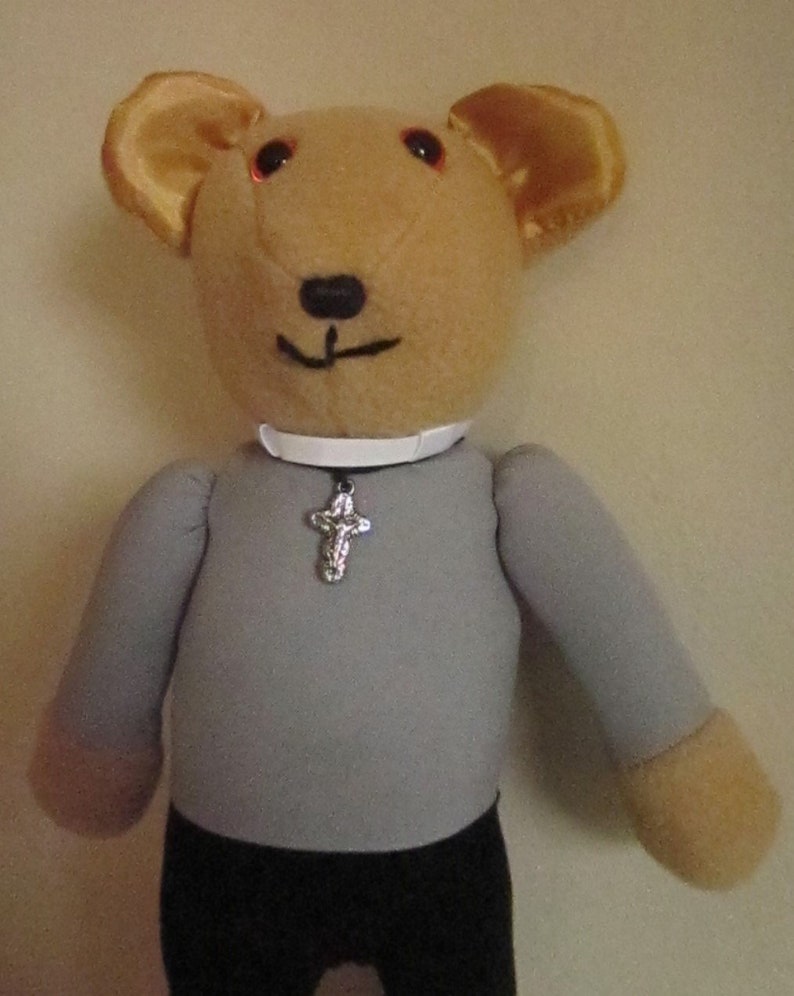 The original also does have a somewhat crooked smile!
Isobel
will endeavour to create him with a slightly more "normal" look. (It's difficult to change the original look here, because as the facial features are done in black double knit yarn, there is a tendency for a mark to appear/stay whenever a correction is made).
Vicar Bear is
made slightly differently to all the other
Clerical Bears
, in that his body is not separate from his clothing - and he's also a little bit taller than all the others. (
All the other Clerical Bears, Men and Women, have separate bodies, that are individually dressed
).
MsDB,
our customer, wants him to have the same colour shirt and trousers, as well as the crucifix - but as many of you may know, Vicars - and their lady equivalents (
Peter, Isobel's late husband used to call them "Vicarenes", which I think is a rather nice, grand title for these important ladies
) often have their shirts in many different colours.
Isobel is more than happy to accommodate all reasonable alternative suggestions!!
She's already got cream, blue and pink fabrics and stripey patterned alternatives in stock, if anyone else would like to order one!!!
That's it for this week:
I
think next week, if we live and do well,
I'll
show you the photos we received from the
Thornton family
(
Forever Home to my good Friend Teddy Bear Thornton, a.k.a now as Benjie Bear
) and tell you more about the recent additions to the
Clerical Bear Family
-
Sister Bears
called
Sister Breda
(
"Blue Nun"
),
Sister Clare
(
Brown Habited Nun
),
Sister Mercy
, and
Sister Rose
(
our "Pink" Nun
).
I
included a photo of the quartet at the end of last week's post!
Do hope you're all having a great Easter long week-end. See you all next week - all being well.
Your Friend. Cy Bear.