Hello there
Everyone
: sorry to be late this week, but events in
Isobel's
life overtook us, and this is the first time we've had a chance to work together on our latest bulletin from the
COLDHAMCUDDLIES' World
.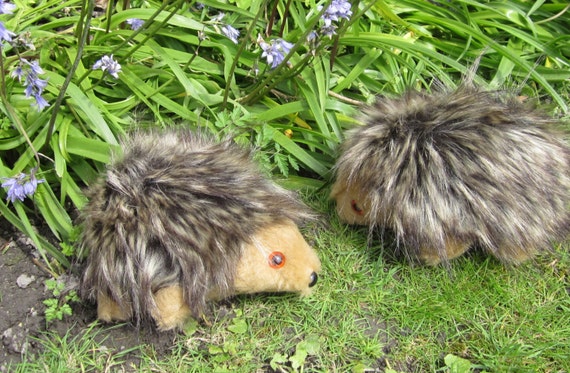 Our Baby Hedgehogs, taken outside in a garden
First of all, the latest on the Hedgehog front: Isobel has posted details about our intended campaign on our Shop About Page, (www.Etsy.com/shop/COLDHAMCUDDLIES.) as well as in the Shop Announcement section. They are also on the first row of our Shop Page when anyone calls in to the Shop to see what we Cuddlies look like.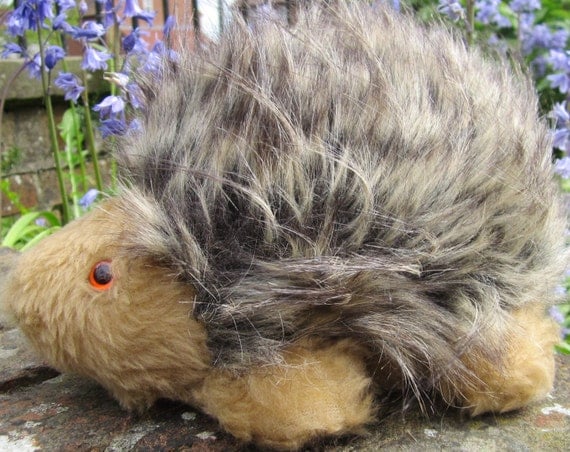 This is Mommy Hedgehog sunbathing on a convenient wall
Then whenever anyone shows support for ANY of the Coldham Hedgehogs, they get personally thanked by individual convo message via Etsy.com. with a brief background to the campaign - just in case they had not read about it in our last week's bulletin.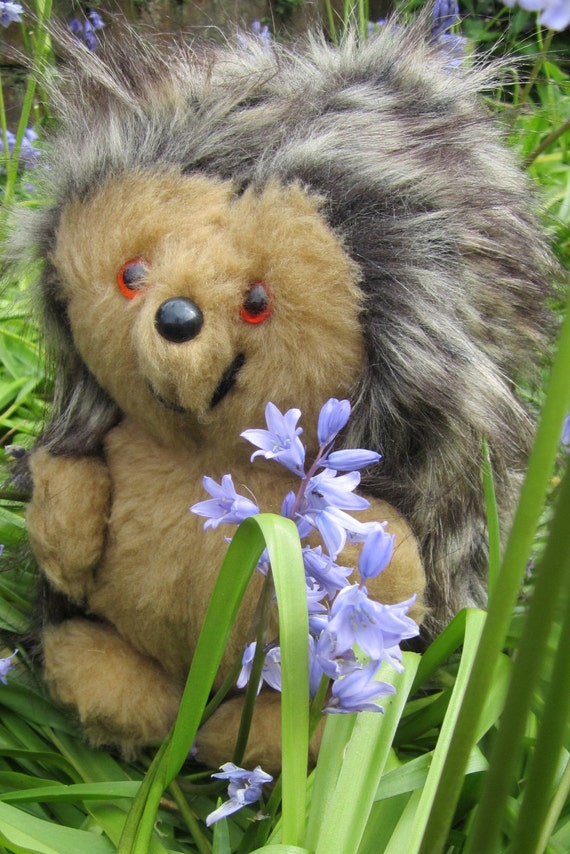 Daddy Hedgehog, among the bluebells
This week, in between other things Isobel has to do (as well as fighting off the cold that she fears is "cooking") she hopes to get in touch with local media (print and broadcast) to see if she can get news about our campaign "out there" in the REAL WORLD: so far it has basically been centred on the internet and other social media. Will report on progress, as it happens - IF IT HAPPENS: that's now down to YOU FOLKs, as well as us!
Now, our title promises you some news about some Old Friends - and official Associate Cuddlies. They tend to have been Patients in our Stuffed Animal Resoration Clinic at one time or another, and this is true of some of those whose photographs I'm including here. They all belong to Philippa. Isobel's eldest daughter, and as do all Bears, each have a story of their own - some more exciting that others maybe.
First of all there's
Count Rusty de Benj -
Rusty
to his
Friends
. He was originally a raffle prize in the local pharmacy when
Isobel, Peter
and the girls lived in
Canada,
and has been with the family since the early
1980's
. When
Isobel
learned that one of her tickets (
each time one spent over a certain amount of money, a new ticket for the raffle was issued - and I think there were about 10 that had accumulated by the time it was drawn)
the only way
Rusty
could come home was to be strapped into the passenger seat of the family car.
Having created quite an impression on the way home, at 4ft 6ins from head to foot,
Rusty
has kept it up ever since. He's travelled with
Philippa
around the
UK
each time she has moved for work purposes, and while she was in
Belgium
, spent some months in storage. During that time, he got somewhat limp and dusty, so when he arrived as a
Patient
in the
Coldham Cuddlies Clinic
, (https://www.etsy.com/listing/79124185/stuffed-toy-animal-restoration-clinic?ref=shop_home_active_14) he was de-stuffed, He had polystyrene balls inside him (
a pet hate of Isobel's
) had a good warm bath and was then re-stuffed. He now resides in the rocking chair in
Philippa's
bedroom in the
UK
.
This is

Tommy Teddy

, and he doesn't look in the slightest bit like he originally did. He was originally made with a blue and pink plush fabric and arrived in

Philippa's

collection of

Bears

when she was about

3-1/2 years old.

We'd gone to visit some

Loretto Sisters

in their convent in

Manchester

(

Granma Morrell had been educated by them, and Peter spent his early years in Manchester and was therefore well known to the Sisters

)

.
Mother Superior
arranged a mysterious delivery of this big
Teddy Bear
which at the time was almost the same size as
Philippa
herself, and he was promptly named
Tommy Teddy.
He travelled with the
Family
to and from
Canada
, and also with
Philippa
around the
UK
, with
Rusty
. He alas did not stand up as well to the same treatment, and indeed is a lot older than
Rusty.
So, when he arrived in the
Clinic
he was duly taken to pieces and de-stuffed (
he had foam pieces inside him, and that is no longer an acceptable form of stuffing in these days of "Health and Safety
"). However, his original skin did not survive the luke-warm bath!
Isobel
was able to rescue sufficient of the pattern to be able to recreate him in this more modern version using Blue and Pink Fleece, and he now sits with
Rusty
on the same rocking Chair in
Philippa's UK
home.
Now the third ursine member in this Bear family picture is known in the Family as "Big Teddy". He was given to Philippa by Peter and Isobel for her first birthday and despite being the oldest member of the trio, really looks in remarkable trim given his age.
When he first arrived, he was a definite favourite with his young
Forever Friend
: however, shortly afterwards, a favourite
Aunt
and
Uncle
arrived from
Kenya
to meet
Philippa
for the first time, and brought with them a bright
Yellow Plush Teddy Bear
who became known as
Sleepy Teddy. F
or some reason - probably because he is a softer, cuddlier
Bear
- the invader ursurped
Big Teddy
in
Philippa's
affections.
Sleepy Teddy
has been EVERYWHERE with her, even when she used to travel overseas to
Australia, America
and other exotic places for work, and he's been re-covered at least twice in his life. (
Isobel says he needs another new coat, but so far has not been able to achieve her aim of providing it
). Meanwhile,
Big Teddy
continues to sit serenely with his two fellow
Bears
- looking almost as good as new.
Isobel is busy making Baby Koalas, in between the Hedgehog Campaign arrangements, so hopefully there will be some up to date photographs to show you next week. She's made 6 of them, and they're coming along fine. Currently, its the battle of fixing heads to bodies that is occupying her.
See you all next week - hopefully on the right date this time around. Your Friend, Cy Bear.