Hello
Everybody
!
Cy Bear
being allowed back for a short while again this week!
Basically, we've had quite a lot of action on the Cuddlies front(s) this week, and I can tell you about some of them before Isobel returns with the promised photographs of Newark Town Centre - as she mentioned in last week's post.
First of all, Isobel had to commence work on a pair of Grey Rabbit Head Novelty Slippers - having found the correct size our Customer required. She therefore used one of the stored set of insoles which form the basis of every adult slipper we offer, and cut out the plastic backed fabric required to begin the process.
Then during the evenings this week, she set about cutting out and sewing the sides and top of the slippers, so that they now look like this:
The slipper on the left of the picture has had the elastic threaded through the ribbon trim, while the other one awaits that addition. Isobel will then cut out the Rabbit Heads and ears, and once they've been sewn, they will attached in front of the knotted ribbons and the bows tied. We are hoping that they will be en route to Edinburgh, Scotland by mid-week, this week.
Then one of Isobel's cousins rang her on Tuesday to say that she was going into Hospital to have a major operation on Saturday of this last week, for which she had been on a waiting list for over two years. Isobel and MrsJC had been talking about a Coldham Cuddly to help her in her recovery, because we had got the impression that her name was reaching the top of "the waiting list". The summons came somewhat quicker than anticipated so the conversation ended by MrsJC saying that she didn't think there would be time for a Cuddly to reach her before she needed it.
Well, Isobel rose to the challenge, without disagreeing with MrsJC, and actually managed to wrap and send off our Fox in a Green Dress the next day (Wednesday). Using the Royal Mail Special Delivery service, which guarantees delivery before 1300 the day after dispatch,
But she didn't get ready for her journey without our traditional farewell ceremony taking place. Here is a photograph of our Fox Cuddly, with me giving her a bit of a hug before she left us for her Forever Home. MrsJC rang us on Thursday evening to say that she had arrived safely, she was over the moon with her and would it be OK if she paid us when she got home. Naturally, we agreed and we now await news of how MrsJC has got on with her latest brush with the UK National Health Service. (

MrsJC told us that already our Fox has a name - Freda, after a friend of MrsJC's Mother. Incidentally, that Lady is 98 and looking forward to getting her Card from the Queen in two year's time!).
Our Fox in a Green Dress is a Limited Edition version of our Cuddly Foxes. There's enough fabric left to make just one more - so yet another item to the "To Make List" has been added!
Then on Thursday we received an enquiry via the Etsy Custom Request system asking if Isobel could make between 5-10 Small Goats. (

He gave us a unit price he waslooking for and asked for one about the size of a hand. Which would be about the same dimensions as our Baby Rabbits, and new Monkeys

). The Enquirer is a Film Maker, and wanted the Goats as a gift for the backers of his film and we got the impression that it might lead to a need for many more Goats down the road.
Now, initially, Isobel was quite excited - even though we don't currently have a Goat Pattern. Thanks to Google and Etsy.com, that's not now a problem, and when initially starting the research, we found just how complicated Goats could be to make up as a Cuddly Toy. Isobel is really not geared to make multiple orders - and we've got a lot of replacement sewing on her books to do, as well as several new Cuddlies she wants to make. So, Isobel wrote back to the gentleman, saying how flattered she was that he felt we could meet his needs, but that her target market was more for the one-off, small order customer and she regretfully said "No Thanks" - but did add, she hoped he would bear Coldham Cuddlies in mind if he, his family and friends, or his film colleagues were in need of a special present or two!! We wait in eager anticipation.........!
Then, on the same day, we were asked by a fellow team member from the FriendsRUs Team on Etsy.com. (https://www.etsy.com/teams/24793/etsy-friendsrus ) if we might be able to make a Parrot for a friend of hers who lives in the UK. Now, yet again, we didn't have a pattern for a Parrot (

Isobel did a rapid check through our Library of Toy Patterns

), but she did find this one when she put "Parrot Toys" into the Etsy Search box.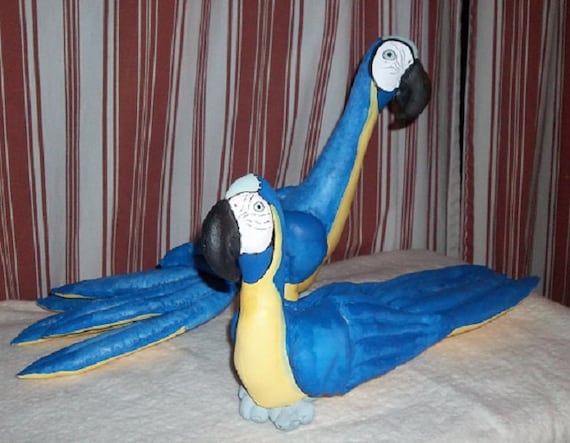 Well, after seeing this, Isobel sent an estimate to her Team Mate friend. It's a bit difficult to actually give a firm price on these occasions, and the figure Isobel quoted was a "bit pricey" for our Friend, especially as she was already sending something to the intended recipient from her own Etsy Shop - https://www.etsy.com/shop/chachachic. However, Isobel likes the pattern so much, she's ordered it - and it's on the way (from Denver, Co,)! So, even though our Team Friend wasn't interested this time around, she has said she'd like to see the "finished article", and suggested that we might use more than just these two colours of Blue and Yellow. Isobel agrees, and is looking forward to adding this Macaw to the ever-growing To Make List for the Coldham Cuddlies. She also said that there are a lot of "Parrot lovers" around - so who knows what might occur once a Coldham Macaw arrives in the Family! She has a point!!

When made, the Seller requests that we attribute the pattern to her Shop - which we are more than happy to do - and has said that there's not problem in Isobel making a Cuddlies version in different colours

. Thus, when the Coldham Macaw is introduced, the description will contain the following -

copyright 2014, Jennie Taylor Artful Zeal
Now we both agree that this post is long enough - without the Newark Town photographs. So Isobel will be back with those - and any other news bulletins that may occur - next week. It would appear that the time Isobel spends "playing around" on the computer on Etsy, Facebook, Pinterest and Twitter might just be beginning to pay off. We'll keep you posted - naturally.!
So, until next week - hope it's a good one for all of you. Your Friend: Cy Bear
PS: The Parrot pic stubbornly refused to be placed in the centre of this post - hence it appears to be on the left side of the page at this draft stage. That could change, when the bulletin is published. Isobel just doesn't understand all this internet stuff, apparently. (

Meanwhile, it's completely mysterious to me!!)