Good afternoon Everyone!
Cy Bear
here once again, after a busy week for
Isobel
- organising the
Press At Home
for introducing our
New Hedgehog Toys
, and getting
Cuddlies
ready for their new lives.
There are three
Cuddlies
almost ready for their respective journeys to their
Forever Homes
.
Pand
a Bear Puppet, one of the new
Baby Hedgehogs
and our original
Mommy Hedgehog
.
I
thought you'd like to see the special photograph of or new
Hedgehog Family
, only listed yesterday evening, and specifically going to be used in our
Press
offering if any TV stations turn up. (
Apparently, white backgrounds don't look good on television, hence this special background for our Hogs!
) Four have been invited (from
BBC East Midlands
and
BBC Midlands
and the two stations operating in the same areas from
Central Indpendent Television
. (
Isobel was one of the first employees of Anglia Television, the station based in Norwich, Norfolk before it even came On Air in 1959, so she is really hoping they will send someone!
).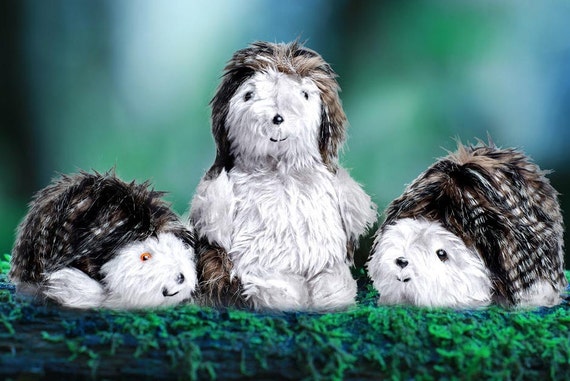 Several local newspapers have also been invited to send representatives,
St Tiggywinkles
- although unable to attend themselves - have sent publicity literature for our guests to take away and read.
West Midlands Hedgehog Rescue
is being kept informed of what we hope will happen - we knew
MsJL
wouldn't be able to attend (because that's why we're helping to raise funds for her - she doesn't have time to do it properly for herself!). So, now all
Isobel
has to do is cross her fingers and hope that
SOMEONE
does turn up.
Meanwhile, two of the new baby hedgehogs have been adopted - and Isobel is busy making them so they can be dispatched early this week - one is destined to go to Fayetteville, North Carolina (accompanied by Panda Hand Puppet). The other is going to New York State - to be the beginning a Hedgehog Collection by one of Isobel's Team Friends. This one does not have to be at its Forever Home in time for Christmas, but we're doing our best to see that it is.
Me performing my usual farewell duties to those headed for North Carolina
These two
Cuddlies,
together with our original
Mommy Hedgehog
, were purchased by
MrsNA
- another of
Isobel's
team friends.
MrsNA
wants the
Cuddlies
to become
Forever Friends
of her three grandchildren; the other one lives near her in
Bonsall, California
.
Mommy
will be leaving at the same time as the other two
Cuddlies
- but there will be the entire
American Continent
between them. It will be interesting too for us to see which side gets their parcel first! It all depends, I am told, on the number of aeroplanes departing the UK headed for the United States of America. I'll let you know - if we find out!!
Isobel
is wrapping up the
Cuddlies
headed to the eastern side (
North Carolina
) with
Christmas
paper, as well as our usual packing materials (chemical free tissue paper and bubblewrap) while
Mommy
will just get the tissue and bubblewrap. There will also be a message - which
MrsNA
has given
Isobel
- contained in a
Christmas
card. (
This is a service offered by www.Etsy.com/shop/COLDHAMCUDDLIES - and adds another USD 5.00 to the overall cost of any Cuddly
).
Here's Mommy Hedgehog and I just before she gets prepared for her journey to Bonsall, California.
We presume that she will be opened in front of
Grandma
on
Christmas Day
- or shortly thereafter.
I'll
end this week's bulletin with a photograph of our three travellers, sitting with me, while
Isobel
gets herself prepared for the wrapping ceremonies!
Do hope everyone is keeping well, getting ready for the
Christmas
festivities. Next week will be the last post before
Isobel
moves to
High Wycombe
for her
Christmas
with
Philippa.
We're hoping that while she is there, and the weather permits, that she will be able to actually visit
StTiggywinkles
. (
If that happens, there will certainly be a post or two about that establishment - she's away for 2 Sundays).
Have a good week everyone! Your
Friend, Cy Bear.