Hello
Everyone
- and a
Happy New Year
to One and All.
Cy Bear
being allowed to offer this post- our first for the
New Year
.
Last week, New Year's Day, fell on a Sunday, Isobel was invited out to attend the 10th Birthday Party of her daughter's Godson, and got back later than she intended. Somehow, what with Christmas Day also being on a Sunday, our normal weekly blog routine got out of kilter. Also, Isobel has been busy finishing our last order for 2016 - which arrived shortly before the cut off date for any orders to be delivered to UK destinations before Christmas. The problem was compounded by the fact that MsMS wanted us to send her our Yogi Bear Golf Club Cover, which had already found a new home. However, she was willing to allow Isobel to make a new version - and for it to be sent to her after the Holiday, so that's what happened between the end of the Christmas festivities and this last Saturday (January 7th).
We've been considering changing the look of our Golf Club Covers - to give them a more "artistic" look. They're being given a patterned boost, hoping in the process to attract more of the worldwide golfing community to consider offering our Covers a slot in their golf club bags. So, this is what the new Yogi Bear Golf Club Covers can look like - featuring the one that was dispatched to Runcorn, Cheshire, England, UK on Saturday 7th January - as well as offering others a choice in future.



Our New Yogi Bear Type Head on our resident Golf Club
The current choice of Yogi Bear type Golf Club Handle Covers
Isobel
sent a photo of the three choices to our
Customer, MsMS,
and asked her to choose which one she would like us to send. As it's for a friend of hers, and she didn't have a particular favourite, she left the choice to us. So, we chose this one .....
Frontal view of our new Golf Club Cover
and the Rear View
..... and hope that she approves!
Isobel
will then knit the replacement, and place it in a specific storage space - for future use. The parcel was dispatched on via Royal Mail Special Delivery - meaning it should be at it's destination by mid-day (
at the latest)
on Monday morning, 9th January.
It's been an interesting exercise, actually. We've now got a much better idea about the length of time it takes us to make one of these items. Once she had run to earth the template for the
Yogi Bear
Head
, it appears to take
Isobel
a couple of evenings to sew one - from cutting out to completion. And the handle covers take approximately the same time too. (
That's if there's no television on in the background!! Listening to talking is too distracting to keep a pattern going - without effort: however, if there is soothing music, usually of the classical variety on the radio, knitting these patterned handles goes fast!)
The
Tiger Head
template was in its envelope in the
Pattern Library
, but for reasons best known to our
Resident Poltergeist,
the correct-sized
Bear Head
was nowhere to be found. So, a rapid replacement exercise was instituted and carried out! (
The so-called Resident Poltergeist gets blamed for everything that goes astray in our home!!! It's quite amazing how often that seems to happen, by the way!)
We already have some knitted handle covers, with different knitted patterns, in stock.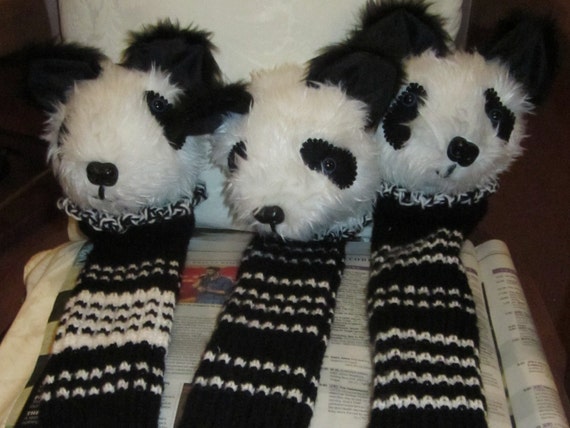 Our Panda Bear Golf Club Covers
as well as our
Tiger Head Covers:
Isobel
is currently knitting up some black and yellow knitted handle covers, which she intends to offer for our
Yellow Bear Head Golf Club Covers
- which currently only come with the plain black handle cover.
We'll let you see them when they're all finished. (
Currently two out of the three are done: with the third almost completed).
Plans are also afoot to make some
Orange and Black
patterned handles for our
Tigers
- for as long as our supply of this orange fabric lasts, that is. Since these were originally offered in our Shop (
www.COLDHAMCUDDLIES.etsy.com)
, we've been able to source some more "realistic"
Tiger
print fabric - as shown in one of our
Tiger Arm Puppets
-
and
Isobel
plans on creating some
Tiger Head Golf Club Covers
with this fabric as well.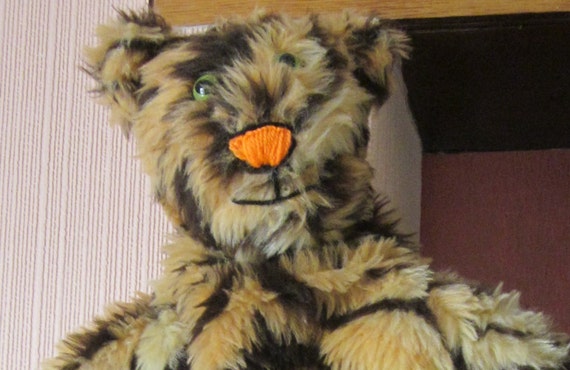 https://www.etsy.com/uk/listing/237064583/puppet-tiger-activity toy-light-brown?
Let's hope the weather encourages lots of
Golfers
out onto their respective courses,
WORLDWIDE -
because of course
COLDHAMCUDDLIES
does offer
worldwide shipping
! - and they feel the need to save their clubs from wear and tear in their golf club bags as they play their respective games!
Lots of other plans are afoot - and we'll be telling you about them as the weeks go by. Meanwhile, have a great week
Everyone
. It's good to be back here again - and look forward to seeing you all again soon.
Your Friend, Cy Bear