Hello again -this time it's Isobel writing, since I've been undertaking most of the activities this week.
As for the
Grey Cat Puppet
: it has proved to be somewhat more difficult to create than
I
had originally anticipated. The pattern template (
copied from a book of Animal Patterns provided as a birthday present to me by daughter Clar
e -
entitled "Soft Animals A to Z", by Carolyn Vosburg Hall and originally published in 2003 - so not as old as many of my other COLDHAMCUDDLIES
) for some reason best known to its author does not include those magic LETTERS at specific points in any creation which allows a crafter to match template pieces together when actually making an object!
I
had forgotten to add my own when originally making our
Black Cat Puppet
-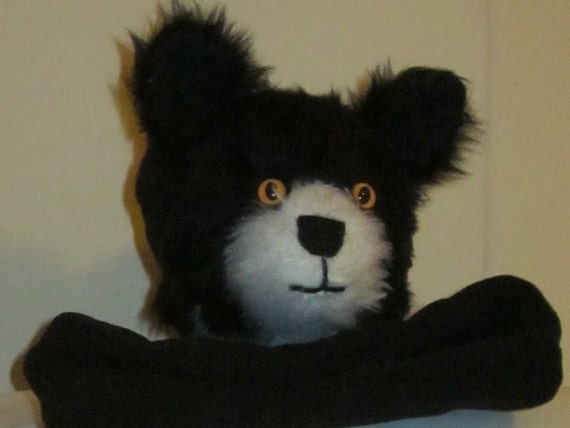 https://www.etsy.com/uk/listing/218473996/cat-arm-puppet
Alas, when it came to making the
Grey Cat Puppets
,
I've
discovered that my memory for making this
Toy
previously is not quite as good as
I'd
like to think: with the result that
I've
had several sessions of sewing seams around the muzzle together - and taking them apart - before reaching the eventual correct siting of the pieces to reach my intended final solution!! Last night,
I
finally got somewhere - and already, the second head is almost done. Progress forwards should now not be as prolonged as it has been this last week.
When going to bed last evening, the Cat Puppet project was looking like this.
The hand puppet pieces are pinned together with the top coat fabric on the left: the calico lining is cut out, but requires a brief pressing with my iron before being put together and fitted to the body. The head of the first Cat has facial features, which I'm not entirely satisfied with, but it will do for this post. There will be two versions, as I think Cy Bear told you last week, so I've got some wriggle room yet - although the dispatch deadline is growing close!
I know the lining is not visible when the puppet is put together, but I don't like presenting ANYTHING in a untidy state - whether it is ultimately visible or not! I shall be machine-stitching the hand/arm areas on both pieces - which is less time-consuming than doing it all by hand.
Here's the first Cat Puppet's head, upside down (
you can just see the gap - waiting for the finger-tube to be inserted and sewn in: with some of the polyester stuffing sticking out of the space.
) One of the problems
I've
also encountered in this project has been the actual fabric itself. It's beautifully tactile to touch - but a real "horror" to work with. It's SO fluffy and SO thick and curly that at times
I've
had difficulty in picking out my stitching! As already stated,
I've
needed to unpick my first (
or even second attempts
) and that's taken some time - because, for once,
I've
been able to get a pretty good match between sewing thread and the actual fabric! You can see (
below
) what
I
mean about the fluffiness and curly-ness, can't you!
This is how far
I've
got with the second
Cat Puppet
- the back of the head is already sewn on, and
I
just need to sew round the muzzle and do the facial features, before sewing the front face to the head back - to create the finger tube gap for this
Puppet
too. (
The new scissor investment I made when buying this particular fabric a couple of week' ago is just what I needed: they have slightly curved ends, and are very sharp - so "shaving" excess furry bits to create the ultimate face should be a lot easier than it has been recently!)
I'm almost at the end of this particular tunnel, and looking forward to being able to complete the project by midweek - or Thursday evening at the latest. That will give me the chance to have selected Grey Cat Puppet on its way to its Forever Home on Friday - hopefully.
MsSD is based in Conway, South Carolina - and previous experience of shipping to the US Eastern Seaboard has been that it pays to get a package onto a Saturday aeroplane - because it seems to avoid hold-ups once it reaches US territory. However, all our Cuddlies travel via the Royal Mail International Airmail Tracked programme, so tabs can be kept on the Toys' journey quite easily. Thus, if there is an unexpected delay in travel arrangements, the intended recipients can be alerted - if they've not tracked the package for themselves, of course! Have to say, I find it rather interesting to keep up with my Toys in any case.
Here's a close-up of the first Grey Cat Puppet's head - I think the face is not quite right, in that the vertical line is too long from the middle of the nose, and the mouth does not convey the look for the puppet MsSD is particularly attached to. Now I'm not doing to create an exact replica of that model, so that there are no copyright or other issues involved. But I think I can make it look a lot more like the original - and intend to do so, if the second one - which still needs facial work on it - doesn't get nearer the mark when it reaches the same stage as the first example. As Cy Bear said earlier, the one MsSD rejects, will become the next New COLDHAM CUDDLIES Toy in our online shop - www.COLDHAMCUDDLIES.etsy.com).
Before updating you about our recent Railway Trip (
as the heading here implies
) - and resultant decisions made by my fellow residents - here's a final close-up of the two
Puppets'
heads:
They both have green glass cat-eyes, but the ones on the second puppet are still somewhat "buried" in the surrounding curly plush! Also think the scissors need to be applied to our first example - just to tidy it up a bit.
Now to the proposed

Railwa

y trip: a decision was taken by my fellow residents that we should indeed book a day-trip to include the

Duffield-Wirksworth Ecclesbourne Heritage Railway

. Uninterested fellow travellers were happy to consider the garden centre option, although one of two of them did feel the cost of that part might be a sticking point. After discussion, it was suggested that

I

now get a price for the 16 seater mini-bus to take the entire party to

Wirksworth (

end of the journey described in our last post

)

and for the railway enthusiasts to get off the 'bus and travel back to

Duffield

on the train. (

I

t won't be a steam engine pulling the party, but one of the two diesel locomotives, as the steam engine doesn't operate during weekday trips

). The 'bus would meet us at that end of the track - having given the remainder of the party a mystery tour around the beautiful

Peak District

countryside between the two villages. (

I've yet to do this bit of research - but I can't see a problem. A decision will need to be taken as to whether "The Bridge Inn" visit takes place before or after the 'bus/train experience - and is obviously dependent on train trip timings!)
The decision to include a Rail journey among the
Summer
outside activities enabled me to go to the transport provider (
a local council-supported outfit called "Our Centre" which provides these facilities for local residents of a "certain age" at slightly subsidised prices
). Having created a suggested programme - with a 6-week interval between outings - prices for the 'bus journey were obtained and the
Residents
given the suggested timetable. Needless to say, changes were immediately needed (
isn't that always the way, when one creates a "list" - for ANYTHING? Changes almost always are required ere long!!
). In this case, our
Resident
volunteer member of the
Ecclesbourne Railway Company
pointed out that the day
I'd
chosen for the
October
visit would not be practicable: as the trains did not run during week-days after the end of
September
!!
I
don't think that this is an insurmountable problem - which will be discussed with
Our Centre
- the transport provider - on
Monday,
as
I
am due to visit their premises in person
(to pay our dues for our last outing, together with the Old Chapel Close Tenants' Association Treasurer - two signatures being required for the payment.!
!)
So with that, this somewhat lengthy blog comes to an end for this week. Good to be back with you again: hopefully, we'll have some photos of Cy Bear and the completed Grey Cat Puppets to show you this time next week. Until then - here's wishing you all a really good week: wherever you happen to be when you read this post.
Thanks for being such loyal Followers! We're nearly at the 400th post by the way!!
Your Friend, Isobel.