Greetings
Everyone
-
Cy Bear
back once more.
What with new layouts to cope with on the Etsy Shop front, and a steady stream of orders since Christmas, plus other activities in support of our Shop, COLDHAMCUDDLES.etsy.com, Isobel has been building up a list of replacements that need to be done so that our stocks get replenished. Over the past few weeks, she's been finding a bit more time to sew, as well as attend to all the on-line social media activities required of anybody trying to operate an on line shop, and we thought we'd tell you about some of those this week.
Two of the replacements actually are not really proper replacements of the
Toys
- but replacing their listings in our
Shop.
In an excess of activity a few weeks ago,
Isobel
inadvertently deleted a
Fox
listing and a
Wolf Toy
from the
Shop
. As the original photographs were not easily found (
on a separate disk, somewhere in the flat, is what she told me!
) she decided to wait for some more sunny days to arrive - and to take the photographs outside in the gardens here. (
The originals had all been taken inside the flat after they'd been made last year. We try to take pictures outside, if we can, because we think they look nicer for visitors to see in our Shop, too).
So, after a few trials and errors, we recently re-listed our Fantasy Fox - seen here: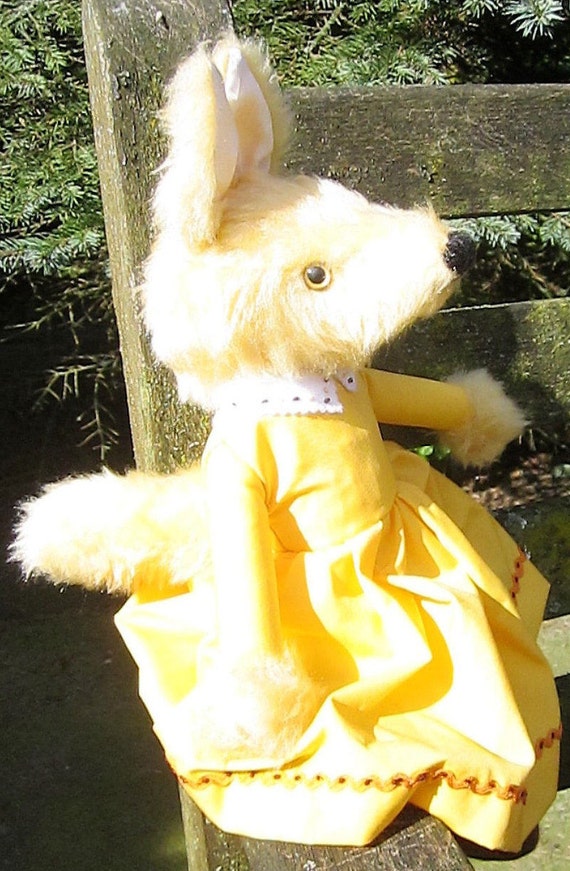 https://www.etsy.com/uk/listing/526389261/fantasy-fox
It was a bright sunny day, as you can see - and
Isobel
found a nice bench on which
Fantasy Fox
could be perched.
At the same time, photographs of our Grey Dressed Wolf were taken, using the same bench, but the other end of it for her new portraits.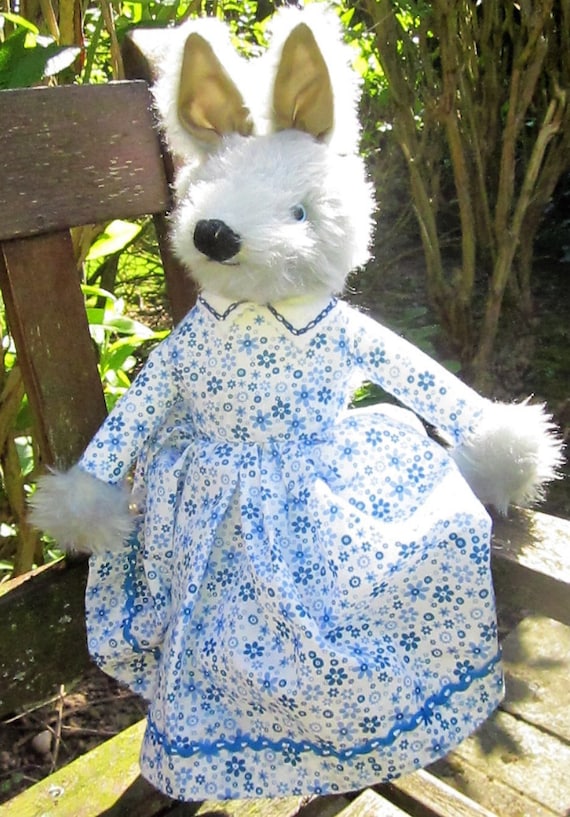 https://www.etsy.com/uk/listing/526385477/grey-wolf-dressed-toy
Then a couple of week's ago,
Isobel
embarked on properly replacing toys in our store, by cutting out and re-creating our
Puffins
. Two more were cut out and sewn (
usually in the evenings, after Isobel has done her daily stints on Facebook and Etsy - and other places in between
). They were completed last
Monday
, and after another photography session (
this time in daughter Clare's garden mid-week
), our
Puffins
were re-listed, because inevitably they don't look exactly like our original two Birds. They, as you may recall, are now residing on opposite coasts of the
United States of America
(
Rhode Island - in the case of the former patient in our Stuffed Toy Animal Restoration Clinic -
https://www.etsy.com/uk/shop/COLDHAMCUDDLIES - and Maryville, Oregon in the case of our Dry Run Puffin).
Here is how they now look in our Shop:
https://www.etsy.com/uk/listing/529212407/puffin-stuffed-toy
The last photo was among some
Isobel
later took when she arrived back in the flat on
Wednesday -
just in case the outside ones didn't work out. They can always be substituted in the
Shop
, when
Isobel
decides that a "change of look" is needed. (
Or that's what is the plan, anyway!
).
Work on the new
Etsy
Shop
Manager
site has continued, with
Isobel
spending more time on the new version being offered by
Etsy
. As she gets more familiar with the layout, she is beginning to get more comfortable with it, so hopefully everything will settle down and life can once more resume a less hectic feel!!
(Believe me, as one who has to deal with Isobel when she gets worried by online developments, that's definitely a plus for this Beaver Lamb Bear!!)
Right, that's it for this week. Not sure what, or who, is in the replacement plan for the next sortie. I'll keep you all posted as and when that happens. Until then, here's wishing you all a good week all round.
Your Friend, Cy Bear