Hello Everyone!
Cy Bear back once again, and delighted to be with you all. Sitting on Isobel's bed while she gallivants about the country gets a bit boring, However 2016 is looking like being an a exciting time to be involved with the Coldham Cuddlies - and I'm looking forward to sharing it with you all.
First off, we're in the process of making a completely new version of our Lady Rabbit Dressed Toy. Just before Christmas, we received an enquiry from MrsPB asking if we could make a Rabbit like Jemima Rabbit, shown below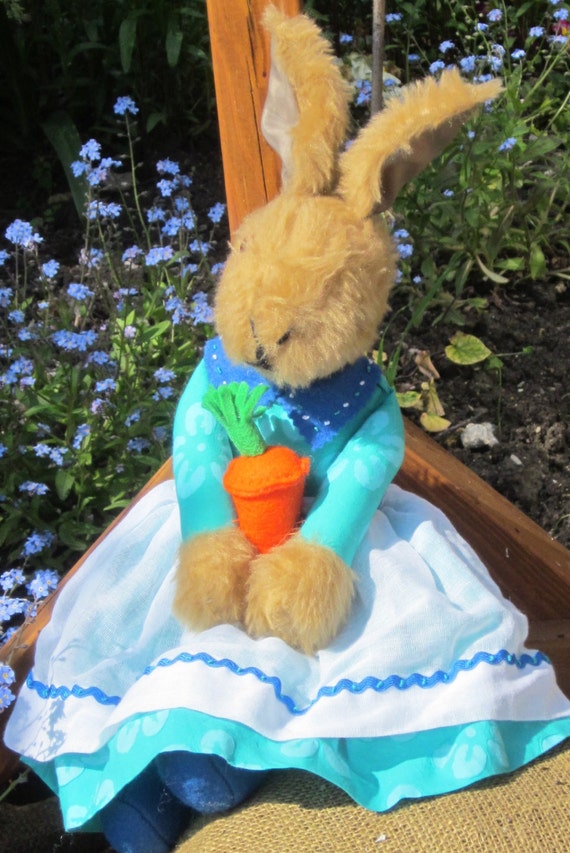 https://www.etsy.com/listing/112432364/stuffed-jemima-brown-bunny-toy-plush
She actually wanted a finished
Toy
to resemble an existing
Family Rabbit Toy
and sent us this picture.
Now you can all see that this
Boy Dressed Rabbit
closely resembles the pattern for our own
Gentleman Rabbits
, so
Isobel
responded that she'd be happy to do so. As the
Rabbit
she was enquiring about was due to be a
Christmas Present
for her daughter,
Isobel
sent links to three of our existing dressed girl rabbits, including
Jemima,
who was
MrsPB's
ultimate choice because the short time period left between our original contact and approaching Christmas postal deadlines were almost non-existent. Getting a brand new Toy, which didn't have a yellow plush head and paws was not a viable Christmas option -
given that Isobel normally seeks between 3-4 weeks from receipt of order to the date of it being dispatched.
We were not optimistic that we would keep the order as a result, but were delighted to hear back from MrsPB she had decided to go with a new Lady yellow plush version, and with the convo came this picture of her version, called Mummy Rabbit.
Now that just confirmed to Isobel that indeed the same basic pattern for both MrsPB's rabbits and ours had been used - with the maker's changes incorporated.
So when
Christmas
was over, and
Philippa
had delivered
Isobel
back home at the beginning of last week, preparations started which hopefully will result in not one, but two new versions of the
Yellow Lady Rabbits
coming to fruition.
Isobel
had some blue gingham in stock (which matched the
Boy Rabbit's
shirt and
Mummy Rabbit's
dress) and suggested
MrsPB
might also like to consider a version using a rather pretty blue floral fabric\(
as children don't normally like to look exactly like their parents, do they?
), which we had used for one of our recent
Dressed Lady Wolves
- shown below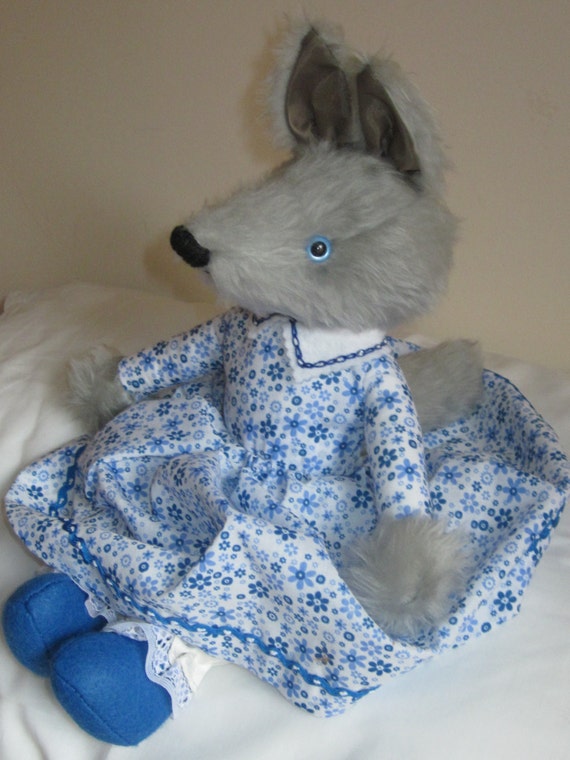 https://www.etsy.com/listing/242203175/stuffed-wolf-toy-called-betty-cuddly?
The final decision has yet to be made, of course, but starting last Wednesday, Isobel has cut out two sets of Lady Rabbits, together with most of their respective clothing items. We've still got to cut out and sew the pantaloons and aprons for the Rabbit toys, but so far this is what they are likely to look like.
The Floral Fabric version
The Gingham check version.
This afternoon, when preparing to do this post, while she was fiddling around in order to transfer these pictures from the Etsy convo site (which is different from the Etsy Shop listing site), she noticed that the MrsPB's rabbit's legs have the same plush pattern as head and front paws, whereas, of course, Isobel has cut out and made shoes to match the dress at the moment.
She's already sent copies of the progress to date to MrsPB, so when we've finished this post today, she will naturally be contacting her to see if she want paws or shoes on the final version of 2016 Yellow Plush Rabbit. Whichever one doesn't get sent to Lancashire, England, UK will be joining the rest of the Coldham Cuddlies Rabbit population - and probably will be listed as our 2016 Easter Bunny!
I know: we've only just finished with Christmas, but like all the other outlets, we cannot be left behind. Easter is early this year, so Isobel tells me, so the quicker we get on and get some more Rabbits - in stock, as well as for replacements at "The Artful Buttoner" - the better.
We've not forgotten our
Hedgehogs
- but we've still got to get official clearance to be able to use the photographs
Isobel
took when visiting
StTiggywinkles Hospital
while she was staying with
Philippa
. We've decided to wait until this week - when everyone gets back to normal working schedules - before we send a draft of post about the visit, as it is unlikely that anyone who could give us that permission would be back at work before
January 4th.
(
So it's a good thing we've had the new Rabbits to post about, because we'd have struggled to produce a bulletin this week otherwise!)
So, with that, I'll leave you for this week. Hope you're all well and ready for a New Year - doing whatever you do, where ever you live and work. See you all soon.
Your Friend - Cy Bear.
PS: The differing positions for pictures here also illustrates the differences between the two Etsy sites! Isobel still has difficulty with some technical issues when posting on this blog. Hope it doesn't irritate you - as much as it irritates her!