Hello again Everyone!
Cy Bear back again and hope you are all well and enjoying the kind of weather that you all like at this time of the year, wherever you are in the world. It's been beautifully sunny and warm for early Springtime in the UK,but today, we're back to cold, windy and almost wintry conditions. Fortunately I don't have to worry - sitting as I do on Isobel's bed. (

It can be interesting to see what she's going to get dressed in when she leaves the flat each day - to do whatever it is that she does - when she's not making us Cuddlies in one form or another.)
Today, I'm here to tell you about what we're involved in making at this moment - Cat Puppets, destined for Tulsa, Oklahoma, U.S.A. to join my friends the Tiger Puppets who left us before Christmas last year. MrJS, our Puppeteer Customer, has a very specific Puppet he wants to have in his collection, and Isobel is keen to see how she can help him achieve the ambition. Originally, when the discussions started, she found pictures of two cat patterns we had in our Library which are these:
These were originally scanned (

whatever that is...)

and were taken from two different books. The one on the left comes from a book Isobel has had in her Toy Library since the 1970's, when she found it in a second-hand bookshop just after she had decided to try to make toys as a business in 1971. (

That attempt did not work, because she was a very new Mum, and finding looking after a baby, a house and a husband a lot of work to do, after being a Secretary all her life previously)

. However, she kept the book and used it, together with another one by the same author, to make Cuddlies for Philippa, Clare, and their cousins - and baby friends who came along from the mid- 1970's onwards - until she opened www.Etsy.com/shop/COLDHAMCUDDLIES in 2010, and we find ourselves where we are - HERE!
The Cat (Sitting Cat) on the right (the pattern for which is in a more recent book, given by Clare to her Mother a couple of years ago, though it was first published in the mid-1980's) was chosen by one of Isobel's Etsy Team Mates before Christmas 2014 to be made for her Grandmother - and we now have a a similar Toy in our Shop looking like this (the white markings are a little different from the original Toy):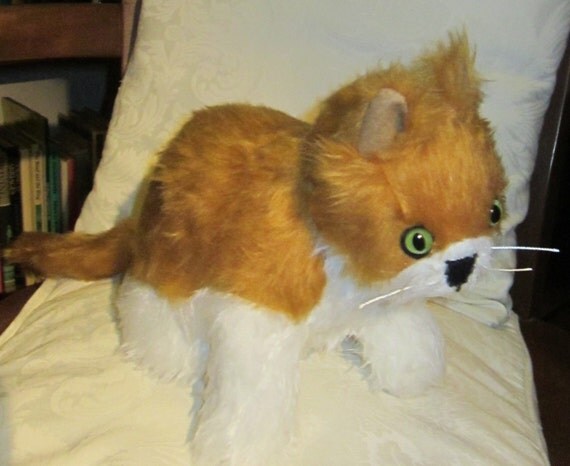 When Isobel and MrJS began discussing his specific requirements, they decided to see what might happen if only the head of the Sitting Cat was used. It would then be sewn on to one of the bodies we made for MrJS to use for his own projects - where he'd had special heads made for him and needed bodies to make them proper puppets. (

He has now attached these heads to the bodies himself - and we'll be showing you them in future posts, I promise

)
So, Isobel set off and created a bigger head than the one for Harry the Cat (which was the name our Etsy customer friend wanted to call the Cat she purchased), and we ended up with a prototype Black Cat Puppet, which can now be found in our shop and looks like this: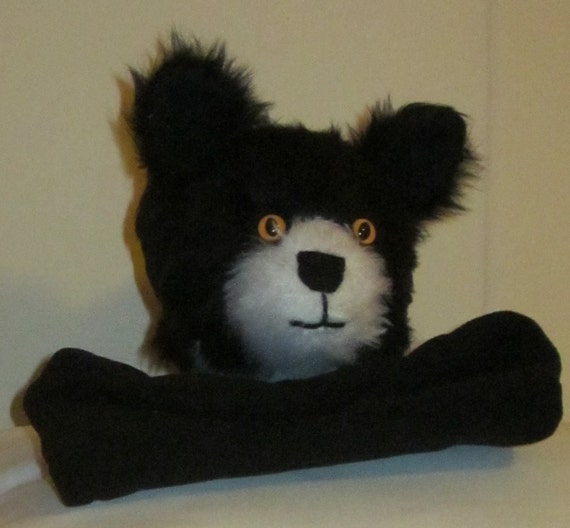 Whilst Isobel had been experimenting, she introduced MrJS to our mohair fabric supplier (

an introduction via the internet, because our supplier, Mohair Bear Supplies Limited (MBS), is based in Telford, Shropshire, England, UK

) because he also was looking for a different fabric for the final Tiger Puppet he wants Isobel to make him - for which he has already sent us a specific Head Pattern, and which we will be doing for him shortly - once other commissions we have in hand are completed.
While he was looking through the online shop, MrJS came across a fabric which he really wanted for his Cat Puppet, rather than the Plush fabric we have ourselves and shown in the photograph above. However, the Shop site indicated that the fabric was then out of stock for the Cat fabric he desperately wanted, but could meet the one he selected as being closest to his ideal, for the Tiger.
Isobel immediately contacted the shop with this response to see if the Cat Fabric was likely to be re-ordered, and how long it would take for it arrive, before ordering the Tiger choice, because that Puppet was further down the production schedule (while

MrJS carried on fitting his Heads to his Bodies in his Puppet Theatre in Tulsa

). The response was that it was unlikely to be reordered, but that there was a small piece left - and not offered, because they did not think there was sufficient for a whole Teddy Bear.

(The Lady Owner of the Shop is a well-known UK Teddy Bear maker, but their fabrics can be used for any other Toys or projects. Isobel loves dealing with them, because nothing is ever too much trouble)

. Isobel quickly estimated that the amount of fabric available would be just enough to make a head and one body piece (which could be the back of the proposed Cat), The front could be made up in the same White Plush fabric as in our photograph. In any case, because the Cat Puppet - when completed - would be dressed up, the different fabrics would not be a major problem.
MrJS approved of that idea, so the purchase went through once Isobel had received the payment from Tulsa. In the interim, MrJS spent time reviewing the now lengthy correspondence between Isobel and himself, and came across the first photograph in today's blog and wrote asking whether it would be feasible for the Standing Cat to be made with its head, back legs and tail stuffed, but the body and front feet left empty - so he could put his hand in the resulting void and operate the Puppet as a Hand, rather than Arm, Puppet.
Isobel has never made this pattern, because the original called for wire to be placed in the legs (for stiffening) and then surrounded by stuffing.

(Even in the days before Health & Safety became the priority it now is, she did not like the idea of wire in a Child's Toy)

. However, the idea that it could be a Hand Puppet was appealing. So, she agreed to make a Prototype Cat Hand Puppet to see if it was feasible.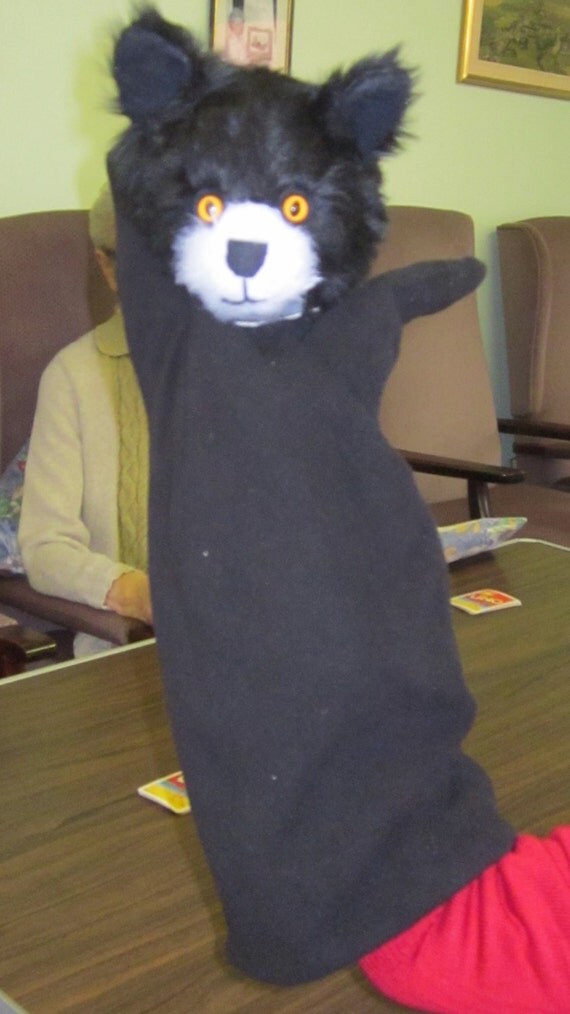 The Black Cat - as an Arm Puppet
Whether or not it is will have to wait until next time - because this has gone on long enough today. So, until the next post, here's hoping you all have a great week and that all your plans are achieved.
Good Night and Good Bye - your Friend, Cy Bear.