Greetings
Everyone!
Cy Bear back again, almost as soon as the last bulletin got published - or so it seems. Isobel is always saying that time flies, and increasingly, I'm finding the same thing is happening to me. Folks might think that sitting on a bed, watching the world go by, that time would pass slowly. Not in my life, it doesn't!!
Last week, I ended by telling what was happening to some of our Hedgehog friends in our Shop at www.Etsy.com/shop/COLDHAMCUDDLIES - with destinations booked for New York State (a Baby Hedgehog), Fayetteville, North Carolina (Panda Puppet and another Baby Hedgehog) and Bonsall, California (an original Brown Mommy Hedgehog).
These were the cards that Isobel chose to write the messages in for MrsNA's granchildren in North Carolina.
These were the messages inside the cards:
This shows the individual packages, wrapped in
Christmas
paper, after the
Cuddlies
had been wrapped in chemical free tissue. Because they were going in
Christmas
paper,
Isobel
didn't wrap them in bubble wrap, because she didn't want the parcels to be any heavier than necessary, and in any case, they were going to be packed snugly into the same polythene envelope with "
AIRMAIL Bag"
stamped over it. They shouldn't have wriggled around too much en route, and to make sure they got as gentle as possible a journey (
Postal journeys can be notoriously rough, I'm given to understand
)
Isobel
finished the outside parcel off by placing a band of sticky tape all round the sticky closing area with "
FRAGILE
" printed along the tape.
Cuddlies
may be plush stuffies, but we do have feelings you know - and
Isobel
always feels guilty submitting them to the dangers of international travel!!!
Mommy Hedgehog was sent off to Bonsall, California at the same time, and we hope to hear that they have arrived safely at their destinations sometime this week - if the services that MrsNA paid for are adhered to by the international postal authorities. After all, the Christmas Rush has not yet really begun - there's another week before the LAST POSTING DATEs come into effect!
We have heard that the
Hedgehog Family
sent to
Mobile, Alabama
a week earlier arrived safely on
Friday
and that
MrsMM
is going to send us pictures of them in their new surroundings, as well as when they have been introduced to their Forever Friends. (
She wants to be careful not to show them to the designated Forever Friends
).
I'm
pleased to tell you that she finds -
"
They are just adorable!!!! I love them and I am sure my little cousins will as well. They look so much cuter in person than in the photos."
Then last evening we were contacted by a
MrsTB
to ask when, or if, we would be able to ship
Jemima
Brown Rabbit
- she wanted to buy her for her daughter as a
Christmas
present. Without knowing where
MrsTB
was located, a short exchange of convos on the
Etsy
site indicated that she was enquiring from the
UK
. Well, as the last posting date for guaranteed
Christmas
parcel delivery is not until
Monday, 21st December, Isobel
wrote back with a provisional date - and the result is that this afternoon,
MrsTB's
order has been received. As
Jemima
was last heard of sitting somewhere in "
The Artful Buttoner
",
Isobel's
first job tomorrow morning will be to hop on a 'bus to go and collect her and get her ready for her journey to her
Forever Home.
(
Other things being equal, we're hoping that will be Wednesday of this week.)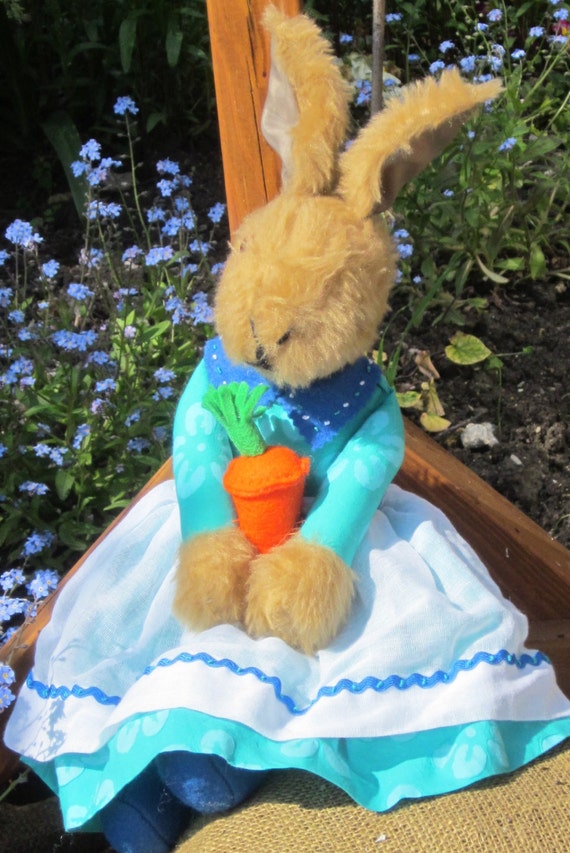 Jemima Brown Rabbit, sitting in the summer sunshine
The
Press At Home I
talked about last week was a complete flop,
I
am sorry to say. The members of the
Fourth Estate
, whether print or television, simply did not show. Whilst inevitably disappointed,
Isobel
did not feel it to have been a totally wasted afternoon. She was able to almost make one whole
Baby Hedgehog
, while quaffing coffee and chatting to
M
, the knowledgeable sales lady in "
The Artful Buttoner"
. Also, it's an inevitable consequence of living in a country with a free press. One cannot FORCE them to come if they don't want to!! Their loss really - because the coffee was VERY quaffable,and the cranberry and dark chocolate chip muffins baked for us by Clare were simply DELICIOUS!! There are more than "one way to skin a cat" (
as the saying goes, I'm told
) and Isobel has other plans formulating....... watch this space!
Isobel spent last evening cutting out six new Hedgehogs - in readiness for her trip South to Buckinghamshire at the end of the week (Friday, 18th December). While watching the television last evening, she surprised herself by being able to not only draw the templates for all of them, but she also managed to sew, put facial expressions on, and stuff one of the Daddy Hedgehogs she'd started on. She's getting quicker at making them each time she makes one!
I
shall not be accompanying
Isobel
southwards - so will take the opportunity here to wish all my lovely
Reader
friends here at
Very Happy Festive Season
(
not everyone I know celebrates Christmas
) and a Prosperous and Healthy New Year.
The computer is supposed to be travelling with Isobel, in the car with Clare, Alan, GrandsonE and all the Christmas presents for Philippa and Isobel. So, while I won't be doing a post next week, Isobel may - as she is hoping to be able to actually visit StTiggywinkle's Hospital for Hedgehogs while she is staying with Philippa. It's only a half-hour or so drive from her flat in High Wycome.
Your Friend - Cy Bear.
PS: Sorry about the change of typeface - caused when Isobel copied Jemima's picture directly from the Etsy order page!! She doesn't know how to change it back again. Still it is legible!!
(CB)