Hello
Everyone!
Apologies for this being a day later than normal, but life was somewhat hectic in the latter stages of last week. Sundays are always busy, and yesterday we had the
80th
Birthday of a fellow church-goer to attend, which meant that the normal blogging schedule and other
Etsy
duties had to be postponed for some hours, because upon returning home, the
Sunday
paper had to be read too.
Then one of my
Etsy Teams, (https://www.etsy.com/teams/24793/etsy-friendsrus
)
had organised a massive "hearting session" between 9000-2100 EST. The event, known as the "Heart Attack", is a regular monthly event, and is a great way to highlight one's
Etsy Shops
.
I
always get in a muddle when participating - and this time was no exception. But, contrary to other forays into this kind of
Etsy Shop
promotion game, we actually received an Order! It came in circa
2300 BST -
and I picked it up circa 1245 BST this morning
- so on top of missing a blog spot,
I
also missed out on my "beauty sleep". However it's great to know that hard work on
Etsy
"hearting" and promoting other folks'
Shops
on one's teams can have a positive payback!!
This is the Cuddly item who will be dispatched to a new Owner at the end of May - and thus moves to the top of the Replacement Schedule as a result. Have contacted the Buyer to ask for whom the items is intended, and if any changes in ribbon colour are required, and if the finished item is to be wrapped up in any special way with an accompanying card -for which there is usually an additional £5.00 GBP (USD 7.35) charge. (

Have forgotten to ask for the exact size needed, but will be sending a follow-up query as and when I receive an answer to my initial enquiries).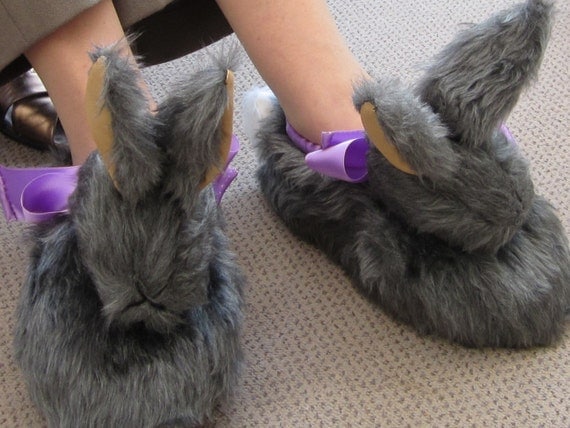 https://www.etsy.com/listing/164183200/grey-rabbit-head-slippersilver-fox?ref=shop_home_active_1
Now, as promised last week, I'm going to continue my description of a recent visit to Rufford Abbey Country Park which was started in last week's post. This is a view from one of the window's of the ruined buildings which were featured last time.
It conveys the expanse of beautiful garden areas through which the public can roam and having taken it, Clare, GrandsonE and I retraced our steps through the entrance way - and were met with this vista, showing another expanse of the Country Park area. (

One of the car parks adjacent to the Park's entrance can be seen on the left of the photograph)
Turning right at the end of the entrance parkway, we proceeded to tramp our way around a formal pathway - the Queen Mother's Walk - planted to celebrate one of the major birthday's of the late Queen Elizabeth, the Queen Mother. (

The weather was not too helpful that day, and alas the plaque showing which major milestone it was - I think it could have been her 90th Birthday - doesn't show up that clearly, either. I'll have to try and take it again next time I have occasion to go there

)
.
Not sure who is leading whom: but GrandsonE and Mummy keep up with each other!
The pathway is easy to walk and we all proceeded at a smart pace, coming upon trellised lime trees on either side, giving a pleasing avenue-look to the surroundings. Do hope I'll be able to visit the Park again when all the trees are out: it must be a terrific sight.
As you can see there are plenty of benches for visitors to take advantage of any sunshine - which was in very short supply on that particular day admittedly. However, it was dry enough for one to enjoy the gardens and to admire the beautiful and ancient trees that are planted at strategic intervals along the route.
The Cedar Tree here, surrounded by wood paling fencing is one of many around the park, and are of some age too - as indicated by the notice on the fence. (

The fencing is put up to ensure visitors are not easily injured should there be any branches blown down - or fall down, because many of these trees are several hundred years old).
The pathway eventually doubles back towards the Abbey buildings and there are several tantalising alternative routes one can take if the weather and one's walking capabilities allow. One we followed took us around what is called the Reg Hookway Aboretum - consisting of a small walled garden area - where there was a collection of plaques dedicated to several individuals.
Who they are, and why they happen to be commemorated there is still somewhat of a mystery: but one that remains as an object of future research.
This appears to be centre of the Aboretum area, and one then goes off to the left and finds oneself on a pathway that leads back towards the Orangery - and the inevitable Shops and eating areas that are an essential part of any Important Property these days.
For a little fellow, still to reach his second birthday, GrandsonE kept up well with the brisk pace dictated by Mummy. The weather may not necessarily have been to the grown-ups' liking, but nothing seems to daunt him!
Before closing for this week's post, a brief update on the new Cuddlies offering. Four new Baby Monkeys have been made and await their destiny as parts of a Nursery Mobile Toy offering. The ring from which they will hang has been decorated with suitable satin ribbon. The present question is exactly how said Baby Monkeys will now be attached to the platform ring and what materials will form the hanging mechanism for the Mobile to be displayed. More anon!
Have a good week everyone.
Your Friend, Isobel