Good afternoon everyone - back once more, and this week, "on time" too!
Cy Bear back again, and delighted to be here and able to introduce you to the latest member of the COLDHAMCUDDLIES Family/Shop - Bertie Blue Whale.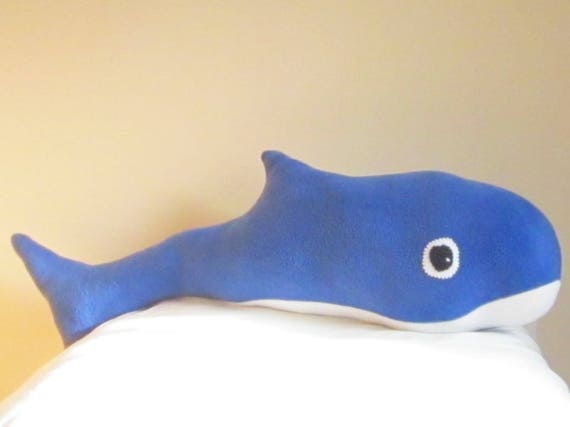 https://www.etsy.com/uk/listing/566375716/bertie-blue-whale-ornamental-toy
Our

Custom Order Blue Whale Ornamental Toy

(

named Bertie Whale for our Shop Listing

) is made from a

Vintage (

1973

) Simplicity Pattern

which was purchased more recently either from a fellow

Etsy Shop

or while surfing on-line elsewhere.

Isobel

has been waiting for an excuse to "have a go" ever since.

The

Blue Fleece Ornamental Whale Toy's

Dimensions are:

Lying on its side, from nose to mid-tail -

Length: 36.00 inches (92.00 cms)

Height: 11.00 inches (28.00 cms) Tip of Fin to Base

Weight: 2.00 pounds (0.97 kilos) approximately

Girth: 27.00 inches (69 cms) midway along back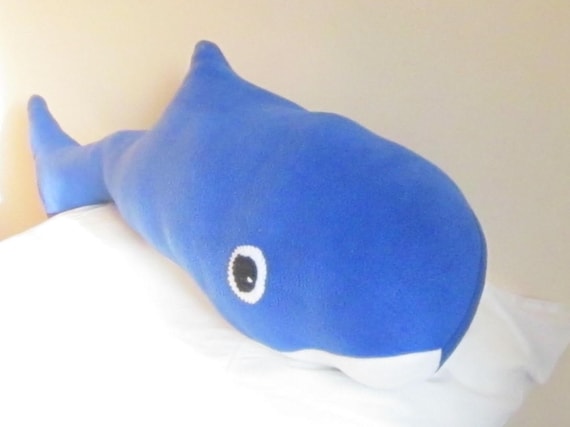 As much of a "head-on" view as we can manage in our flat for an Ornament of this size!
The original pattern is actually for a
Dolphin
- but in
October 2017
during a conversation with a fellow
Slimming World
member while she waited for her weekly "weigh-in",
Isobel
was asked if she could make
MrsPA
a
Whale
- when she heard
Isobel
was a
Toy Maker.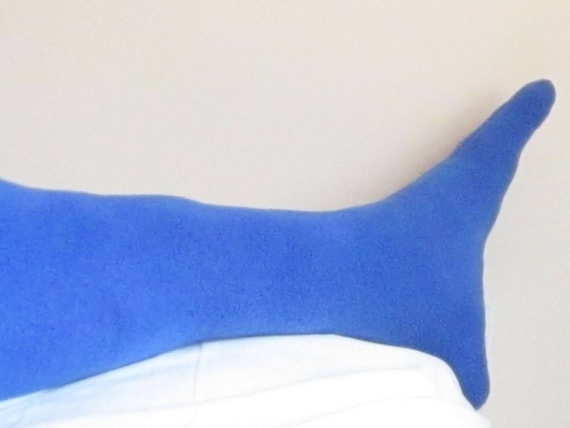 A close-up of Bertie's Tail
Returning home, the
Pattern Library
was checked, the
Dolphin
pattern was found and a photo of the giant Toy e-mailed to MrsPA.
The original picture which began the whole story!
Isobel
suggested that by slightly altering the
Dolphin
head shape (
by eliminating the prominent Dolphin"beak"
) a recognisable
Whale
could
appear. Thus, we were commissioned to produce a
Blue Whale
for
Christmas 2017
.
MrsPA
and her husband had recently spent a splendid holiday in
South Africa
and during their adventure had, had the pleasure of watching a school of whales off the southern coast of that country. The fact that many years ago,
Isobel
too had travelled the same area (
although minus the Whale sighting!
) made the acceptance of the challenge a "no-brainer", and accordingly it was placed in our Order Book. (
ALL ORDERS RECEIVED in our COLDHAMCUDDLIES shop are handled strictly in order of receipt.
) Once the
Whale
order reached the
Top of the List
, work on it duly commenced. Four days' later, the results are contained in this listing.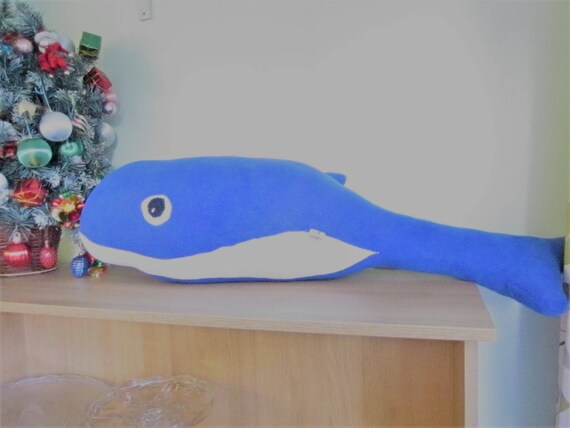 Bertie's Under-belly in White Fleece
Consequently, we are now able to offer either a
Whale
or a
Dolphin
- without too much difficulty! Your choice need not be restricted to it being a
Blue Whale/Dolphin
. The listing gives you several options that we are suggesting could be used for an
Ornamental Feature Toy
to match any decorative ideas you may be planning. Please let us know when ordering via the
Etsy Check Out
site which option is your preference. (
Or you can also convo us and/or email us at coldhamcuddlies@tiscali.co.uk
).
Isobel
will be delighted to see what she can do to meet your needs.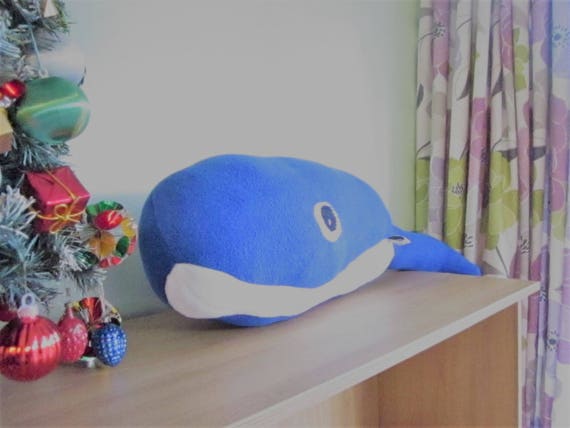 Bertie's tail looks more comfortable when it is draped over something!
Obviously, this special
Custom Order
is a one-off for
MrsPA
but she has no objection to
Bertie
becoming part of the
COLDHAMCUDDLIES
collection of
Ornamental Toys
. Despite his size,
Hermy
as
MrsPA
has decided he will be called when presented to her husband for
Christmas
this year, can be replicated quite easily. (
The Whale sighting mentioned earlier in this post took place off the coastal Town of Hermanus, Republic of South Africa!
)
The main component, once the fabric is measured and sewn is the need for a good supply of the usual polyester stuffing with which all
COLDHAMCUDDLIES Ornamental Toys
are created. This complies with all international standards for safety and in this case, a
1.1 kilo (
2.2 pounds
) bag has almost all been used to create this
Giant Feature Ornament
. He just fits on a normal pillow - with his tale gracefully draping over the side of it! We have a reliable source for this important part of a
Whale Ornamental Feature Toy
- at very competitive prices too!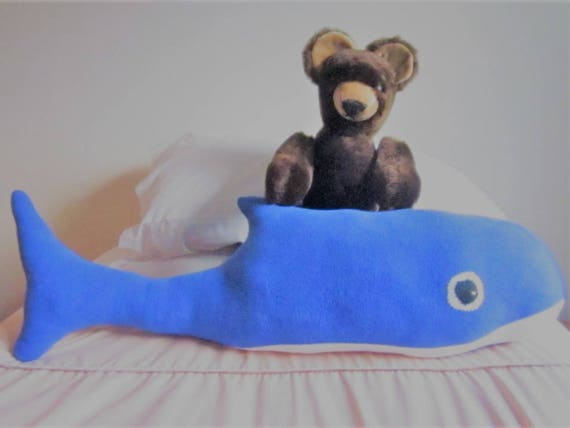 I'm actually standing behind Bertie in this picture - just shows how high he is!!
Bertie
is totally hand-stitched (
taking 2 evenings of sewing
) and basically consists of two main seams - with a gusset forming the underside of his body. His body is blue fleece, with his under-belly made with a white fleece of similar quality. He has purpose made felt eyes individually crafted and sewn on either side of the
Whale
body. (
They are not as "sexy" as those suggested for the Dolphin - for which we do have a pattern!
) Small white flecks are embroidered on each eye to provide a life-like "look" to the
Toy's
overall look. Like all
COLDHAMCUDDLIES Ornamental Toys, Bertie Whale
is made in totally animal free and smoke free environments.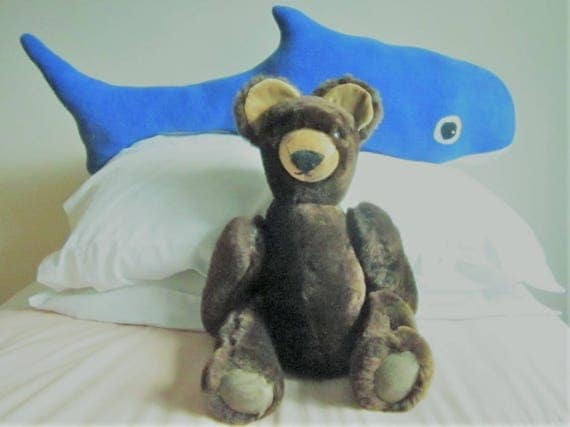 Bertie behind me, as I sit in my usual spot on the Bed!
Hermy
was hand-delivered, travelling by public transport to meet his new owner - raising interest among fellow 'bus travellers enroute in the process. (
It was both too early in the day, (c.0830 GMT) and typical of the commuting public that NO ONE actually commented!!
)
MrsPA
was delighted to meet
Bertie (
Hermy to her, of course
) and they left for their new future together earlier this week-end.
As with all big packages,
Shipping
could be quite expensive and would have to be either by
Royal Mail Parcel Force
and/or a
Courier
service. Because of his specific measurements, each package would need an individual shipping quote, so the one we have put into our
Shop Listing
is purely for listing purposes only. There are several locally-based companies who can be approached for a definite quotation (
serving all global destinations!
) - thus prices quoted for this listing are
approximate
only. As a custom order, these will be confirmed at the time the order is processed by the
Etsy Check Out
system and no work will begin on any order/commission until an exact shipping cost has been provided - and accepted by the
Buyer(s).
Bertie Whale
is one of the biggest
Ornamental Toys
we've ever handled in our Shop. Previous visitors have included a
Giant Koala
- who was adopted elsewhere in the UK, after
Isobel
had been "scammed" into enlarging our
Big
Koala Toy -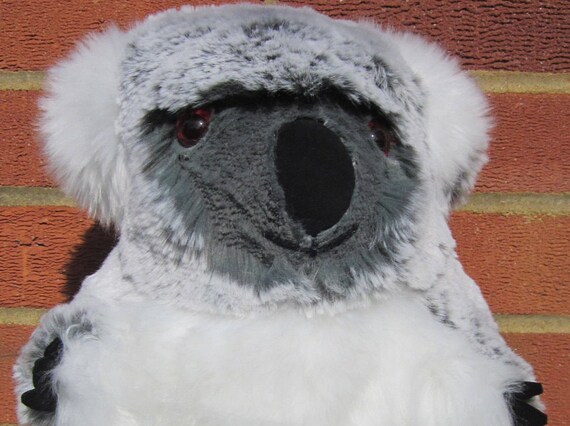 https://www.etsy.com/uk/listing/569510179/large-koala-bear-cuddly-chunky-bear
into a truly
Giant Koala Ornamental Toy
- who became my
Friend Colin the Koala
(
shown below
)
We've also handled a
Dinosaur
called
Dino
- who needed a bit of "feeding up" after some heavy cuddling from his
Forever Friend
, as well as a
Giant Dragon
- whose stuffing had also "relaxed" after some time in the "real world". This is a normal occurrence when polyester (
or other materials
) are used to stuff
Toys
of any size - and is not a fault as such. That's where our
Stuffed Toy Animal Restoration Clinic's
services come in handy!! Patients are always welcome!
(https://www.etsy.com/uk/listing/564713751/animal-toys-mended-toy-bear-special-care?)
Count Rusty de Ben - Biggest Member of the Morrell Family Bear Collection and a 4 ft 6 inch Ornament!

They all took somewhat longer to cope with while they stayed with us and their stories have appeared in earlier posts in this

Blog

!

I'm

closing now for this week's edition - and am not sure when

I'll

be back.

Isobel

is spending

Christmas

with daughter,

Philippa,

and is due to be away for about a week (

beginning later this week

)

and there are plans afoot for her to have a break from toy-making (

there are already 4 Orders on the Book for the New Year!

). Thanks to the

Slimming World

attendance she's undertaken since

July

, she's reached

Christmas 2017 27.5 lbs

lighter than she was at the start. Her target for the period was

28 lbs

- so a pesky half-pound has just blocked that achievement!! However, it does mean that her wardrobe has taken a "hit", and

Isobel

is debating whether to take some of her stash of accumulated fabrics with her to make some much-needed replenishments. Trousers that fit are fast becoming a necessity, and she's hoping she can "borrow" a pattern from daughter

Clare

before she is driven to

Buckinghamshire

(

as well as back again!

) for the

Christmas

period. It's the prospect of the lifts both ways that is causing these thoughts to emerge!! (

Easier to manage when not having to travel by train, and cross London - the normal route on these occasions.

)

Both Isobel and I want to wish all our Friends, Followers, and Readers the very Happiest of Christmas Festivities - and Everything you Wish Yourselves for 2018.

(

Which is probably when we'll meet again!).




Your

Friend, Cy Bear