Hello
Everyone
:
Cy Bear once again taking up the story regarding the COLDHAMCUDDLIES countdown to this VERY IMPORTANT date in our Shop's history.
This Christmas Craft Fair will be the biggest display of our wares since we started out in February 2010 - when we were based in Warminster, Wiltshire, England, UK. As regular readers of this blog will remember, we moved from there in 2014 and are now based in Nottinghamshire, England, UK - right in the area known worldwide as "Robin Hood Country! WINTERFEST2017 is actually located in part of the remainder of Sherwood Forest - and is in a lovely setting in the grounds of Thoresby Hall, near Newark, Nottinghamshire - but it could be somewhat hazardous to our newly developed internet connections, because Wi-Fi connection is not always guaranteed, so please EVERYONE, please keep your fingers crossed that we have a good day and that such hazards are not encountered.
Thoresby Hall, within whose grounds,WINTERFEST2017 will be taking place
The Cuddlies stock replenishments are almost completed: there is just one more
Dark Blue Fleece Rabbit
to have one more seam sewn and then the last
2 Rabbits
(
both self-coloured Dark Blue Fleece varieties
) can be stuffed, labelled and placed in their specific travelling bag! In the meantime, this week
Isobel
has completed the
Brown Fleece Rabbits
-
I
told you about them in last week's post:
You will recall that we're offering the self-colour options for the first time - and this is what they look like from different angles:
Then we've also got two more Purple Fleece Rabbits - white-chested, as well as self colour, and like the Brown Bunnies, the self-colour variety is being shown for the first time here:
They are actually quite a lot more PURPLE than perhaps they look in these pictures, but had
Isobel
got the
Dark Blue
ones to show you (
they're currently based up the road, in Clare's home - where Isobel has been staying overnight since Wednesday this week - and due to continue doing so until Friday - while the bathroom in our flat is completely re-done
), you would see that they actually are not as
Blue
as they appear. (
Something to do with the ink colours involved I'm told - a fact not necessarily of immediate interest to a Beaver Lamb Bear like me!
).
Technical matters have also dominated
Isobel's
mind this week - culminating with a telephone conversation between
Clare
(
in her home, with Isobel in attendance
) between the
Account Manager
at
PayPal
appointed to look after the
COLDHAMCUDDLIES
new
Business Account
which has been opened specifically for
WINTERFEST2017
(
as well as for the foreseeable future!
). The result of that encounter is that we now have a
Chip Card Reader
(
whatever that is!
) linked to
Isobel's
new
Smartphone
(
???
) and all that
Isobel
and
Clare
now
have to do is to ensure that both bits of equipment are "fully charged" - and we'll be able to accept
Card Payments
, as well as
Cash/Cheque
payments next
Saturday
at the
Christmas Festival
at "
The Court Yard"
.
Since
Isobel
accepted the invitation to participate in this
Christmas Craft Fair
about
6 weeks
ago, there have been a lot of outgoings from our
Bank Account
- inevitably! However, we've also been successful in receiving several orders (
3 of which I've mentioned in previous posts for 2 pairs of Children's Slippers (Christmas presents) and Hermy the Whale - also a Festive gift
) and this week - after rather a "fallow" period for sales on
Etsy,
Isobel
has ended up with
3
new orders.
One is for our
Panda Bear
(
I told you about his recent facial makeover in a recent post, and look what happened this week, eh?
)
.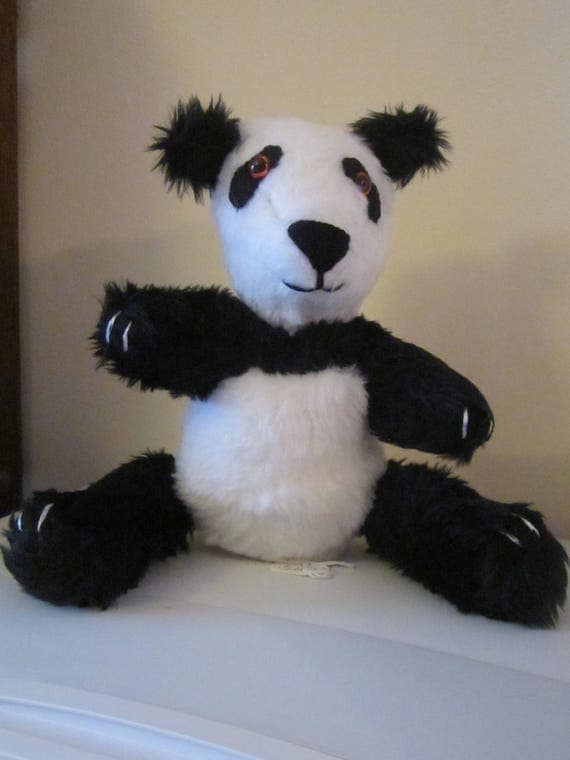 https://www.etsy.com/uk/listing/540333002/panda-bear-toy-black-and-white-bear
He's going to a Forever Home connected to MsMP - who lives just 25 miles or so down the road in Nottingham itself: and this afternoon, we've created a Custom Order for a MrsSG - living in Rhode Island, NY who wants Isobel to make 2 Three-Way Bed Pillows, one looking like Winston Wombat here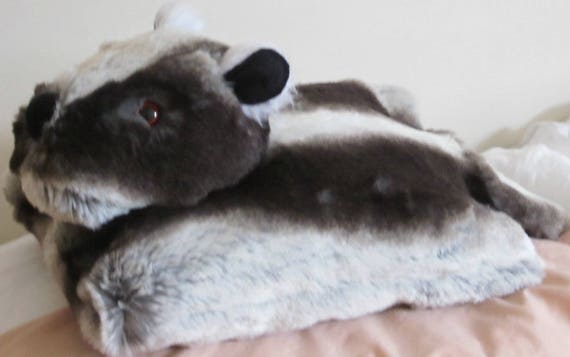 https://www.etsy.com/uk/listing/556180578/winston-wombat
The second one included in this double order is to be made as a Three-way Bed Pillow, but this time resembling our Sleepy Koala, using the same fabric.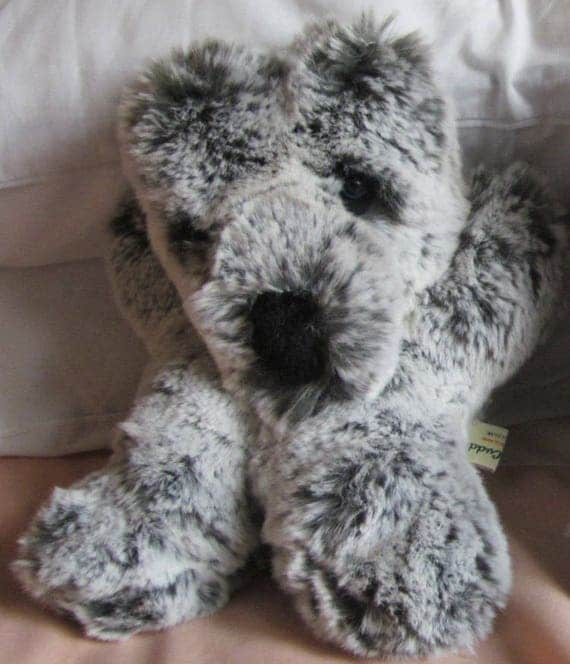 https://www.etsy.com/uk/listing/552518671/koala-teddy-bear-sleepy-koala-bear
These two will head the
January Order Book
, together with the
Ladies Novelty Bear Slipper
Isobel
is due to make for one of our fellow residents. That pair is to resemble a
Yogi Bear
type
Furry
Bear
, with
Scarlet Satin Ribbon Trimming
!
So, once
WINTERFEST 2017
is over,
Isobel's
work begins once more - this time to fulfill the existing
Order Book
, and prepare for the
New Year
one - as well as, what we hope, will be several replacements or brand new models for
Ornamental Toys
from our existing
Shop
, who we hope will find new homes next
Saturday.
One of our
Baby Owls
, was actually paid for today, when
Isobel
was drinking coffee after
Mass
at
St. Barnabas -
the Buyers,
Mr and MrsDS
- from
Nottingham,
will not be able to be at
The Courtyard
next week-end, but wanted to ensure that their newly-born great niece has him for
Christmas
(
a Reserved Label will be on show at The Courtyard
), as will similar notices for
2
of our
Golf Club Head Covers
- heading for a destination to be specified in the
New Year
- in
Virginia, USA
.
MsMP
has also been kind enough to allow us to display
Panda Bear
at
The Court Yard
event, and we will ensure that he is en route to
Aspley, Nottingham
next
Monday, 27th November
!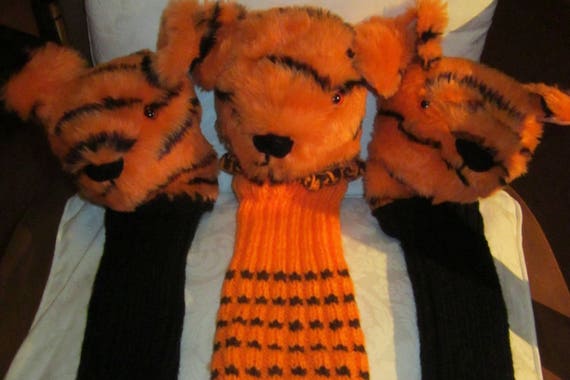 https://www.etsy.com/uk/listing/549385289/tiger-head-golf-club cover
This
Buyer
actually wants
Isobel
to do two sets of
3 Golf Club Covers,
but has yet to make up her mind (
as well as get her husband to do the same!
) exactly what
Animal Head
they want for their particular
Golf Clubs
! So
2018
looks like starting off with a bang: let's hope it continues in that vein!
See you all after the Show next week-end - if Isobel has the energy to help me write the results for you, that is!
Your Friend, Cy Bear.