Hello Folks
-
Isobel
here (with
Cy Bear
in the background).
Once again, apologies for the break in posts last week. All sorts of things have been happening, which, hopefully, will result in COLDHAMCUDDLIES getting a form of re-boot and a firmer foothold on reality!! That meant that I spent a lot more time than expected on the background to the Shop (COLDHAMCUDDLIES.etsy.com) than originally intended.
The latest representation on the Shop Site, of the Cuddlies, most of whom have found their Forever Homes
We've just got two more items - both
Fox-
related, as it happens - that need to be updated and re-listed - thus completing the annual re-list programme. They have to take their place in the
Shop
by end of play tomorrow (
BST)
- which as most of you know is 4 hours ahead of the earliest time slots in the
U.S.A
. (
Eastern Standard Time for most of the world: but Etsy Time for those of us involved in that world!!)
This has involved some re-writing of descriptions, finding more photographs for items that will benefit from better pictorial descriptions to back up existing ones. That's thanks to
Etsy
providing
Shop Owners
with
5
more photographic slots for each item - if one wants to use them. (
Apparently, it's not OBLIGATORY, but experience - over the 7 years COLDHAMCUDDLIES have been operating - indicates that it's actually better that one does take up all the options, rather than not!!!
) However, when that means doing it, individually, for
107
different items - it can take a lot of time, which has to be shared with the daily promoting regimen that is
Etsy Team Thread
participation. Oh for another 24 hours to each day!!!!!
Nearly at the end of this operation, daughter Clare - who like elder daughter Philippa - is a very supportive and helpful person(s) in my life - telephoned' She'd just read in a super market magazine she had recently picked up that Toys - whether dressed or not - are now VERY TRENDING ITEMS in the Internal Decor Field. She suggested I consider changing the Category in which the Cuddlies appear on the Etsy Market Site. Accordingly, I decided to explore - and it hasn't taken me long to realise the move could potentially be helpful - in all sorts of areas - too numerous, and complicated, to list here.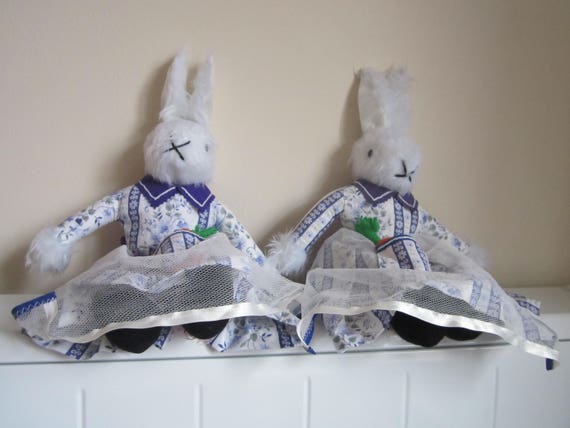 One of the recent photographs of our Grandma White Rabbits
To begin with, there are several more categories into which
Cuddlies
, dressed or otherwise, actually fit a lot better than just being in the Toy category. Accordingly, henceforth, all
Dressed Rabbits (
two shown above),
Foxes
- and related cousins (
Wolves and Coyotes
) and most of the larger
Bears
have been switched to the Home & Living category (
with several more sub-categories into which these Toys fit better
).
I
have yet to discover (
since it's still a new "world" for the Cuddlies
) whether this will be "easier" or "harder" for potential buyers to find us: however, my Stats (
to which, as most of you know, I rarely take too much notice
) do seem to show that more
Visitors
are appearing for a "look-see": which might suggest more likelihood of
Buyers
arriving on the scene shortly!! That would be
REALLY
nice: they've been less visible than usual this year, even though
Summer/Vacation
times have regularly been similarly less populated since we started in
2010
. This year, largely because I've been bogged down with the re-listing process, it's seemed to be emptier than normal!!! (
The more I've re-done the placings listed earlier, the more I think that most of the animal toys - as opposed to the Slippers and Golf Club Covers we offer - are more appropriately placed in the Home & Living category - so this change will take place during the coming days
).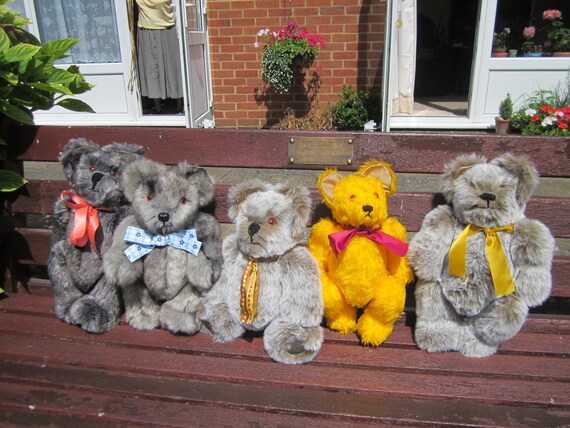 A Group photograph of COLDHAM Bears - on a sunny day
This apparent lack of outside-Etsy on-line interest has been similarly matched with the feeling that the Cuddlies have exhausted their potential for the immediate locality. While there have been sales, they haven't been as frequent, nor as fruitful from the Ashfield District area, as they were when we were all based in Wiltshire. Thus, when I was approached by a member of the Nottingham Etsy team with news of an upcoming Christmas Arts and Crafts Bazaar - WINTERFEST2017 - being held at a well known local Hotel/Spa complex this coming November, I asked for further details. Plans are still being made, but it certainly looks like COLDHAMCUDDLIES will be participating - so more of this anon.
Last Tuesday, the CUDDLIES were on display at this year's MacMillan Cancer Coffee morning held in the Residents' Lounge where we live these days. During the event, a Family of Hedgehogs went to a fellow Resident, MrsTD-S who, like me, is a real Hedgehog afficianado.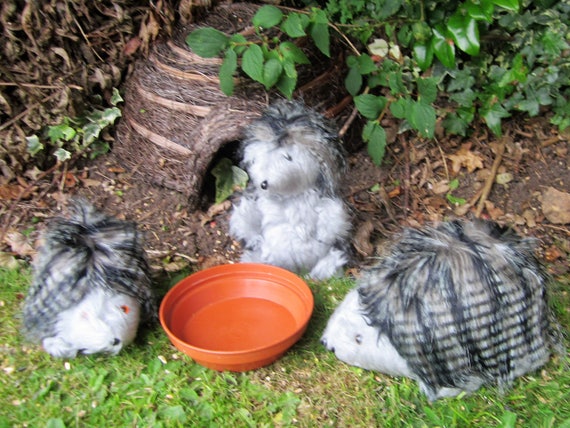 The Hedgehog Home was in MrsTD-S's garden, where it was empty: it now resides in part of Clare's garden and is occupied!
Her daughter,
MsKD-S
(
I'm not aware of her official status, so will continue to refer to her in this manner
) not only bought
Graham Grey Rabbit,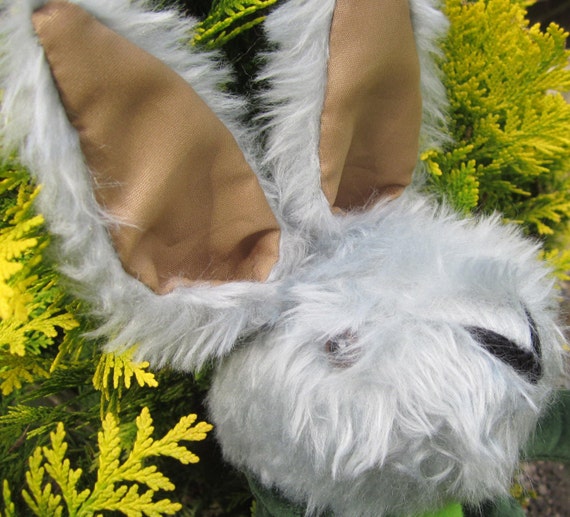 Graham Grey Rabbit
but has also ordered a pair of
Novelty Slippers
for her young daughter.
I
think, they're going to be made in
Hedgehog
format, but that will be decided when the young lady's vital feet statistics are provided. (
In future, ALL Novelty Slippers, in whatever size, will be Made to Order: as well as Made to Measure
) - thus saving me storage space in my living quarters. In the past it was easier to store the
Cuddlies
, but since numbers have increased to over the century mark, space has definitely been real limiting factor!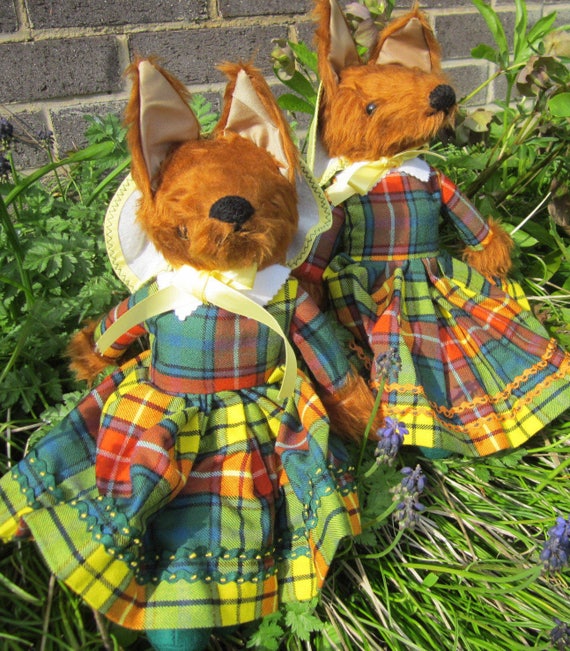 Mummy Buchanan Fox on the Right is the one that left us on Tuesday
Another Cuddly also found herself en route to her Forever Home- a Buchanan Fox (illustrated Right) was bought by a regular visitor to the complex - for his Grand Daughter, and he, too, has ordered a pair of Novelty Slippers for the same Little Person for Christmas. This time, it's going to be based on our Panda Slippers - looking something like this pair: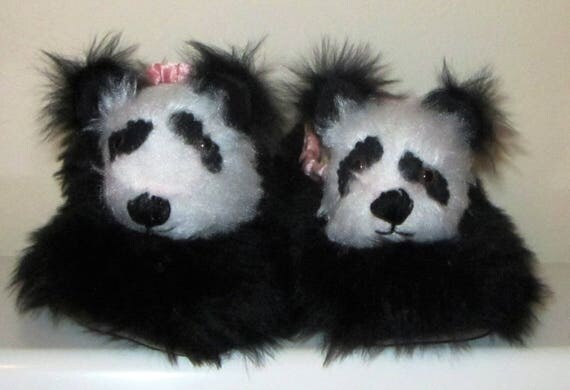 The Novelty Slippers on which the latest order is to be based
I'm waiting for the requisite measurements for the proposed wearer of these Slippers too: it has been suggested that they should be more "dog like", if possible - because the intended recipient is currently very "into" Dogs!!



Then later in the week, when visiting MrsTD-S to provide a requested business card, she too ordered a pair of Slippers - for herself. She, too, will be providing me with the requisite measurements for her new Winter Footwear - so, I'm going to be even busier immediately, followed closely by the need to stock up on smaller Cuddlies - such as Baby Koalas and Baby Owls, both of which have been reduced by sales over the past year.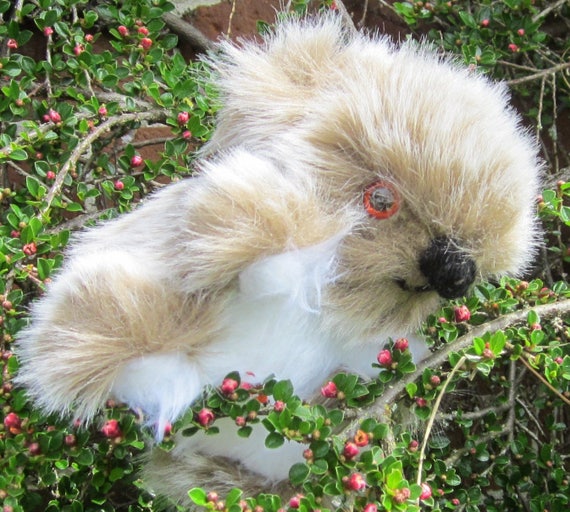 One of our Baby Owls - both of which have recently taken flight
There are none left of the latter, and only one of the
Koalas
(
pictured at the end of this post
) - and they've always proved fast-movers when we attended
Craft Sale
s in the past. The
WINTERFEST2017
organiser with whom
I
am liaising presently did mention they'd had
3,000
in attendance last year (
that's over two days, and I'll only be going for one day). W
ith the addition this year of a
Santa's Grotto
at the event, they are hopeful of getting nearer
4,000 visitors
to the event. That's a whole heap more people for the
Cuddlies
to meet than has ever been the case in the past!!
Then, this morning, a good friend, Mrs EH asked me to reserve one of the potential new Baby Owls so she could give it as a Christmas present to the latest addition in her family. Thus, another Cuddly has a Forever Home to look forward to. Her son bought our last Baby Owl early in the summer as a Christening Present! So, our Cuddlies fulfill several useful functions when meeting their Forever Friends.
Finally - and another reason for the lack of posts recently - is the fact that
I'm
having another attempt at becoming a
Childrens'
author.
I've
signed up for a
5 week Creative Writing Course
(
alas, I missed the first one, as I was travelling back from High Wycombe at the same time!
) and have to say - not only is it most enjoyable, but
I
actually feel
I
might just be "onto something"! Again - more anon, when
I
have the time, that is!!
As the title for this post says - it's been a good week for us in
Nottinghamshire
(
with the potential for a great deal more fun!
) But there's a lot of sewing going to be required.....thus a lot of time required in an already busy schedule .......so I'll stop this now.
Cy Bear
(
or I
) will be back next week - current schedule permitting, of course!
Your Friend,
Isobel - and Cy Bear, too, of course!