Good afternoon
Everyone
!
Cy Bear reporting, as is my wont - when permitted to do - so on a cool, autumnal Sunday afternoon.
Dressed Rabbits in the foreground: Coyote (off-balance), Foxes and Wolves at the rear!
We
thought you'd like to see this picture of me surrounded by all our
Girl Dressed Toys (Rabbits, Coxes, Coyotes and all
) as they were prepared by
Isobel
for the upcoming
Christmas Fair
at
The Courtyard, Thoresby Hall, Nr Newark, Notts
. These preparations involved
Isobel
putting price tags on every one of the
Toys
we have in stock - a process which resulted in her becoming less concerned about our ability to serve potential customers. While one can always have more, the numbers involved were not as low as
Isobel
had first thought, so she is more sanguine about how we will cope on
November 25th.
The pricing took
Isobel
3 days
to complete, and based on the number of labels used (
not including some that she made mistakes with when writing the information on!)
there are over
200
different
Toys
, of varying sizes, available for display. Each ticket has the Shop price listed in our
Etsy Shop (coldhamcuddlies.etsy.com)
tied through the "
ColdhamCuddlies
" label which every Toy comes with
. (
Good exercise for Isobel's fingers, which is why it took her so long, I guess! While so engaged, she discovered some of the toys hadn't got one actually: that was remedied p.d.q!)
The Baby Owls I talked about are all completed and in their special carrier bag ready for the event. The next replacement "binge" consists of 8 different Fleece Rabbits - some with the existing white chests, and a few that will be all the same colour - a new departure, just to give people the choice. The cutting out of the 5 different colour Rabbits - one seen below - took Isobel a couple of hours to do,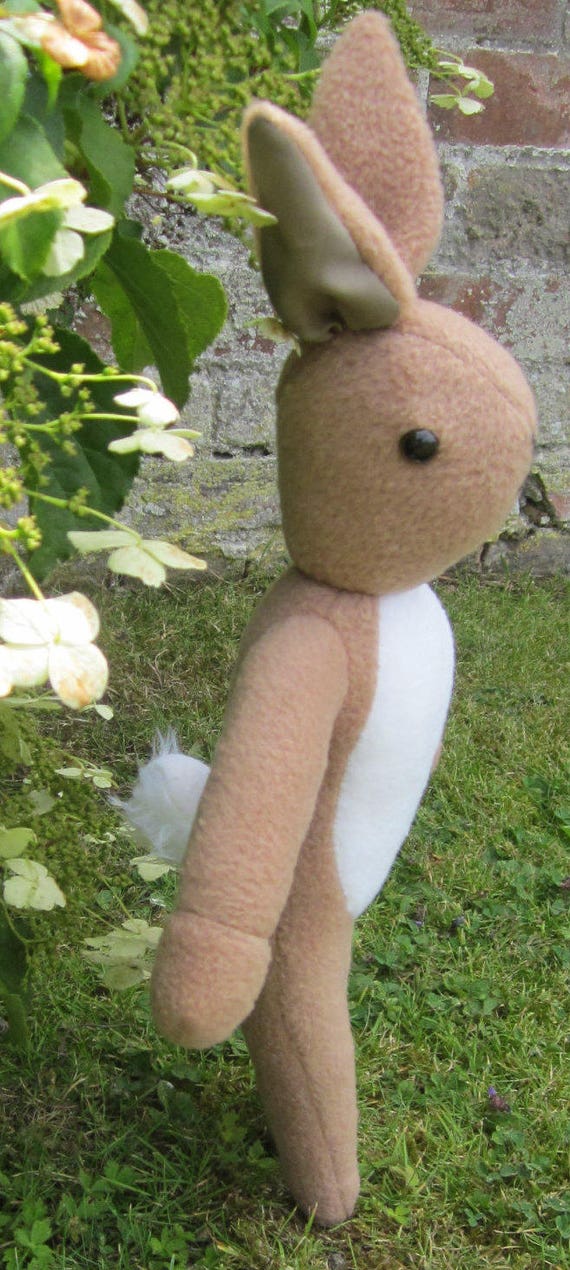 https://www.etsy.com/uk/listing/529259202/rabbit-stuffed-toy-brown-fleece-rabbit?ref=shop_home_active_4
during which time she de-camped to the
Resident's Lounge
. There are large tables there, making it so much easier for her to layout the individual pieces of the the pattern involved - and it certainly roused the curiosity of residents' visitors who happened to pass by the picture windows beside the table
Isobel
was using! Most know of our plans, and are kindly interested in developments!! The
5
fleece colours involved are pale and dark blue, brown (
like the one shown
), pink, and purple - all of them can be seen in our
COLDHAMCUDDLIES Etsy
shop at
https://www.etsy.com/uk/shop/COLDHAMCUDDLIES?ref=seller-platform-mcnav&section_id=18772504
A "bonus" of sorts occurred while this preparation exercise was in progress. While picking out the blue fleece from our fabric stash in one of the cupboards where it is stored, Isobel discovered that she had more of the blue fleece in stock than she had previously realised - and thinks we will have sufficient to meet the requirements for Hermy, the Whale, when she gets around to making him early in December. So, no need for a visit to our fleece suppliers on-line - for the time being at least! The need for more stuffing is a definite one though - but we're waiting until we've started our final 1.1 kilo bag (circa 3 lbs), so that the two bags Isobel will be ordering can be fitted into the "stuffing slot" in the flat bedroom! Every move has to be "strategic" when it comes to the fulfillment of our COLDHAMCUDDLIES duties!
The "missing" business cards I spoke about last week turned up on Tuesday morning, having been re-directed by Isobel to Clare's home up the road - because she was out of the flat at the time the selected Couriers indicated they were due to deliver the package. I promised I'd show you a photo of the two cards in existence: the new one, which will be officially used on and after 25th November - the top example shown will be handed out until that date, and kept in the background in case our supplies run out.
We're very happy with the new look, which was created by a proper card designer from that well known provider (
or so I am told!
),
Vistaprint
: whereas our original ones were done by
Isobel
, who makes no claims to have any such skills. The originals (
also printed by Vistaprint
), though, have served us well, to date!
Isobel
has been gathering the bits and pieces needed in the background for the Show (
e.g. the paper bags, the cash holder aprons that she and Clare will wear on them during the Event, and so on
), and putting them in a large carrier bag (
obtained from our local Lidl Supermarket, whose hard-wearing bags are large, capacious, and capable of holding several Toy-filled bags at one time
). The bags have good, strong handles on them, which should make moving the goods from our flat to
Clare's
car, and then into the exhibition space a whole lot easier. After the show, the bags can be collapsed to a flat shape, and stored until they are next required - if that happens!
While the pricing exercise was in full spate, Isobel decided to admit two of the existing Cuddlies as Patients to the Stuffed Toy Animal Restoration Clinic - https://www.etsy.com/uk/listing/564713751/animal-toys-mended-toy-bear-special-care?ref=shop_home_active_1 for some minor facial treatments.
Our current Panda used to look like this:
He now looks like this: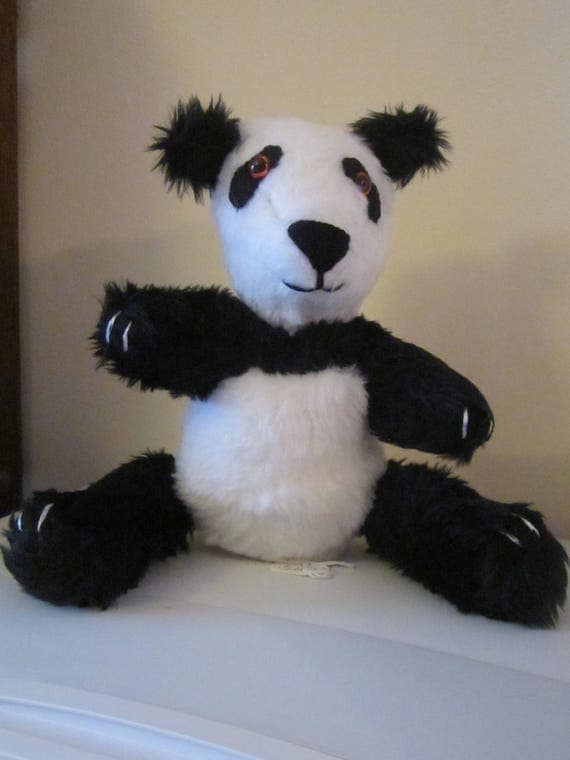 He now has a new, larger nose, and a happier grin, we think!
The other Patient was George Ginger Cat, our Copper Brown Plush Sitting Cat. Originally, it had looked like this: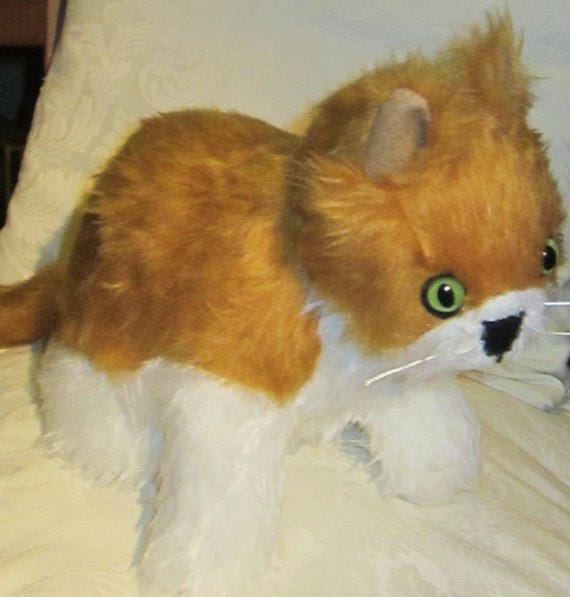 https://www.etsy.com/uk/listing/549385205/george-ginger-cat-copper-fluffy-cat?ref=shop_home_active_3
Now, this is George as he appeared in our Shop listing previously. He looks a little startled we thought, and it was one of those jobs Isobel had meant to do for a long time, and decided that the pricing venture was the ideal time!
I think he looks a bit more appealing now: how about you?
To achieve
George's
new look,
Isobel
managed to turn his green cat eyes so that the "pupils" were sideways when you look him in the face, and also changed his ears, which had not looked "right" ever since he was first made. We're hoping this "look" will appeal to someone, so he can end up with a new home this
Christmas
. He had originally been made at the same time that a customer wanted to give a
Ginger Cat
to her
Grandmother,
whose real cat had died shortly before the order came in.
George's
friend was called
Harry
(
so had the Grandmother's long time friend
) and, so far as we know, he has made himself well and truly at home, and is doing the job for which he was intended.
George
meanwhile has languished somewhat in our stock - so we hope this minor treatment will do the trick for him!
That's it for this week, Folks! Next week looks like being as busy as the last, and I for one hope that Isobel will be a lot happier with the newly acquired smartphone - that appeared in our lives on Friday this week, after Isobel had, had a tutorial with Clare! She's getting a bit less "frazzled" operating it, but life is not as calm as usual at the moment. I'm keeping well out of the way - just in case!!!
See all next week - Your Friend, Cy Bear.