Hello again
Everyone
- as usual this week has rushed by:
Cy Bear
is still off-duty, as it's better that
I
take over when any explanations of how
COLDHAM CUDDLIE
S Toys are produced (
or Patients are treated
), than leaving it to
Cyril Bear
(i
n case you'd forgotten that is is REAL name! He was named that by Peter when I made him shortly after opening up our Shop - www.COLDHAMCUDDLIES.etsy.com, because he reminded him of a really good friend of the family!).
Well, as promised in last week's post in which our Baby Chicken Toy was introduced, developments during the week are shown here.
Our Baby Chicken Toy has just been completed - yes, as an Easter Toy - but also as one that can be purchased (and played with) all year round. In other words, it is an ANY TIME TOY!
The Fleece Baby Chickens' dimensions are
Height: 2.5 inches ( 6.4 cms) - from "floor" to tip of tail
Length: 6.5 inches (10.6 cms) - around middle, under the wings.
Weight: Very light, they barely register on the weigh scale!
The three Chickens are shown "standing" on their Orange Felt legs which are sewn to the base of their bodies. Each Chicken illustrated has a different beak - being the first to be produced for our Shop, they are still somewhat "experimental"! Buyers are welcome to let me know (via Notes to Sellers in the Etsy Check Out Form, at time of ordering, convo here, or by email at coldhamcuddlies@tiscali.co.uk) as to which one they would like, or which they consider should be the "norm" for the future. Two models have felt beaks, the third Stuffed Baby Chicken has an embroidered Orange Beak. Their eyes have been created with a knot at the end of a piece of Black DK Knitting Yarn and tied firmly through the stuffing of each Chicken Toy, before the final closing seam is done. The stuffing is polyester meeting all international safety standards, and all three Baby Fleece Chickens have been made in totally animal and smoke free surroundings - as are all COLDHAMCUDDLIES Toys. Each Baby Chicken Toy is "topped off" with a Red Felt Crop, sewn firmly into the head seams of each Chicken Toy.
NB: The Eggs in the pictures - wrapped in paper and/or acting as "nests" are purely for pictorial purposes. They are not included in the purchase price.
The Stuffed Baby Chickens can be purchased singly or as a job lot - but, where multiple orders are made, the base price of £5.00 each (6.25 USD) will be REDUCED by .50 GBP each (.65 USD) until 4 extra chickens are ordered over the initial single chicken (making up to 5 in total = £20.50 per 5 pack: 25.59 USD per pack of 5).
These are not the first fleece Bird Toys we have introduced to our Flock of Birds in our Shop: our first was this Puffin Toy, who joined us at the end of February, 2017, after being used as the "dry run" model for a Patient in our Stuffed Animal Toy Restoration Clinic - https://www.etsy.com/uk/listing/79124185/stuffed-toy-animal-restoration-clinic?ref=shop_home_active_1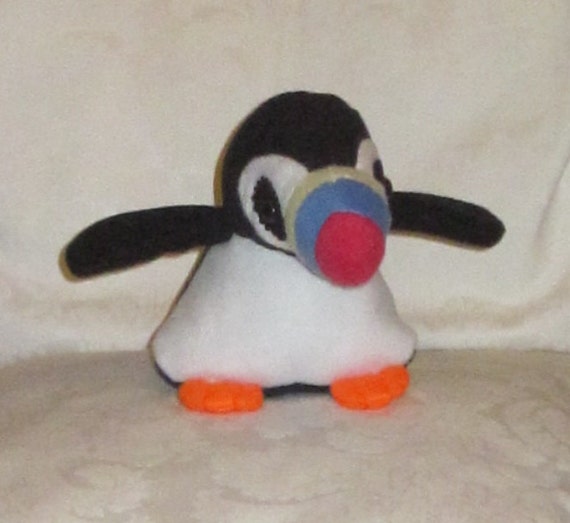 Just to remind you what Our Puffin looks like!
They are undoubtedly the smallest to date, however. They each take about 2-3 hours in total to make (usually over two evenings, which is when I tend to do my toy-making.) The shipping time quoted in our listing for this toy type is set to allow for any projects in hand when your order is received. Orders are dealt with strictly in order of their arrival.
These Yellow Baby Chickens are now listed in the Bird Plush Toy section of our Shop - click here to see our Owls and Penguin as well.
https://www.etsy.com/uk/shop/COLDHAMCUDDLIES?ref=hdr_shop_menu&section_id=18803266
Listing on Etsy can take some time, and it's been pretty time-consuming lately with lots of changes being introduced to the content of EVERY toy listing in our Shop (
now totalling 107!
). While engaged in this undertaking,
I've
changed some of the previous content, and added some extra information - which hopefully will result in many more
Cuddlies
finding
Forever Homes
in 2017.
Another view of our Three Chicks with their Different "Beaks"
The first paragraph is inviting potential buyers to visit the link below - which allows them to see what previous Customers have said about their experience(s) visiting the Shop.
"Meanwhile, you might be interested in seeing what other folk have to say about the COLDHAMCUDDLIES Toys that have become members of their household - click here to see the reviews received to date.
https://www.etsy.com/uk/shop/COLDHAMCUDDLIES?ref=hdr_shop_menu&section_id=18803266#reviews
Then this final paragraph occurred to me while I was involved in PuffinR's treatment recently. The FamilyR were brilliant at responding to hints in this blog!! However, I don't always use this route to communicate while a transaction is under way!!
Recently, while working on orders received,
I've
really needed to get in touch with my customers while the production process was in progress. This can be because
I
need to check their actual requirements
(individual measurements, for example)
, or give them a choice of
Toys
- when I have more than ONE in stock. Those who leave an email do respond- because their ever-present smart phones tell them when a NEW message comes in!!! There are therefore few delays in their
Toy,
Slipper
or
Golf Club Cover
order leaving our
Shop
on time. There have been times though when
I've
had to send the finished item, based on what I THINK the
Buyer
wants - not always a satisfactory outcome. Which is why
I
"cooked up" this request which has been added to EVERY Listing in the
Shop.
It will be interesting to see if this helps when answers are invaluable - and I'm hoping no potential Customer will be put off!
"NB: On line purchasing while undoubtedly convenient, can be somewhat impersonal. At COLDHAMCUDDLIES, we do want to ensure Buyers' total satisfaction with the eventual outcome of our contacts. There can be times when I need to get in touch after your order has been confirmed - particularly when a "made to measure" situation is involved. So, please leave a link by which we can ALWAYS communicate at reasonable times. Thank you!"
Right Folks: that's it for this week. Have cut out 3 Ducklings, and am well underway with the sewing of one of them. Aim to have all three done by next week-end.
Will now end because
I'm
deeply involved in another of the
Monthly Heart Attack
sessions on the
Etsy FriendsRUs Team (#EtsyFRU)
- which usually begin in Israel where one of the
Team Leaders https://www.etsy.com/uk/people/Viyoli
starts off the
Thread,
to be closely followed by another
Leader -
who lives in Bucharest -
https://www.etsy.com/uk/people/cristinatoys
). Both then "hold the fort" until the
Captain
(
https://www.etsy.com/uk/shop/MoreFriendsAndCo
and other
Team Leaders
join in (
they all live in the USA!
) - and team members drop in (
and out
) during the next 12 hours, with the
Thread
closing at
0900 EST
in the
USA
on
Monday
.
I
join in usually around
1400 hours BST
(
our clocks went forward at 0200 hours today - so we're all lacking an hours sleep in the UK!
). But this is a truly international team game, in real time, and it does result in plenty of sales for many members. Today, our esteemed
Leader,
actually woke up to
4 sales
- and one of them she'd only posted a few minutes after joining in!! (
Anyone interested in seeing how it works, and the international locations of the participants can click on this link - and see how it's going! https://www.etsy.com/uk/teams/24793/etsy-friendsrus/discuss/18293583/page/9?post_id=373978603&prior_page=8 All hearts very welcome - for whomever, wherever!)
Until next week then! Isobel