Hello again, everyone - where did last week go then?
Cy Bear back, as promised to tell you about the latest COLDHAMCUDDLIES Toy to leave the UK for a new Forever Home.
This time, it was one of our Grey Plush Dressed Wolves who had been purchased by someone we suspect to have been a parent, or other adult relative, of one CT, whose address was in Mamaroneck, NY, U.S.A. Isobel was unable to really know whether or not CT was the person actually ordering the Wolf in a Tartan Jacket. Because the "user name" of the sender of the email was very different to whom the package was being sent on the paperwork. So, this scenario is our best guess at the true situation!
This is the
Wolf Toy
in question, after
Isobel
had done some remedial work on him, before he left for his new abode. His original boots did not look right when we bought him out of the
Den
he'd been staying in since he was made. He was not standing as well as he should have been - given that his tail is what normally enables the
Wolves, Foxes and Coyotes
in our collection to stand erect (
see below
)
.
So, the decision was made to replace the boots entirely.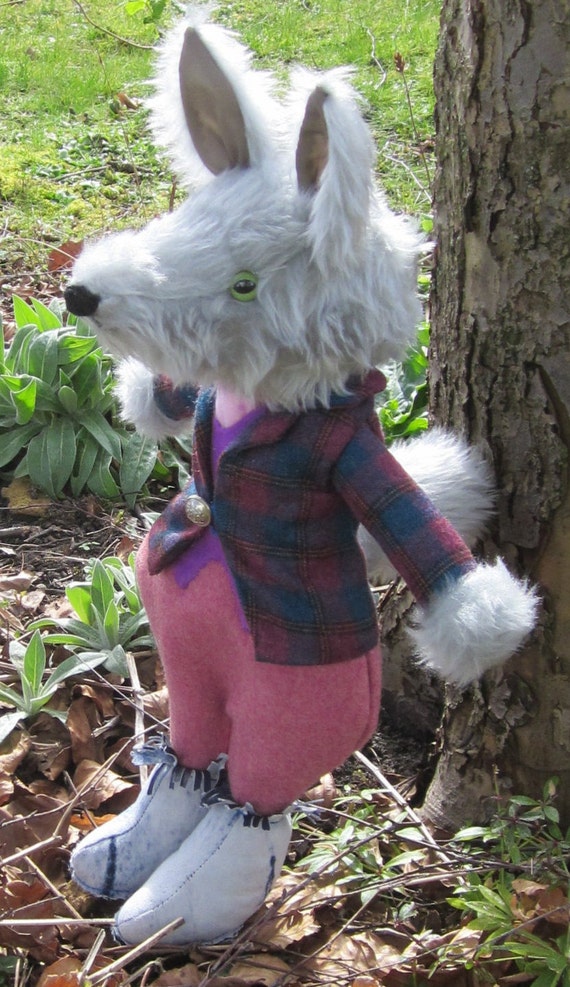 Photo taken just after he was made - and we hoped the tassels would settle down!.
Here's a photograph of the Grey Wolf as he was before being listed - and you can see that the boots did not look "right" even then. Not only did his feet look cramped, but the tassels would not lie down and altogether he looked untidy - and not to the usual high standard we like our Cuddlies to appear. It's is often when Isobel hasn't seen a Toy for sometime that things like this "look" become really obvious, so the easiest, and best thing in this case was to replace the boots.
Fortunately, we had some of the original leather still in our stash and it was a matter of a couple of evening's sewing to have the new ones made and fitted in place. When a Cuddly sells, and there is only one of them in the Etsy Listing, the Etsy Order system is such that it is noted as "Sold Out", and any listings disappear from sight.
As this
Grey Plush Wolf
was only ever a
OaaK (One of a Kind) Toy,
and we don't have much of the fabrics used to make him in stock,
Isobel
decided to delete him from our Shop Listings - but subsequent digging through our fabric store indicated that there is enough for just one more version - with enough leather to make another pair of boots too. So, after this blog,
Isobel
will be listing him again - to take the total of
COLDHAMCUDDLIES Toys
in our
Shop
at present to a
107 total
- and
Grey Wolf
will become a brand new
Cuddly
to add to our collection of Coyotes, Foxes and Wolves. (
If he becomes an order, Isobel will be able to make the final version well within the 3-4 week deadline that goes with the order: that is set to take account of whatever "work in progress" Isobel may be engaged in when an order is received).
He's going to look like this:
You can see from this photograph what the new boots look like - and they are ever so much firmer
(and can allow a Wolf to stand upright better too!
).
Isobel
also decided that her "obsession" with tasselled turnovers for our leather boots is over, and decided to keep the turnover pretty well together, with just the seam showing - as a sort of decoration. There is a still slightly jagged edge to the turnover which is provided by the leather having been cut with a pair of pinking shears (
whatever they are - a Bear like me has not got a clue!
). Sewing leather in such small quantities is quite tricky for someone with fingers that are getting stiffer as the time goes by! So this is how our leather boots will be from now on.
I think Grey Wolf is now standing pretty straight as this photograph of his rear view shows - given that he's standing on the surface of Isobel's duvet and only slightly leaning on the pillow with his nose to keep him steady!
Here's a side view of the new
Mr Grey Wolf
showing off his new boots. It was taken while he stood on the heater in our living room, the night just before he was packed for his journey the next morning. (
So the lighting is not as good as it might be!
) Before that happened, though - here's the usual
Farewell Picture
:
Isobel
, having discovered how we can keep a track of our parcels once they've left us (
she did know the basics, before doing it to tell you about Puffin's trip back home last wee
k) decided to do the same check for our
Grey Wolf Toy
- and what we discovered a few minutes ago, is shown at the bottom of this post.
Seemingly, our latest
Travelling Toy
has not been as lucky in following the same flying schedule as did
Puffin,
(
or travellers to Rhode Island may take a different route than those headed to Mamaroneck
) because from the information we've picked up, it would appear that
Grey Wolf
only reached
New York Customs
at
0600 hours
on
Friday, 9th March
- and has been stuck there in the system ever since. Hopefully, as tomorrow is
Monday,
his journey will commence once more, and he will be able to get to
Mamaroneck
on
Tuesday
or
Wednesday
of next week.
Before I close, here's a final side view of our Grey Wolf Toy, showing off his rather magnificent busy Plush Tail, behind his Left Paw!
As we don't want to spoil the look of the blog, with different typography in the text, I'll end this week's post here. See you all next week.
Your friend, Cy Bear.
Grey Wolf's Travel Itinerary - to date:
| Date | Time | Status | Track point |
| --- | --- | --- | --- |
| 09/03/17 | 06:01 | ARRIVED IN COUNTRYKENNEDY NEW YORK | KENNEDY NEW YORK |
| 07/03/17 | AM | ON ITS WAY TOKENNEDY NEW YORK | UNITED STATES OF AMERICA |
| 07/03/17 | 01:27 | ARRIVED (MDN) AT | HEATHROW WORLDWIDE DC |
| 06/03/17 | 19:57 | ON ITS WAY TOHEATHROW WORLDWIDE DC | NOTTINGHAM MAIL CENTRE |
| 06/03/17 | 19:39 | ITEM COLLECTED | NOTTINGHAM MAIL CENTRE |
| 06/03/17 | 10:15 | SENT AT POST OFFICE | 1-3 Lowmoor Road NG17 7BE |